Oversea Vietnamese housemaid gets rich at 50 years old
During the five years working as a housemaid in Thailand, Le Thi Viet learned how to make everlasting flowers from her employer. At 50, she came back to Vietnam to start her own business.
Early June, the scorching heat in central Vietnam cooled down. Le Thi Viet was elated. The weather changed just as she had expected. The week before, she ordered 1,000 roses from Da Lat city to her home in Nong Cong district of Thanh Hoa province to make everlasting flowers.
"To make an everlasting flower, techniques and weather are the two most important factors. It can't be too hot or too cold. The right weather conditions and techniques will allow the flowers to last for years," said the 63-years-old woman.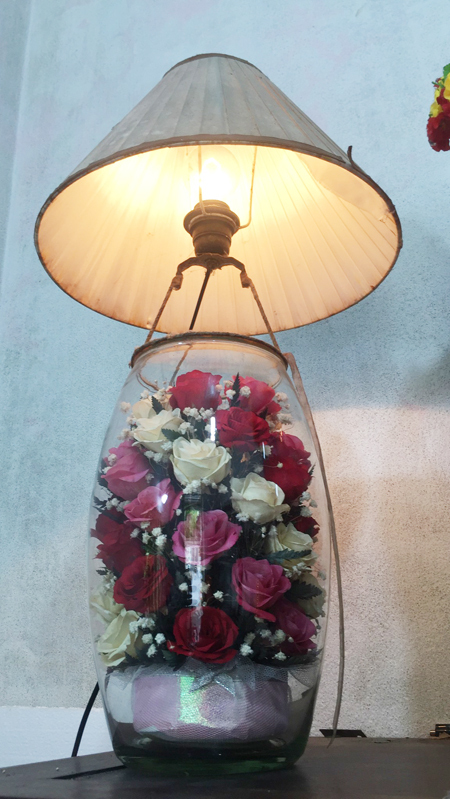 The first vase of aromatized flower that Le Thi Viet made when she started her business 13 years ago/ VnExpress
In 2001, Le Thi Viet and her husband had a huge debt because they failed to pay back the bank loan for purchasing a piece of land to start a forestry business. Via a friend of the family, Viet decided to go to Thailand to work as a housemaid, hoping to quickly have a better income so she could pay all the debts.
"When I first came to Thailand, I only knew how to say 'What is this?' in Thai. I noted down people's answers and learned by heart to improve my linguistic skills," said Viet.
The first thing Viet bought in Thailand is a world map. She tried to find her location and the fastest way to return to Vietnam, in case something unfortunate happened.
Viet realized the greatest challenge she had to face was her homesickness. "I look at the sunrise every morning because that's the direction leading me to my motherland," said Viet. Every day, she cooked for a wealthy family and took care of their two-year-old son after school. She received 4,000 baht/month (around VND 1.2 million at the time). In Vietnam, she could only earn VND 400,000.
A workaholic, she wanted to quit her job because she had too much free time and no one to talk to. "I want to be busy all day," Viet told her employers in her limited Thai. Hoping to keep the hardworking housemaid, Viet's employers taught her how to make aromatized flowers using a technique developed in Japan.
Although there wasn't any promise of salary, Viet put her heart and soul into the new trade she had just learned because she loved the work. She woke up before five every day to hone her workmanship. One early morning, one employer scowled at her horribly for pruning the flower branches in the wrong way. "I felt so depressed because I had worked so hard but still got yelled at. But I knew I was wrong, so I apologized and started again," recalled Viet.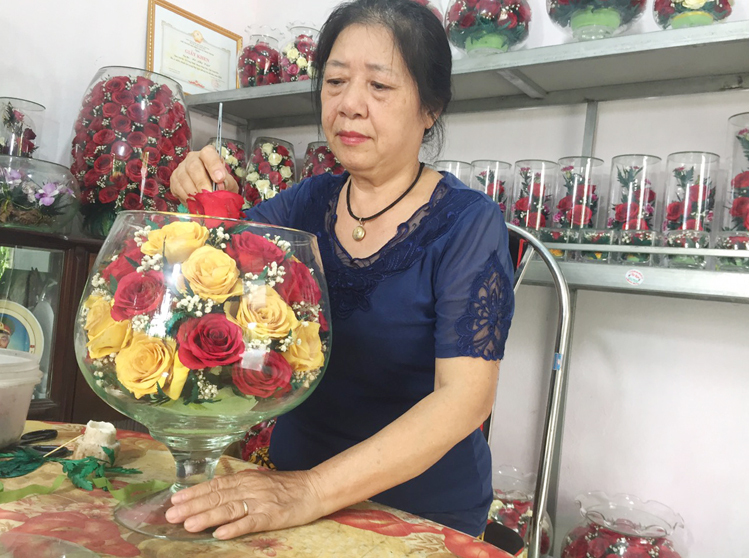 Making aromatized flowers requires effort and patience / VNExpress
Her efforts were not in vain. After a month, she gained her employer's trust and was assigned to manage the family's workshop. Viet hired ten more Vietnamese to teach them aromatization techniques and expand the business. She handed over the housemaid work to others.
One day, her employer lost one of his receipts. He lost his temper and demanded all workers at his workshop find the receipt at a landfill site. When the receipt was nowhere to be found, he announced all staff would be fired. "I suffered so much shame and sadness working in a foreign country, but I was determined to persist because I knew I could make a good living with this job when I came back to Vietnam," said Viet.
Other Vietnamese workers wanted to quit, but she encouraged them to be patient. "When he has calmed down, he will realize what is best. He can't fire all of us. Training skilled workers is not easy," said Viet. Just as she predicted, the employer apologized the next day and kept every one.
After two years, the workshop managed by the petite Vietnamese attracted attention from Thai media. At this point, Viet could already talk to the media about the business fluently in Thai.
Just as her business in Thailand blossomed, she heard from her husband that her mother in Vietnam had passed away. "It took me a long time to finish the letter he sent because I couldn't read through the tears," said Viet. Her husband was her source of motivation. Nguyen Trong Uyen took care of their children and her mother so Viet could go to Thailand.
Uyen said "At the time, it was rare for people to find a job abroad, so not many people believed we could make it. Nevertheless, because both of us believed in the future, I encouraged her to hold on to it."
In 2006, Le Thi Viet returned to Vietnam with VND 20 million to start her business. "We had to import the materials to make aromatized everlasting flowers, but we don't have to worry about fresh flowers. Vietnam already has a rich source of beautiful flowers," said Viet. It took Viet two years to do market research and find the suppliers for aromatizing materials. In 2008, she began to produce everlasting flowers. The technique involves covering fresh flowers with aromatizing materials after cutting them off, then sealing the flower box. Aromatized fresh flowers will become "everlasting flowers" after seven days. Afterwards, the flower makers can preserve the flowers in sealed glass jars.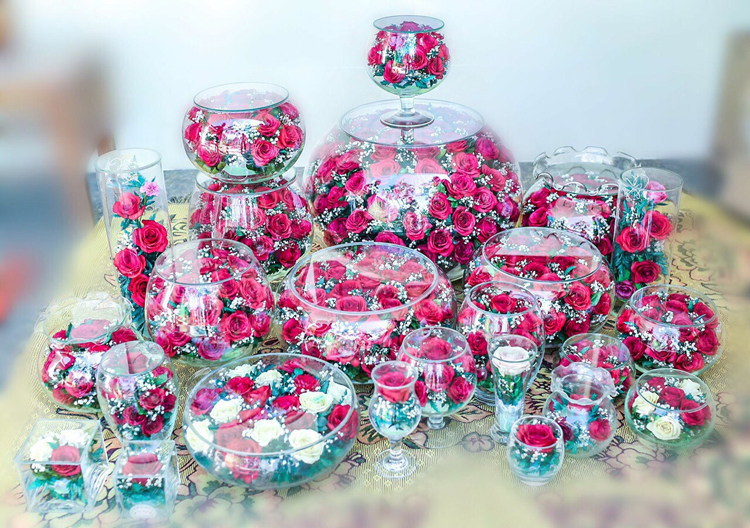 Currently, Le Thi Viet can make around 50 different products from two main types of flowers: Orchids and roses / VNExpress
"I realized I could've never truly understood what I was capable of had I stayed content with my life at the village. It is said people have already gone halfway through their life at age 50, but for me, it's only the beginning. It's never too late to do anything if you have enough determination and dedication," said Le Thi Viet.
On an old table in her tiny room, Viet made her very first aromatized red rose. She asked a flower shop in Thanh Hoa province to help her sell the flower at VND 160,000. It was sold out right away.
"Even though it was not cheap, people were willing to pay for my flower. I knew then I could expand the market," said Viet. The number of everlasting flowers she could make keeps increasing over time. She can now produce around 5,000 flowers/month. Her business brings her more than VND one billion per year.
Le Dinh Dien, head of Trung Thanh commune in Nong Cong district, said: "Nobody in this commune could've done what she's been doing. Not only does she bring stable income for her family, but she has also created jobs for other people in the commune," said Dien.