Chelsea FC congratulates Vietnam on entering the final qualifying round in Vietnamese
The official Facebook page of Chelsea Football Club (Chelsea FC) congratulates the Vietnam's football team in Vietnamese on booking a spot to the final round of the Asian Qualifiers for the FIFA World Cup Qatar 2022.
When the match between Vietnam and the UAE had not ended, on early Wednesday morning, Chealse FC's official facebook page with nearly 50 million followers around the world posted pictures of Vietnamese people waving red flags with yellow stars to celebrate.
Chelsea FC congratulates Vietnam on entering the final round in Vietnamese. Photo: Screenshot (FB)
After only 30 minutes, Chealse's congratulation received nearly 15,000 likes and thousands of shares. Many Vietnamese fans thanked and congratulated their team after the match.They wrote: "CHÚC MỪNG ĐT VIỆT NAM. Chelsea FC rất vui khi biết ĐT Việt Nam là đại diện duy nhất của Đông Nam Á có mặt ở vòng loại cuối cùng World Cup 2022 khu vực châu Á! Chúc mừng các bạn đã làm nên lịch sử!". ("Congratulations to Vietnamese football team. We are very happy to know that Vietnam is the only representative of Southeast Asia to win a ticket to the final round of the Asian Qualifiers for the FIFA World Cup 2022! Congratulations on making history!")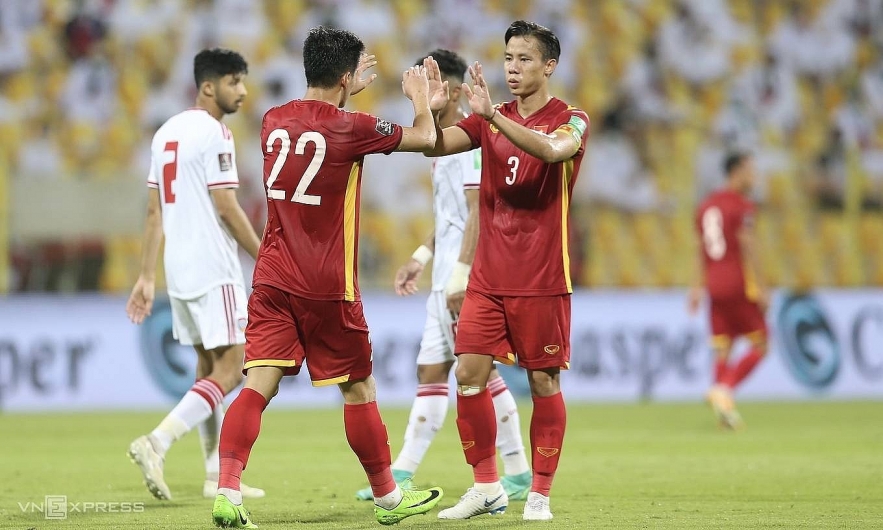 Captain Que Ngoc Hai (R) greets Nguyen Tien Linh who scored one of Vietnam's two goals in the World Cup qualification game with the UAE, June 15, 2021. Photo by VnExpress/Lam Thoa.
Vietnam have made it to the third round of World Cup qualifiers for the first time in history as one of the best group's runners up.
Despite losing 2-3 to the UAE in the last match of group G Tuesday, Vietnam still advanced as one of the five best second-placed teams in the tournament.
This is Vietnam's very first time at the third qualifying round of World Cup, which will take place between September 2021 and March 2022.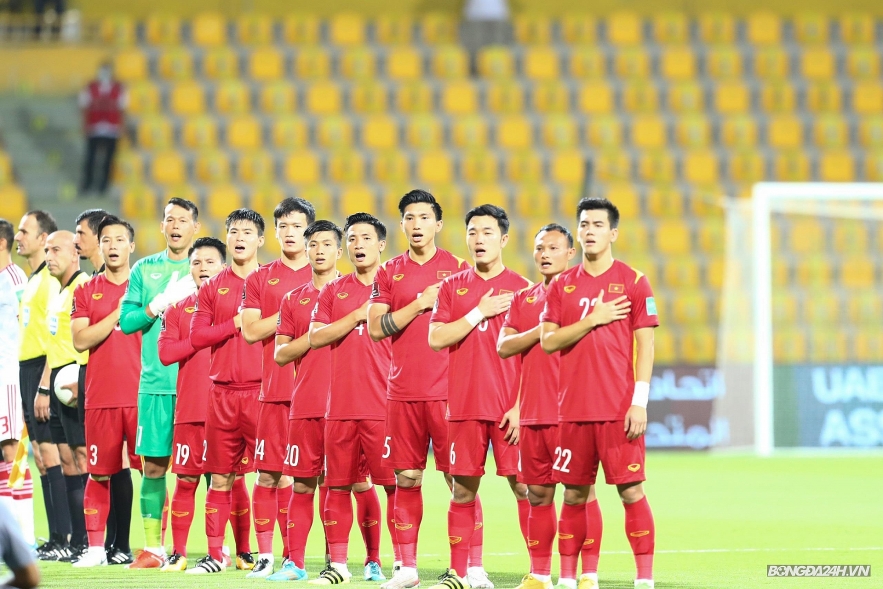 Photo: bongda24h.vn.
Nguyen Chan Thien, a football fan, wrote: "Thank you Chelsea Football Club. I hope that Vietnam will soon have a chance to meet the football stars playing at Chelsea in the World Cup".
Another one named An Ninh commented: "Thank you, Coach Tuchel and his teammates, if having an opportunity, I will book a ticket to visit you".
A fan named Trung also enlisted wittily to "recommend" Vietnamese players to Abramovich, the owner Chelsea: "Buy some Vietnamese players, Uncle Abramovich". Another fan named Bich Chanh also commented: "Bring Chelsea to Vietnam for a tour".