Children Are Innocent: Bringing miracles to hundreds of kids
The charitable endeavor of Lisa started long before the establishment of Children Are Innocent. Everything began in 2007, when Lisa's father was diagnosed with cancer and had to seek treatment at a hospital in Ho Chi Minh City. That's was when she got her first first-hand experience of what patients and family have to struggle with since over ten years ago, facilities in Vietnamese hospitals were at a modest stage.
In the last three years, hundreds of critically ill children have been cured, thanks to Children Are Innocent, an initiative of a Vietnamese woman living in Singapore.
Lisa Nguyen (middle) and a family of a beneficiary. Photo: Children Are Innocent
Children Are Innocent was founded by Lisa Nguyen (Nguyen Thi Thao Huong) in 2016. Since then, the foundation has raised funds for over 200 Vietnamese kids suffering from severe illness to receive the treatment they need (of which, over sixty of these little patients have had a chance to be treated in Singapore).
In addition to financial supports, Lisa Nguyen and volunteers of Children Are Innocent also work as liaison and translator between these kids' families and doctors as well as other hospital staff. All services are provided for free.
"My father had to go and look for a corner to sleep. He was in pain but there was no place to rest. We saw how hard it was for everybody, so we decided that if he recovered, we would do charity. We couldn't start immediately because all our money went to his treatment", Lisa shared in an interview with the Straits Times Singapore. Lisa's father passed away in the year that followed. However, she still decided to fulfill his wish.
She, her siblings and friends started with helping at places like schools, orphanages, and hospitals whenever they could. Their supports for the disadvantaged included the donation of cash, food to patients and family members, toys, clothes to orphans, etc.
Lisa and some patients' families at the airport. Photo: Children Are Innocent
In 2012, Lisa married to a Singaporean man who worked as a construction manager and later relocated to her second homeland. In 2015, her life took a harrowing turn when she was three months pregnant with her second child. Due to profuse bleeding, Lisa was at risk of miscarriage. "I was so scared that I was going to lose my baby, so I started praying for my baby to be safe," she recalled, noting that "I vowed to do charity and help other people".
Fortunately, Lisa and the baby later gone through a safe pregnancy and delivery. After the second kid was born, due to the hectic schedule of a working mommy of two, Lisa was not able to contribute to charity as much as she had vowed.
Lisa and a young patient. Photo: Children Are Innocent
The turning point in Lisa's life came in 2016 when she came across an online appeal to help Phuc, a Vietnamese baby boy who was in Singapore to seek treatment for a rare skin condition. "He looked so pitiful, as though he had burns all over his face and body.
There was so much pain in my heart," she said. "I think it was a reminder by the gods to keep my promise," she recalled in the interview with the Straits Times. To help save Phuc, Lisa didn't hesitate to dig into her pockets and rallying friends to raise $2,000 for the needy boy. Lisa's fundraising efforts reached a new level when she knew about the case of Duc Loc, an abandoned boy suffering from hydrocephalus (Vietnamese: não úng thủy). He was left alone at a temple in the southern coastal province of Ben Tre. "He was a very handsome and cute baby. I cried for him a lot and so did a lot of Singaporeans when they read about him in the newspapers," Lisa said.
A child patient receives gift from Singaporean donor. Photo: Children Are Innocent.
To reach out to her helping hand to more needy children, in 2016, Lisa founded Children Are Innocent foundation. Besides providing help to child patients, Children Are Innocent also raises funds to build schools and orphanages in Vietnam.
Lisa doesn't want to talk much about herself, noting that Children Are Innocent could have not fulfill its mission without the supports of Samaritans (inpiduals and groups) in Vietnam and across the world, like Master Tue Thanh, abbot of the Trieu San Tay temple in Hue city (central region of Vietnam), Ms.Thanh Tran, Ms. Ngoc Mai Phung, etc, and many others.
( P.Y )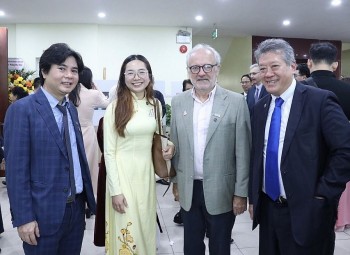 Friendship
Agreeing that the young generation is an important force to promote the friendship between Vietnam and France, many members of the Vietnam-France Friendship and Cooperation Association hope that the Association will hold practical activities to attract the young in its coming term.