Heartbeat Vietnam Program Celebrates Saving 10,000 Children with Congenital Heart Defects
After 17 years, The VinaCapital Foundation (VCF)'s flagship program Heartbeat Vietnam reaches a remarkable milestone – saving 10,000 disadvantaged children with congenital heart defects (CHD) so that all children can grow up healthy, fulfill their dreams and families can be transformed forever.
The life-saving journey of VCF and Heartbeat Vietnam began in 2005 when VinaCapital Group sponsored a heart surgery for Cam Dung, a little girl from Quang Nam province. Cam Dung's story and recovery after surgery deeply moved and motivated Don Lam, CEO and Founding Partner of VinaCapital, to start saving more disadvantaged children like Dung.
In 2006, Don Lam and Robin King Austin co-founded VinaCapital Foundation with the mission of improving the lives of poor sick children in Vietnam. This eventually led to the establishment of Heartbeat Vietnam, VCF's first program devoted to improving access to timely treatment for poor children with CHD. Healthy children lifted the financial and emotional burdens of their families.
According to the Ministry of Health statistics, there are 15,000 infants born in Vietnam each year with CHD. The cost of treatment is high and many patients come from disadvantaged families in rural areas who cannot afford the travel or treatment costs much less post-operative care for their children.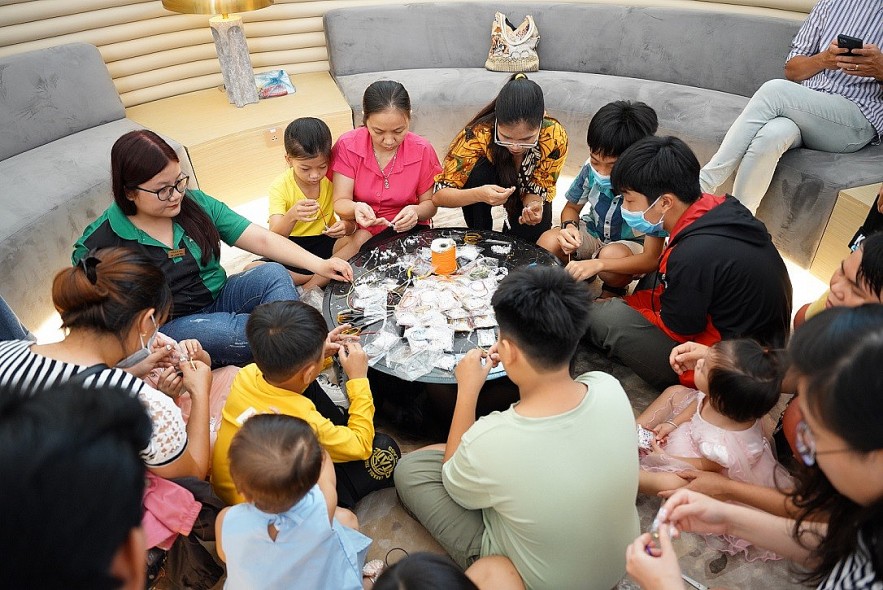 Children and their families join a Children's Day activity (Photo: VCF).
During the 17-year-long journey with the mission to save and change the lives of children with congenital heart defects across Vietnam, the Heartbeat Vietnam program has sponsored free heart surgeries for 10,000 children and provided post-operative care as well as family grants to help ease the financial burden for families. In addition, the program also gives out scholarships each year to children with congenital heart defects who excel in their studies.
Heartbeat Vietnam's 10.000th child is Van Vinh, a 13-year-old boy from Ba Na ethnic group in Binh Dinh province. Neither Vinh nor his parents knew he was growing up with an atrial septal defect in his heart. Studying in a boarding school, he walked for 2 hours to class from home every 2 weeks, until his heart defect became more painful and dangerous and his dad had to drive him to school.
Vinh's parents are manual workers with his mom is struggling with health problems, making it even more difficult for the family to afford healthcare for their children. The Rural Outreach Clinic organized by VCF and partners in Binh Dinh province brought this bright little boy to Heartbeat Vietnam and his family was immediately instructed to apply for sponsorship and prepare for his heart surgery in Da Nang. After Heartbeat Vietnam supported him to receive the life-saving surgery, Vinh now can live a healthy life and fulfill his dream to be a singer one day.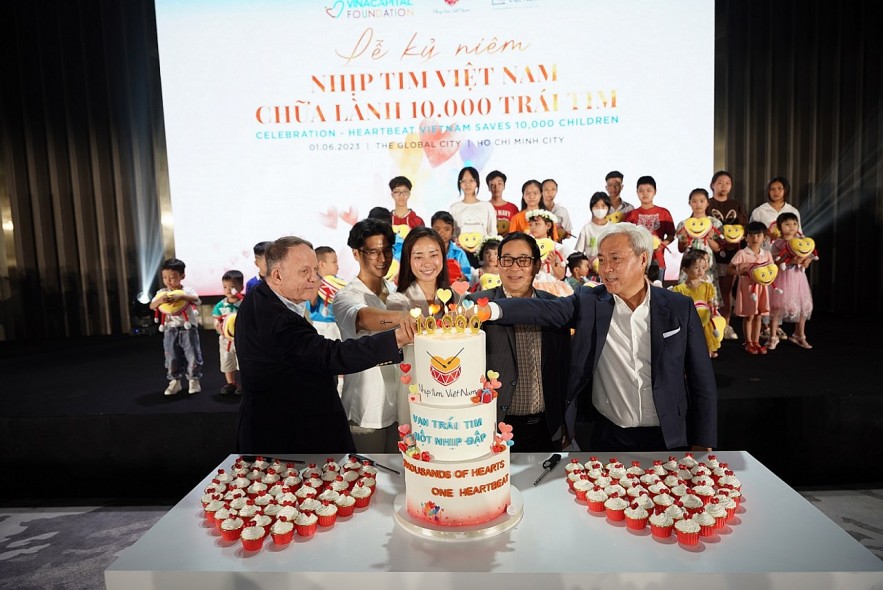 A celebration was held to mark the milestone (Photo: VCF)
"10,000 children have been saved and will now have the opportunity to be healthy, grow up normally, and dream. Their families now have hope and optimism. With the invaluable support from our dedicated local partners, hospitals together with doctors and nurses, and local and international donors, VCF has been significantly contributing to the improvement and transformation of livelihood of the country's most vulnerable", shares Don Lam, CEO and Founding Partner of VinaCapital, Chair of the VCF Board.
"After 17 years of growth and building a good reputation among partners and donors, VCF is determined to strengthen our program works and move forward to reach out to more children and families, providing them better access to healthcare, better living conditions, and better lives overall."
Since its inception, Heartbeat Vietnam has provided 976 Continuing Care packages to be able to visit the hospital for check-ups and follow-ups, 765 Grants for families to have more resources to take care of their children, and 247 Scholarships for bright students to maintain their education.
VinaCapital Foundation also organizes 80 – 100 Rural Outreach Clinics a year and has screened over 325,000 rural children and found over 11,000 children with congenital heart defects. More than half of these children need early surgical intervention to survive, all of whom received immediate support from Heartbeat Vietnam.
Upon reaching the milestone of saving 10,000 children, VCF and Heartbeat Vietnam commit to continue our journey to find and save more heart children so that they can grow up healthy and fulfill their potential to contribute to the development of Vietnam.