China and India's global influence to bolster due to Covid-19 vaccination campaigns
With mass vaccination campaigns fighting Covid-19 underway globally, India and China has started to develop, produce and transport vaccines to the developing world, which will help spreading the countries's influence and tightening the relationship with other nations.
A beneficiary gets vaccinated by health staff during a pan India Covid-19 vaccination drive at Aundh district hospital, on January 16, 2021 in Pune, India. Pratham Gokhale | Hindustan Times | Getty Images
Wealthy nations have been accused of hoarding vaccines, mostly from Pfizer-BioNTech and Moderna. That has created room for India, China, and to an extent Russia, to develop, produce and supply vaccines to the developing world. Experts say those efforts can potentially bolster those countries' influence and deepen their ties with other nations.
"While it serves their foreign policy objectives, it serves their ... commercial interest to expand the market share of their vaccine products," Yanzhong Huang, a senior fellow for global health at the Council on Foreign Relations, told CNBC by phone.
"In the meantime, it also helps mitigate the vast disparities in terms of the vaccine access between the wealthy nations and the poor nations," he added.
India has already sent 1 million Covid-19 vaccine doses to Nepal, 2 million to Bangladesh, 150,000 to Bhutan, 100,000 to Maldives and 1.5 million to Myanmar, per media reports. It has also sent 2 million doses to Brazil.
"Political goodwill and influence"
India approved two vaccines for emergency use – one developed by AstraZeneca and Oxford University, which is being produced locally by the Serum Institute of India, and the other, named Covaxin, was developed domestically.
Vaccine diplomacy can be an effective use of soft power that can help New Delhi win friends and generate goodwill, according to Akhil Bery, South Asia analyst at political risk consultancy Eurasia Group.
"India's generosity with its neighbors can help to mend ties, whether it be with Bangladesh (which was strained due to the Citizenship Amendment Act), or with Sri Lanka, where the Rajapaksas are known to have a pro-China tilt," Bery told CNBC by email. The Rajapaksas are a prominent political family in Sri Lanka – both the country's president and prime minister are part of the family.
"Even if the doses aren't that many, it's still significant enough to alleviate pressure on healthcare systems, allowing for resources to be allocated elsewhere," Bery added.
With the virus mostly under control at home, China's strategy includes striking deals with emerging economies to conduct clinical trials for a vaccine developed by Chinese firm Sinovac and helping to build vaccine production facilities in some of those countries. Beijing is also giving priority access to its vaccines in places like Southeast Asia, which is of strategic importance to China. In other places, the country is offering loans to fund vaccine procurement.
Eurasia Group's China researcher, Allison Sherlock, told CNBC that the benefits for China are limited to reinforcing economic and political ties in its existing sphere of influence in regions including Southeast Asia. There, Beijing "is especially hoping that the vaccine will help repair relationships strained by tensions over the South China Sea, including with Indonesia, the Philippines, and Vietnam."
"India wants to burnish its credentials as a responsible global stakeholder while China would like to improve its reputation which got tarnished in the early stages of the Covid-19 pandemic," said Harsh Pant, head of the strategic studies program at the Observer Research Foundation in New Delhi.
"Both would be hoping that their outreach would give them some political goodwill and influence as well," he told CNBC by email.
The coronavirus was first reported in the Chinese city of Wuhan in 2019 and Beijing has faced criticism over its early handling of the pandemic.
"Rich countries hoarding Covid vaccins"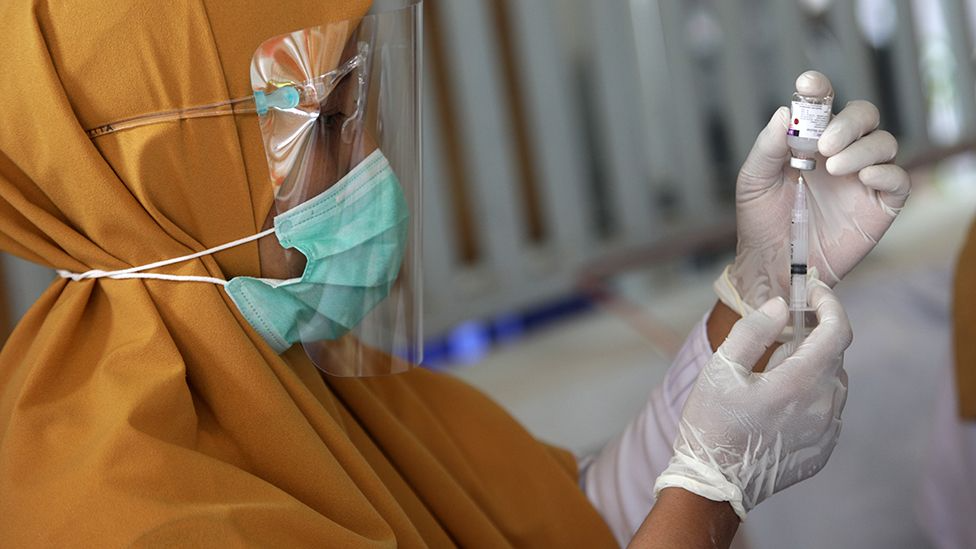 Rich countries are hoarding doses of Covid vaccines and people living in poor countries are set to miss out, a coalition of campaigning bodies warns. (Photo: BBC)
According to BBC, The People's Vaccine Alliance says nearly 70 lower-income countries will only be able to vaccinate one in 10 people.
This is despite Oxford-AstraZeneca pledging to provide 64% of its doses to people in developing nations.
Steps are being taken to ensure access to vaccines is fair around the globe.
This vaccine commitment, known as Covax, has managed to secure 700 million doses of vaccines to be distributed between the 92 lower-income countries that have signed up.
But even with this plan in place,the People's Vaccine Alliance - a network of organisations including Amnesty International, Oxfam and Global Justice Now - says there is not enough to go round, and drug companies should share their technology to make sure more doses are produced.
Their analysis found that rich countries have bought enough doses to vaccinate their entire populations three times over if all the vaccines are approved for use.
Canada, for example, has ordered enough vaccines to protect each Canadian five times, it claims.
And even though rich nations represent just 14% of the world's population, they have bought up 53% of the most promising vaccines so far, according to data from eight leading vaccine candidates in Phase 3 trials that have done substantial deals with countries worldwide.
"No-one should be blocked from getting a life-saving vaccine because of the country they live in or the amount of money in their pocket," said Anna Marriott, Oxfam's health policy manager.
"But unless something changes dramatically, billions of people around the world will not receive a safe and effective vaccine for Covid-19 for years to come."
The People's Vaccine Alliance is calling on all pharmaceutical corporations working on Covid-19 vaccines to openly share their technology and intellectual property so that billions more doses can be manufactured and made available to everyone who needs them.
This can be done through the World Health Organization Covid-19 technology access pool, it says.
The Pfizer-BioNTech vaccine has already received approval in the UK and the most vulnerable are starting to be vaccinated this week. It is likely to receive approval from regulators in the US and Europe soon.
Two other vaccines, from Moderna and Oxford-AstraZeneca, are awaiting regulatory approval in a number of countries.
The alliance says that, so far, all of Moderna's doses and 90% of Pfizer/BioNTech's have been acquired by rich countries.
Challenges
One of the challenges vaccines developed locally in India and China face is their effectiveness in combating the disease.
India's Covaxin is still undergoing clinical trials. At the time it received emergency approval from the drug regulator, it did not have extensive phase three trial data to determine its efficacy or safety. The rushed move was criticized by scientists.
Sinovac's CoronaVac was found to be only 50.4% effective in clinical trials carried out in Brazil but has yielded different results elsewhere, raising concern and criticism over data transparency.
"An argument can be made if you have a vaccine whose efficacy rate is as low as 50%, you need more people to get vaccinated in order to achieve herd immunity," CFR's Huang said.
He added that India and China, both of which have large populations, will have to grapple with fulfilling domestic needs while maintaining international obligations and demand.
"That is going to further complicate issue in their efforts to play a leadership role by reducing the vaccine access gap," he said.
Eurasia Group's Bery said that one advantage India has is that the Serum Institute is one of the world's largest vaccine manufacturers and that the country supplies more than 50% of the world's vaccines.
"It will take time, but as we've seen from South Africa and Brazil, countries are lining up to gain access to vaccines manufactured in India," he said.
Bery explained, however, China has its own distinct advantage – unlike its South Asian rival, it has brought the pandemic under control much quicker, thus the Chinese economy has recovered faster.
"This allowed it to increase international policy actions, while other countries, such as India, remained distracted by the pandemic," Bery said.