China commissions three advanced naval ships
China commissioned three new warships on April 23, 2021, including its first Type 075 amphibious assault ship, named the Hainan.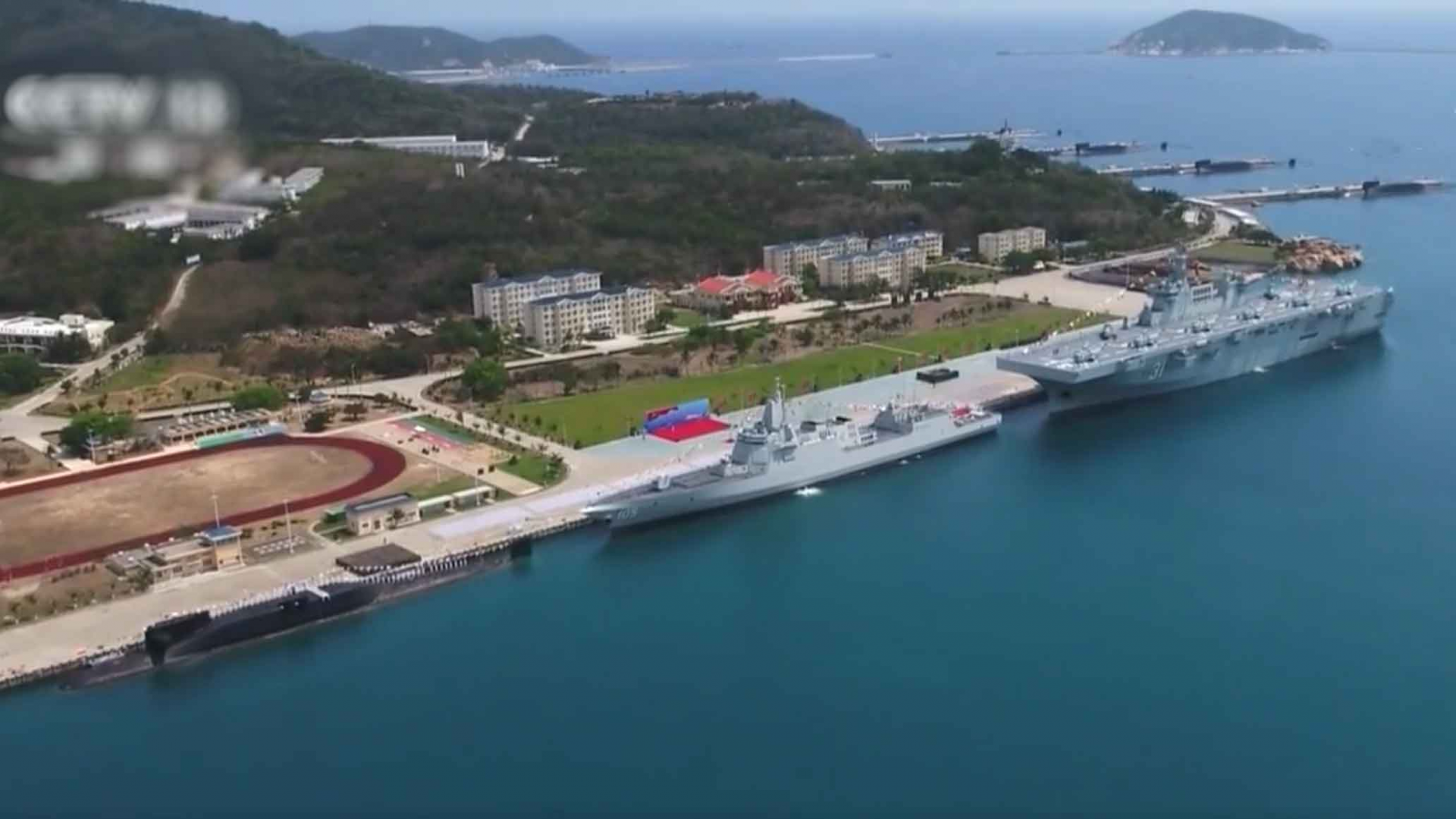 Warships on display at a naval port in Hainan Province, China, April 23, 2021. /Screenshot from CMG
China commissioned three new warships on April 23, 2021, including its first Type 075 amphibious assault ship, named the Hainan.
The warship can carry an estimated 30 helicopters and hundreds of troops. Its possible deployment in the South China Sea (Bien Dong Sea) and around Taiwan is likely to spark concerns among its neighbours, according to observers.
The vessel was commissioned along with two other new vessels: the Dalian, a Type 055 destroyer and the Long March-18, a nuclear submarine that can launch JL-1 and JL-2 ballistic missiles, South China Morning Post reported.
Global Times said by carrying a large number of helicopters in addition to amphibious armored vehicles and tanks, the Type 075 can launch not only horizontal but also vertical landing missions on islands, reefs and even land from the sea, analysts said.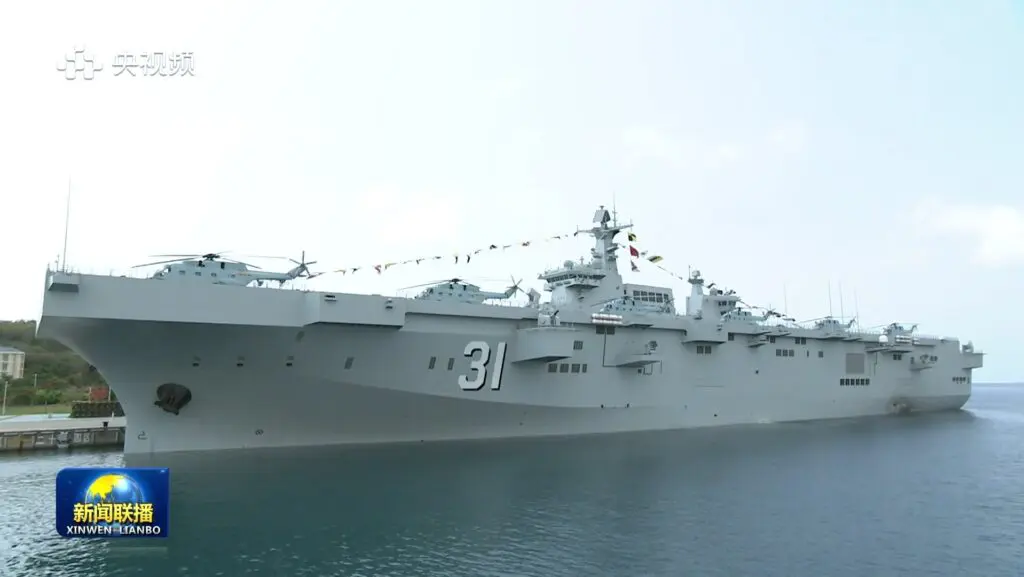 Type 075 LHD Hainan (31). Photo: navalnews.com
It is expected to partner the PLA Navy's Type 071 amphibious landing ships in resolving island-related questions, Song Zhongping, a Chinese military affairs expert and TV commentator, told the Global Times, noting that it can also team up with aircraft carriers and other warships in a task group capable of seizing air and sea supremacy as well as amphibious landings.
While the Hainan was commissioned into the PLA South Sea Fleet, it can be deployed in multiple areas for various tasks, Song said.
When needed, it can conduct missions in the Nansha Islands, Dongsha Islands and even the Penghu Islands and the island of Taiwan, Song said, noting that the combination of the Type 075 and Type 071 in an amphibious landing task group will be very powerful in island seizing, and with the support of land-based aviation troops and aircraft carrier combat groups, the PLA will get an even stronger joint combat capability in landing operations.
The commissioning of warships is unprecedented in many aspects, as it is the first time the PLA Navy has received three different types of large vessels on one day. This is also not seen in other countries, observers said.
EU blames China for endangering peace in South China Sea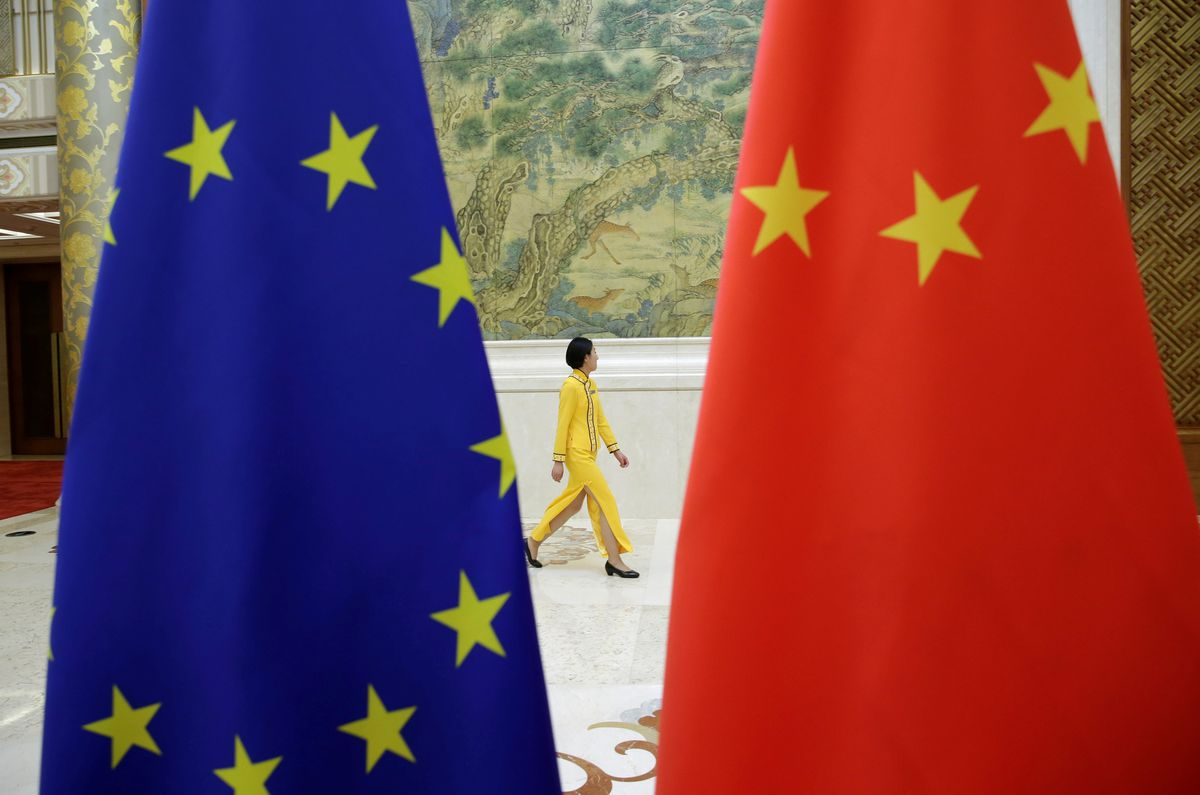 An attendant walks past EU and China flags ahead of the EU-China High-level Economic Dialogue at Diaoyutai State Guesthouse in Beijing, China June 25, 2018. Photo: Reuters
The European Union called out China on April 27 for endangering peace in the South China Sea and urged all parties to abide by a 2016 tribunal ruling which rejected most of China's claim to sovereignty in the sea, but which Beijing has rejected.
The EU last week released a new policy aimed at stepping up its influence in the Indo-Pacific region to counter China's rising power, according to Reuters.
The Philippines on April 23 protested to China over its failure to withdraw what it called as "threatening" boats believed to be manned by maritime militia around the disputed Whitsun Reef, which Manila calls the Julian Felipe Reef.
"Tensions in the South China Sea, including the recent presence of large Chinese vessels at Whitsun Reef, endanger peace and stability in the region," a EU spokesperson said in a statement on April 24.
EU reiterated its strong opposition to "unilateral actions that could undermine regional stability and international rules-based order".
It urged all parties to resolve disputes peacefully in accordance with international law, and highlighted a 2016 international arbitration that had ruled in favor of the Philippines while invalidating most of China's claims in the South China Sea.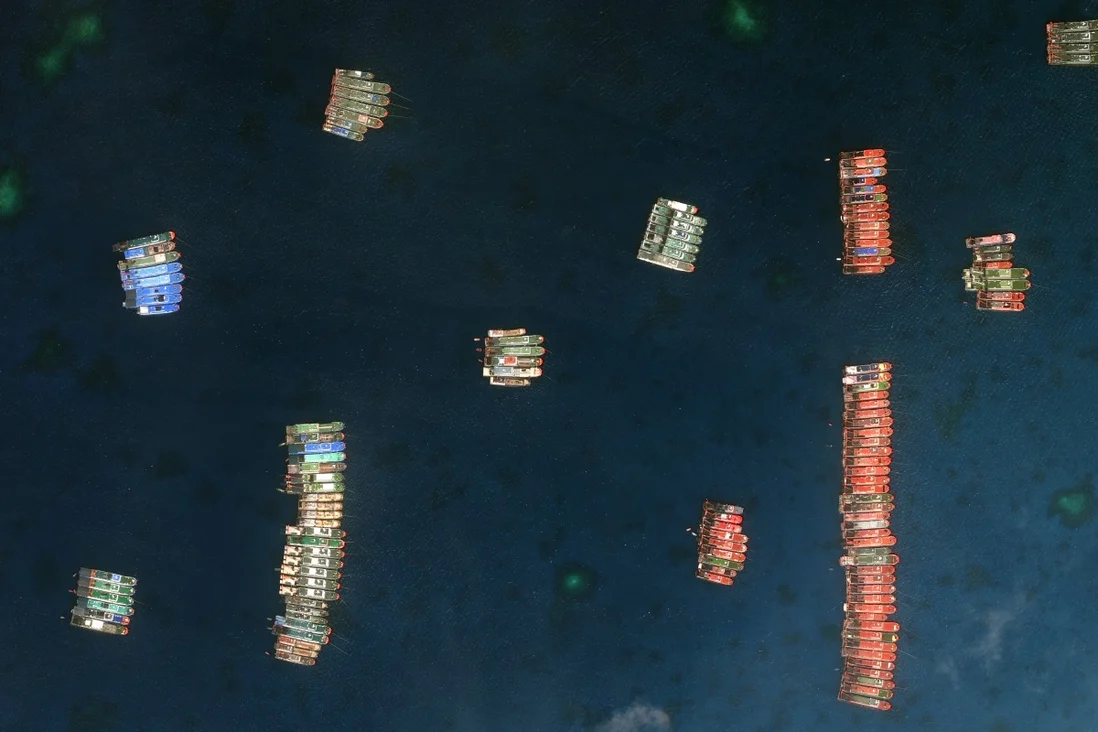 Chinese vessels at the Whitsun Reef. Photo: Maxar Technologies via AP
China rejected EU's accusation that its ships at Whitsun Reef, which China calls Niu'E Jiao, had endangered peace and security.
The Chinese Mission to the EU in a statement on April 25 reiterated that the reef is part of China's Nansha Islands, or Spratly Islands, and that it was "reasonable and lawful" for Chinese fishing boats to operate there and shelter from the wind.
The Chinese statement also insisted that China's sovereignty, rights and interests in the South China Sea were formed in the "long course of history and consistent with international law" and rejected the 2016 tribunal ruling as "null and void".
"The South China Sea should not become a tool for certain countries to contain and suppress China, much less a wrestling ground for major-power rivalry," the Chinese statement said.
China is increasingly worried that Europe and other countries are heeding U.S. President Joe Biden's call for a "coordinated approach" towards China, which had so far materialised in the form of sanctions over its security crackdown in Hong Kong and treatment of Uyghur Muslims.
US Secretary of State Antony Blinken last month said Washington "stands by its ally, the Philippines," in the face of China's massing maritime militia at Whitsun Reef./.