EU calls out China for endangering South China Sea peace
The European Union has criticised China's activities in the South China Sea (Bien Dong Sea), accusing it of threatening regional peace and stability.
An attendant walks past EU and China flags ahead of the EU-China High-level Economic Dialogue at Diaoyutai State Guesthouse in Beijing, China June 25, 2018. Photo: Reuters/Jason Lee.
The bloc, last week, released a new policy aimed at stepping up its influence in the Indo-Pacific region to counter China's rising power, according to Reuters.
The Philippines on April 23 protested to China over its failure to withdraw what it called as "threatening" boats believed to be manned by maritime militia around the disputed Whitsun Reef, which Manila calls the Julian Felipe Reef.
"Tensions in the South China Sea, including the recent presence of large Chinese vessels at Whitsun Reef, endanger peace and stability in the region," a EU spokesperson said in a statement on April 24.
EU reiterated its strong opposition to "unilateral actions that could undermine regional stability and international rules-based order".
It urged all parties to resolve disputes peacefully in accordance with international law, and highlighted a 2016 international arbitration that had ruled in favor of the Philippines while invalidating most of China's claims in the South China Sea.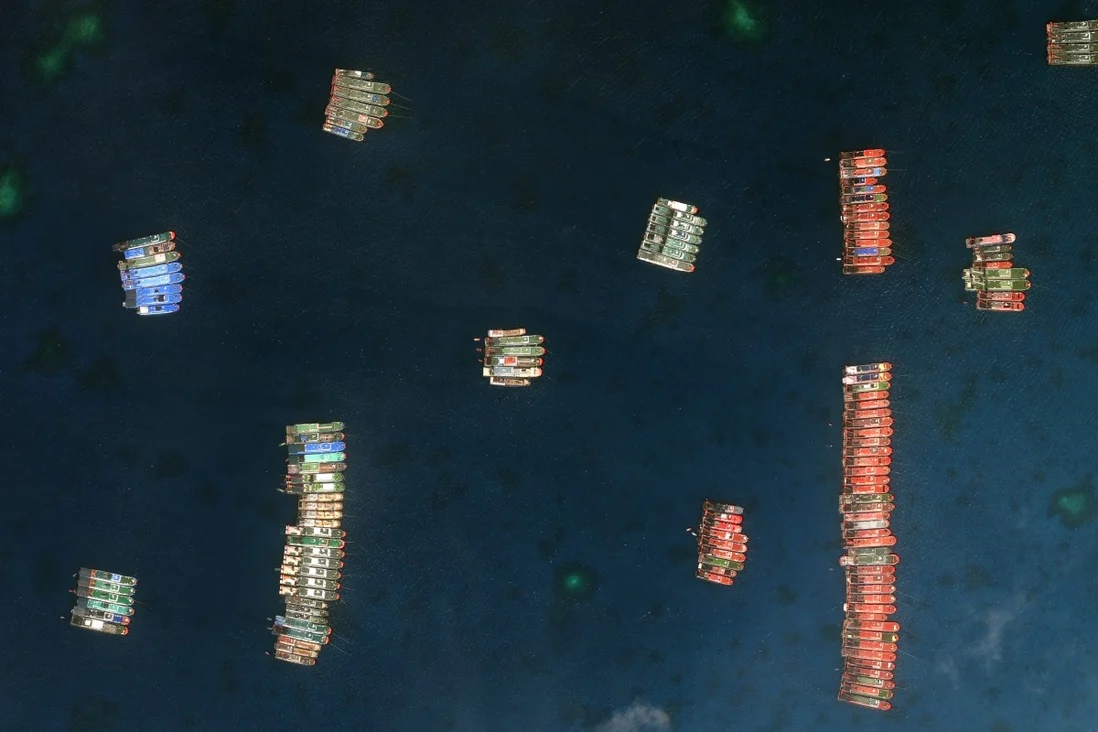 Chinese vessels at the Whitsun Reef. Photo: Maxar Technologies via AP
China rejected EU's accusation that its ships at Whitsun Reef, which China calls Niu'E Jiao, had endangered peace and security.
The Chinese Mission to the EU in a statement on April 25 reiterated that the reef is part of China's Nansha Islands, or Spratly Islands, and that it was "reasonable and lawful" for Chinese fishing boats to operate there and shelter from the wind.
The Chinese statement also insisted that China's sovereignty, rights and interests in the South China Sea were formed in the "long course of history and consistent with international law" and rejected the 2016 tribunal ruling as "null and void".
"The South China Sea should not become a tool for certain countries to contain and suppress China, much less a wrestling ground for major-power rivalry," the Chinese statement said.
China is increasingly worried that Europe and other countries are heeding US President Joe Biden's call for a "coordinated approach" towards China, which had so far materialised in the form of sanctions over its security crackdown in Hong Kong and treatment of Uyghur Muslims.
The South China Morning Post said the relationship between the EU and China has come under strain recently, after Brussels sanctioned officials accused of human rights abuses in Xinjiang, prompting retaliatory measures from Beijing.
The EU member states, such as France, Germany and the Netherlands are all considering sending warships to patrol in the waters, following the United States navy's regular "freedom of navigation" operation in the region.
In this March 7, 2021, photo provided by the Philippine Coast Guard/National Task Force-West Philippine Sea, some of the 220 Chinese vessels are seen moored at Whitsun Reef, South China Sea. (Philippine Coast Guard/National Task Force-West Philippine Sea via AP)
The US last month said it's backing the Philippines in a new standoff with Beijing in the disputed South China Sea, where Manila has asked a Chinese fishing flotilla to leave a reef. China ignored the call, insisting it owns the offshore territory, AP reported.
The US Embassy said it shared the concerns of the Philippines and accused China of using "maritime militia to intimidate, provoke, and threaten other nations, which undermines peace and security in the region."
"We stand with the Philippines, our oldest treaty ally in Asia," the US Embassy in Manila said in a statement./.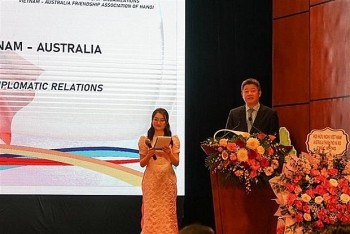 Friendship
A friendship exchange programme has been held recently in Hanoi to celebrate the 50th founding anniversary of the Vietnam-Australia diplomatic relations (February 26).