China continues building illegal structures in Vietnam's Truong Sa archipelago
China continues construction on one of its occupied features in Vietnam's Vanh Khan (Mischief) Reef in the Truong Sa (Spratly) archipelago, satellite images showed.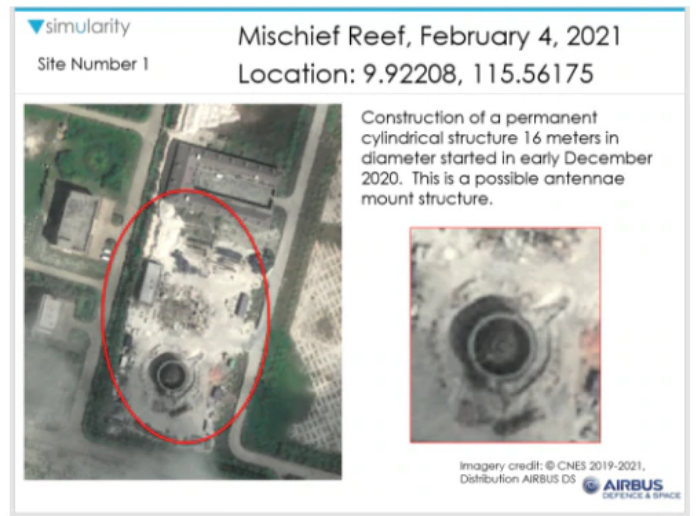 Screengrab from Simularity's report.
US-based tech firm Simularity's South China Sea Rapid Alert Service on Feb. 16 released images of Mischief Reef showing new developments since late 2020 amid the COVID-19 pandemic, reported Inquirer.
The South China Sea known as the Bien Dong Sea (translated as East Sea) in Vietnam.
In their February 2021 report titled "New Construction on Mischief Reef," the firm Simularity pointed to significant changes in 7 areas of Mischief Reef.
Images taken of an area marked as Site 1, for instance, showed it was still bare as of May 7, 2020. But on Feb. 4, 2021, images showed "construction of a permanent cylindrical structure 16 meters in diameter" which started in early December 2020. It appeared to be an antenna mount structure.
Simularity's reports used "AI-driven satellite imagery anomaly detection" processed by "human geospatial intelligence analysts," and said it enables them to monitor and release information on the Bien Dong on a weekly basis.
Meanwhile, images showing an area marked as Site 2, a new, large radome cover and possible fixed radar structure appeared and which were not there a year ago.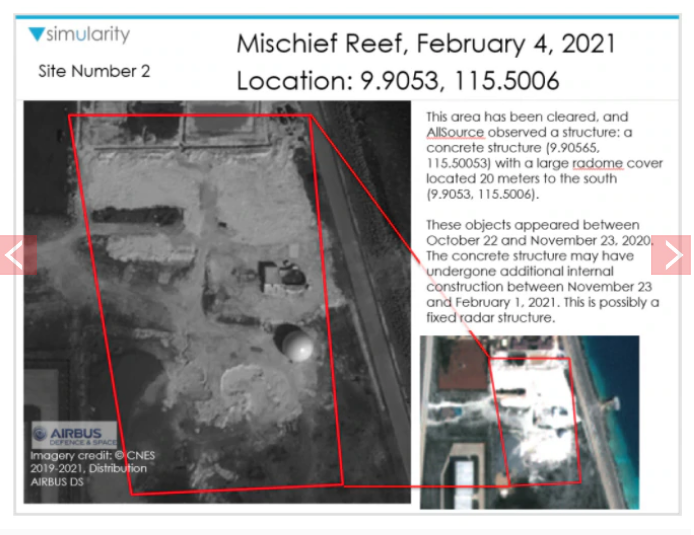 Screengrab from Simularity's report.
Areas identified as Sites 4 and 7, which previously had rectangular structures a year before, have been cleared as of Feb. 4, 2021.
Possible new areas of construction have been identified in areas marked as Sites 5 and 6.
Maritime expert Dr. Jay Batongbacal said on a Facebook post that new radar facilities appeared to be in stages of completion, construction equipment and barracks were being moved around, and some areas were probably being cleared for newer buildings.
"No comparison with Shoal. Mischief Reef is so huge, this activity gives one a sense of it," he explained.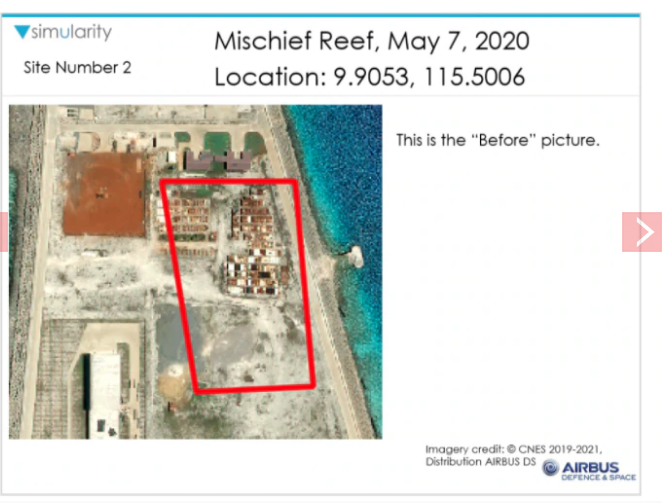 Screengrab from Simularity's report.
"Also in terms of scale, Mischief Reef is clearly capable of large-scale and probably over-the-horizon surveillance, in addition to being a naval and airbase. BRP Sierra Madre is just a garage guardhouse in comparison to that," he added.
The Asia Maritime Transparency Initiative (AMTI), a Washington-based think tank that has been releasing satellite images of the Bien Dong Sea since 2013, also has a 2020 photograph of Mischief Reef that showed changes and additions in the structures from 2017 to 2020.
Mischief Reef is the largest among the seven artificial islands built by China in the Spratlys.
The COVID-19 pandemic did not stop China's activities in the Bien Dong Sea in 2020.
Besides Mischief, China has also transformed Fiery Cross, Cuarteron, Gaven, Johnson South, Subi and Hughes reefs into artificial islands./.