China massive flood update: Water levels in many rivers and lakes above alarming levels
Reached water level in all the middle and lower of Yangtze River has receded to a safe level by July 30. However, the levels in many other rivers and lakes still remain above the alarming level. Meanwhile, Xi'an city is heavily stricken by severe flooding.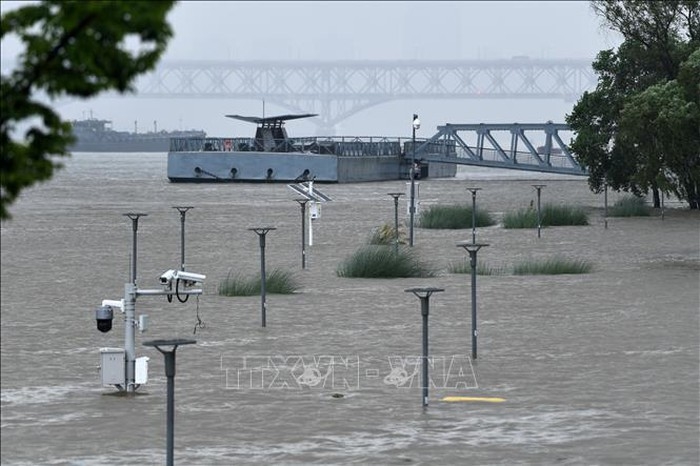 Water stays at a high level in Jiangsu River, China (Photo: AFP)
Numbers of rivers and lakes have water level risen above alarming level
Water level in some parts of Huai River has exceeded the alarming rate from 0.38 – 1.38 meters.
That number of Taihu River stays at 0.65 meters, meanwhile, the water level at 35 measurement stations in Taihu River's network has also exceeded the average alert level from 0.01 – 0.76 meters.
Water levels at 81 other rivers, including Hubei province's HanJiang and HanChuan river, Hunan province's SiShui river, Sao Lake in Anhui province, etc., are still staying above alarming level.
Water levels in the three rivers and lakes of Anhui Province, which are Yuke river, HangFu River, and Sao Lake are exceeding historical records.
Moderate to torrential rains are expected in the next three days, raging areas in Sichuan, northern Anhui province, northern Jiangsu and Shandong, northeastern Inner Mongolia, and southern Yunnan province. Some areas in Sichuan and Jiangsu should be prepared for heavy downpours.
On top of that, a tropical depression in the Bien Dong Sea (internationally known as South China Sea) will result in moderate to torrential rains along the coastal areas of Guangdong, Guangxi and Hainan provinces on August 1.
Given the strong rainfall, certain tributaries of the upper reaches of Yangtze River will suffer high rise in water levels. In addition, water level in small rivers in some parts of Sichuan and Jiangsu province experiencing heavy rains mentioned above may exceed the alarming rate.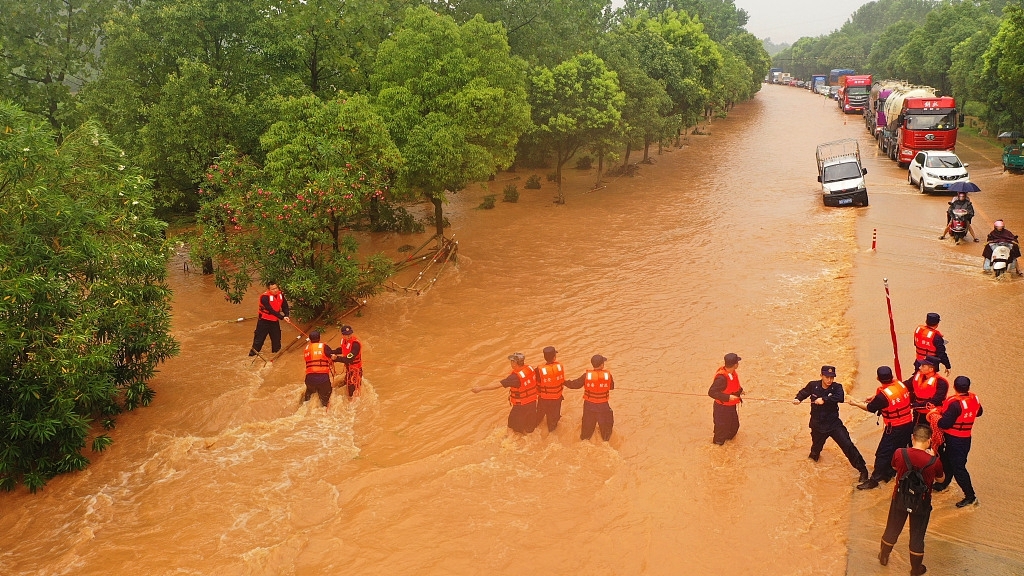 The country has so far been pulling out its all efforts to contain the flood (Photo: CGTN)
Extensive flooding in China's Xi'an
The ancient walled city of Xi'an appears to be the latest victim of the massive flooding that has ravaged much of China over the past two months, according to Taiwan News.
At 3 p.m. on Thursday (July 30), the Xi'an City Weather Forecast Service issued an alert for 10 to 30 millimeters of rain over the next six hours for several districts of Xi'an and nearby counties. The weather bureau also advised of sudden wind gusts of between 6 and 7 on the Beaufort scale and lightning activity.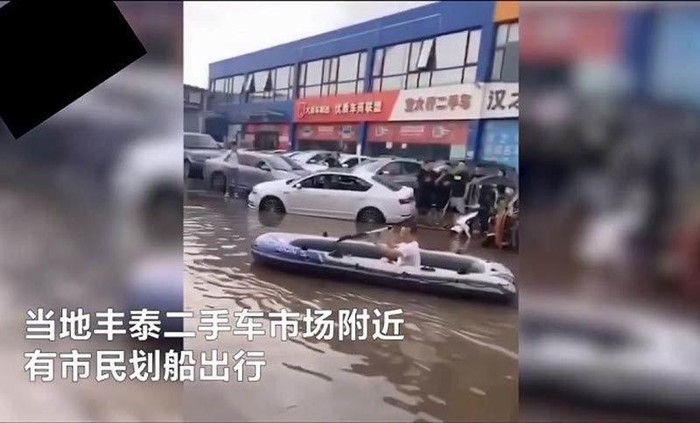 (Photo: Captured)
Within an hour, much of Xi'an was suddenly hammered with heavy rain in many areas and strong winds. By 4 p.m., the Xi'an City weather service issued an orange warning of rainfall accumulation of up to 50 mm over the next three hours in Xi'an, including the districts of Lianhu, Baqiao, Weiyang, Yanta, Lintong, Xincheng, and Beilin.
At 6:09 p.m., the Shaanxi Meteorological Bureau issued an orange warning of 20 to 40 mm of sudden bursts of rain and wind gusts of between 7 and 8 on the Beaufort scale over the next two hours. Rather than posting images of the flooding, the Chinese state-run mouthpiece Cnwest described the torrential downpour as a sudden "baptism" of rain, posting photos of rainbows allegedly captured by netizens across the city that day.
The flooding is ravaging Xi'an (Video: Taiwan News)
As reported by Xinhua net, Chinese Premier Li Keqiang on Friday called for relentless efforts in enhancing production safety and flood control to ensure the safety of people's lives and property.
All localities and departments must strengthen overhaul of key industries for loopholes to prevent major and extremely serious accidents, Li said at a national teleconference on production safety.
China is stepping up efforts in flood control as continuous heavy downpours have lashed vast stretches of the country along its Yangtze River since June. As of Thursday, the Chinese People's Liberation Army and the People's Armed Police Force had dispatched troops to over 3,700 flood relief operations by July 28, helping evacuate more than 130,000 residents affected by the unprecedented floods, according to the Ministry of National Defense.
According to the Ministry of Emergency Management, the rain-triggered floods in China have affected some 54.8 million people in 27 provincial-level regions as of Tuesday. Heavy machinery has been deployed to build temporary embankments to prevent possible floodwaters from breaking sluice gates, CGTN reported.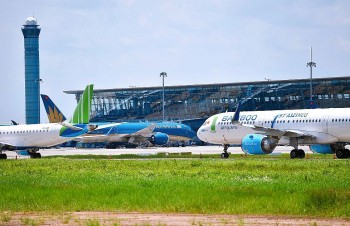 Economy
Vietnam Business & Weather Briefing (August 9): Vietnam's economic growth is expected to reach 7.5% in 2022, new securities accounts hit a near two-year low in July.