China massive flood updates: Yangtze River hit by third flood, Three Gorges Dam suffers more pressure
Rising water levels in trunk upstream leave China's Yangtze River struck with its third flood of the year Sunday afternoon, putting further pressure on the already overwhelmed Three Gorges Dam.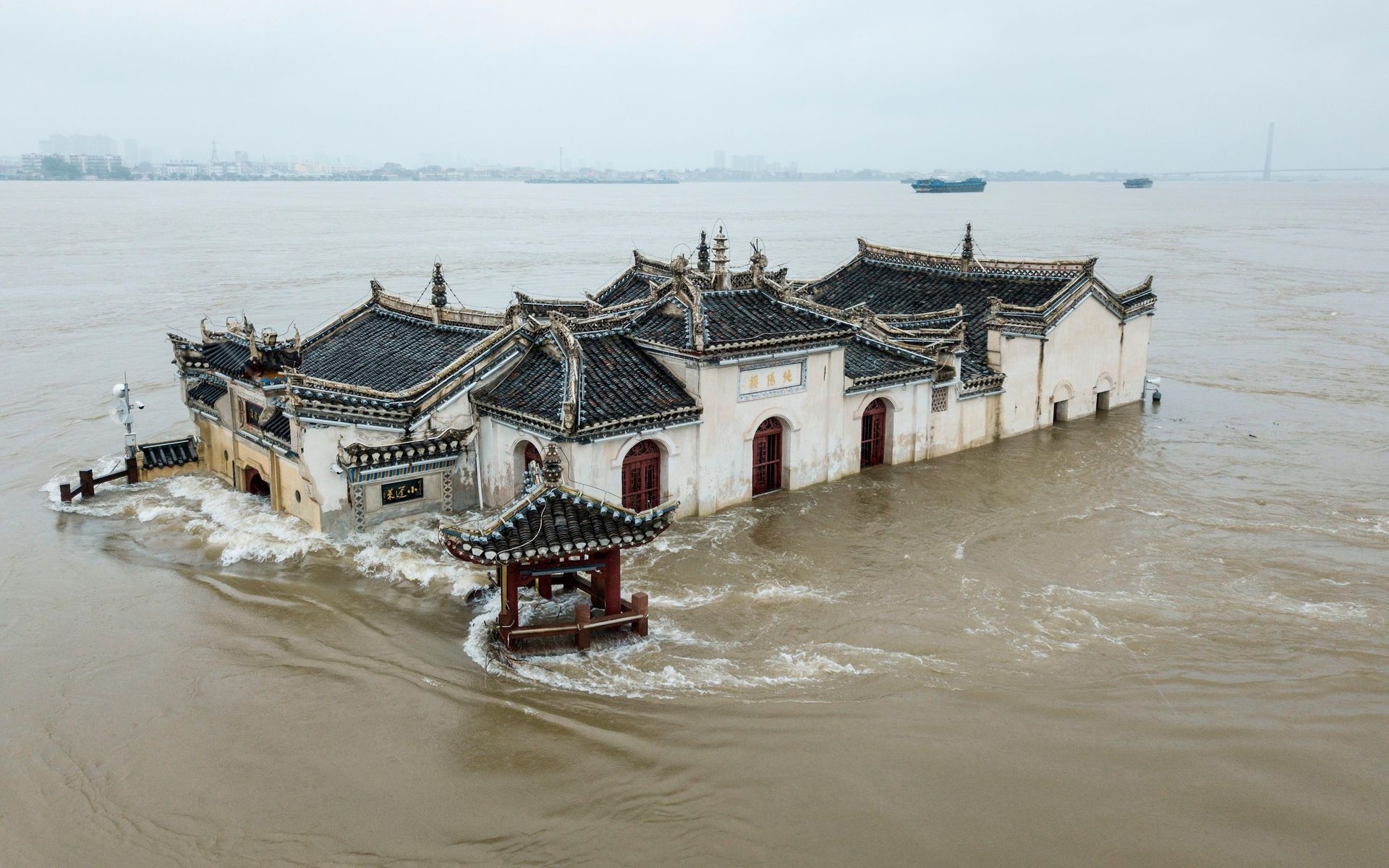 The area is inundated with floodwater (Photo: WSJ)
Torrential rain struck Yangtze River for the third time
Torrential rain since Saturday evening has wreaked havoc across Jianshi County in Enshi Prefecture of central China's Hubei Province. The county has been overwhelmed after steady rainfall reached almost 180 millimeters.
On the lake's eastern edge in Jiangxi province, 45-year-old Xu Yongxiang told SCMP that his village of Liufang had been without running water or electricity for almost a week. Although it was time for the rice harvest, that crop, along with cotton, corn, and beans, was now underwater.
"We do not have one inch of dry ground. It has all been flooded," Xu, who sells pork for a living, was quoted as saying on the official newspaper China Youth Daily's microblog.
Floods have caused two deaths and left three people missing in Jianshi as of Sunday. Residents living along the river have been urged to evacuate and stay away from the river bank.
Local authorities on Sunday morning raised the flood emergency response from the second highest to the top alert, warning that water levels in the hardest-hit areas could be over 560 millimeters, CGTN reported.
Torrential rains are expected in parts of Chongqing, Guizhou, Guangxi, Hubei, Hunan, Jiangxi, Anhui and Jiangsu, the National Meteorological Centre said, warning that some areas would experience up to 180mm (7 inches) of daily rainfall.
Some of these regions will see up to 70mm of hourly precipitation accompanied by thunderstorms and strong winds, the center said, SCMP reported.
At Lake Tai, on the border of the wealthy coastal provinces of Jiangsu and Zhejiang, water levels have exceeded the safe limits for nine consecutive days.
(Video: CGTN)
Renewed pressure on the Three Gorges Dam
The rains are putting renewed pressure on the massive Three Gorges Dam that straddles the river upstream of the central city of Wuhan in Hubei province.
"The high water levels on the Yangtze, Huai river, and Lake Tai have lasted for a long time … and there is growing pressure [on flood defense," the ministry was quoted by SCMP as saying.
At 2:00 p.m. on Sunday, the reservoir reported a maximum inflow of 50,000 cubic meters per second, which is expected to reach 60,000 cubic meters per second by Sunday night, CGTN reported.
The Changjiang water resources commission, which is responsible for the Yangtze basin, also issued a warning about rapidly increasing water levels upstream and in the Three Gorges reservoir.
The Three Gorges Dam, which spans Asia's longest river, was built mainly to generate electricity, but the Chinese government also said it was expected to mitigate catastrophic flooding.
According to state news agency Xinhua, since July, flooding has affected 23.8 million people in 24 provinces. A total of 31 people are reported missing or dead and more than 2 million people had to be relocated. The economic losses are estimated to amount to 64.4 billion yuan (US$9 billion), Xinhua reported last week.
Make in Vietnam
Vietnam introduced potential for trade and investment to Algeria's localities