Chinese father invents portable case to protect his son from Covid-19 
Video of a father, 30, from Shanghai, has become viral on Chinese short-video platform Douyin due to his invention of a "coronavirus pod case" aiming to shield the baby from the deadly virus while going outside.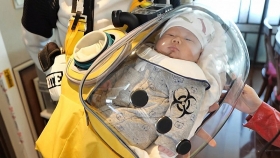 The sleeping pod features a purifier to filter air into the cabin.
The sleeping pod is equipped with a purifier that delivers filtered air into the cabin and a sterile glove that allows parents to comfort their child without directly touching them.
The father from Shanghai, 30, known by his nickname Bai Ying or the "white shadow", designed the protective case for his son to use when they go outside.
"It's very inconvenient when you need to take your child to places that don't have fresh air, for example, the hospital," Bai Ying said in a video he uploaded to Chinese short-video platform Douyin.
A monitor that detects and shows the air quality of the cabin is also attached to the safety pod. It displays the density of carbon dioxide and the temperature inside the pod.
"Because babies have a weaker respiratory system, wearing a mask could likely cause a lack of oxygen for them," the Shanghai-based interior designer told the local press.
Bai Ying said his design was partially inspired by popular video game "Death Stranding".
"I feel very proud that people approve my design, like I've turned something from the virtual world into real life," he added.
The designer father has contacted a manufacturer to produce more "coronavirus safety pods" after dozens of people offered to buy his device.
"I don't want to be a social media influencer, but I want my design and products to help more people," Bai Ying said.
The novel coronavirus has infected over 81,000 people in China and claimed at least 3,259 lives. Though the country has recently seen a sharp decline in its new cases, fears are sparked after more imported patients traveling from abroad are reported.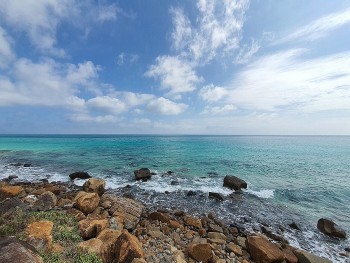 Viet's Home
Con Dao, a historical and famous island situating in the southern province of Ba Ria - Vung Tau, has been named among the top 16 best island vacations in the world, as compiled by tourism magazine Condé Nast Traveler (CNTraveler) of the United States.