Chinese tech giants face mounting pressure from the US – will BAT be next to get hit?
U.S. President Donald Trump said on Saturday he could exert pressure on more Chinese companies such as technology giant Alibaba after he moved to ban TikTok.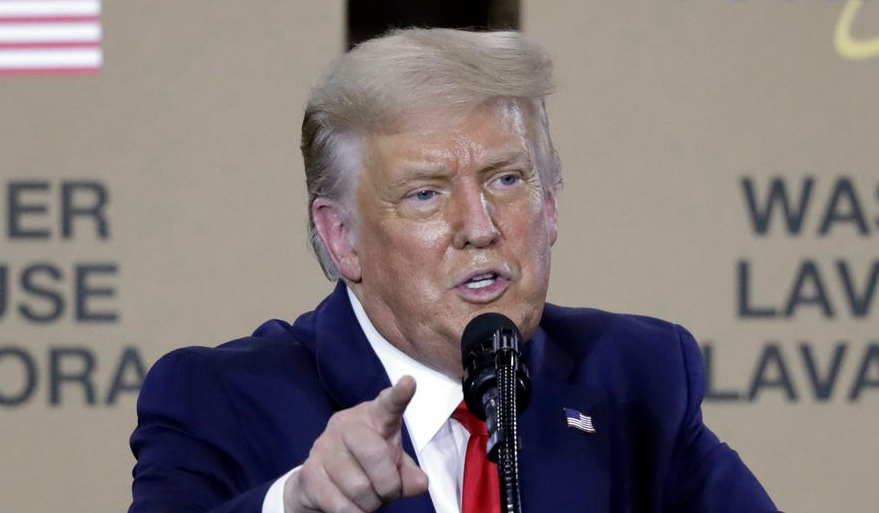 Donald Trump speaks during an event at the Whirlpool Corporation Manufacturing Plant, Thursday, Aug. 6, 2020 (Photo: AP)
When asked at a news conference on Saturday whether the administration was looking at banning any other China-owned companies in the US – with the reporter's question specifically mentioning Alibaba and Baidu – Trump replied, "We're looking at other things. Yes, we are."
Although Trump's response was ambiguous, not indicating whether his "yes, we are" referred to the two Chinese tech giants, it signaled that the backlash may be snowballing beyond TikTok and Tencent, cited by South China Morning Post (SCMP) - a press owned by Alibaba Group Holding.
US-China Technology war: What's going on?
Trump has been piling pressure on Chinese-owned companies, such as by vowing to ban short-video app TikTok from the United States. The United States ordered its Chinese owner ByteDance on Friday to divest the U.S. operations of TikTok within 90 days, the latest effort to ramp up pressure over concerns about the safety of the personal data it handles.
Trump, who has made changing the U.S.-China trade relationship a central theme of his presidency, has been sharply critical of China while also praising its purchases of agriculture products such as soybeans and corn as part of a trade agreement reached late last year, according to Reuters.
Tencent, the owner of super app WeChat, and TikTok owner ByteDance have already been hit with US sanctions. Trump issued executive orders on August 6 that "any transaction" relating to WeChat and TikTok would be banned from operating in the United States in 45 days if they are not sold by their parent companies. The definition of "transaction" in the order is still pending clarification by the US Secretary of Commerce.
Themoves to ban TikTok and WeChat representan "unprecedented intervention by the US government in the consumer technology sector," according to Paul Triolo, head of geo-technology at Eurasia Group, a political risk consultancy, cited by CNN Business.
It also marks the first time the government "has attempted to ban a software application running on millions of mobile phones" in the United States, Triolo wrote in a note on Friday.
ByteDance was subject to a second executive order over the weekend that said it must divest TikTok within 90 days due to national security concerns.
"There is credible evidence that leads me to believe that ByteDance ... might take action that threatens to impair the national security of the United States," Trump said in the order, cited by Reuters.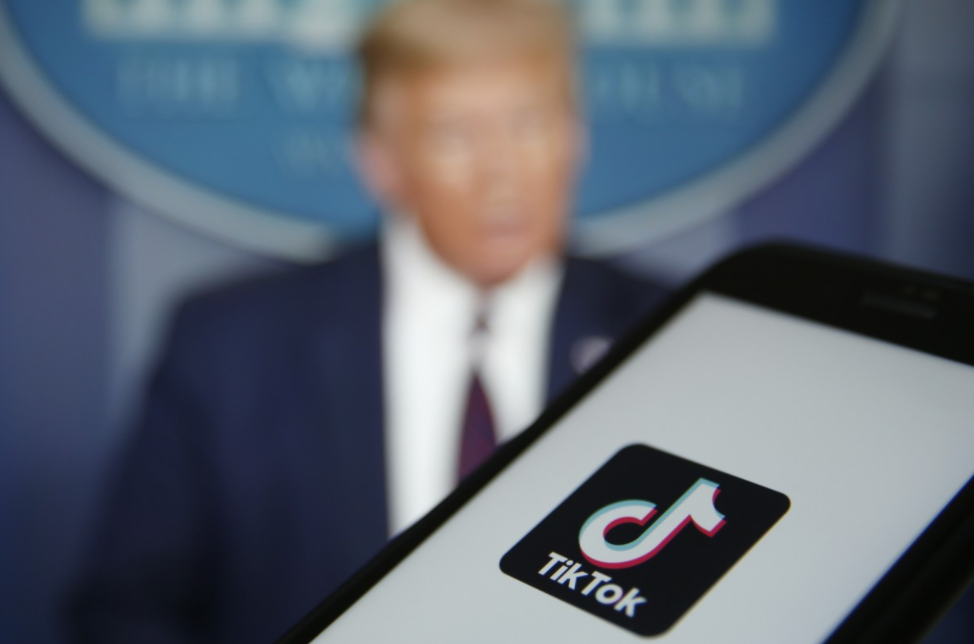 The TikTok logo is displayed in the app store in this arranged photograph in view of a video feed of US President Donald Trump. (Photo: Bloomberg)
Why China's BAT be Trump's next target?
On Monday, Chinese Ministry for Foreign Affairs spokesman Zhao Lijian said the latest TikTok executive order was "just an excuse for certain US politicians to pursue 'digital gunboat policy'", quoted by SCMP.
While the US does not contribute much to finances, it is important in other ways. In the case of Huawei Technologies, China's telecoms champion, the Trump Administration has used access to US core tech as leverage to limit the Chinese firm's growth prospects.
Huawei was put on Washington's Entity List in May 2019, restricting its access to US technologies like software and semiconductors. As with the TikTok and WeChat executive orders, the Trump Administration cited national security risks to justify its decision.
That has fuelled speculation about similar orders being slapped on BAT (Baidu, Alibaba and Tencent), who, up to now, declined to comment for this story.
Separately, US-listed Chinese companies, including Baidu and Alibaba, could be forced to delist by January 2022 if they do not comply with a series of new rules recommended by a group of influential US regulators.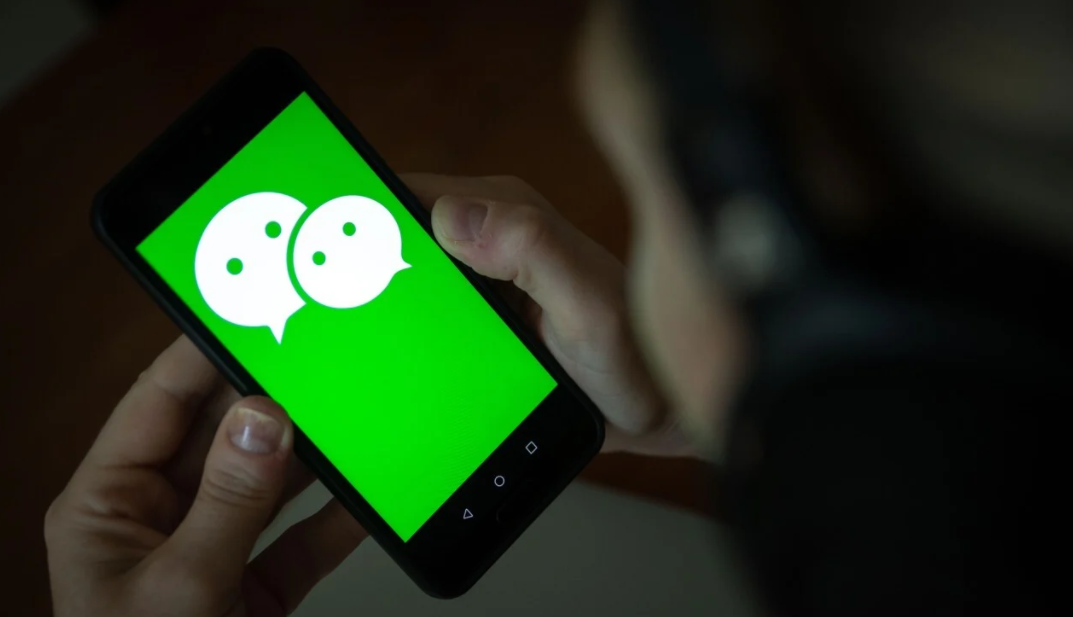 Tencent's WeChat, known as Weixin in China, has become the primary social messaging platform for Chinese at home and abroad. (Photo: Bloomberg)
Views on consequences of Trump's combat
SCMP claimed that the latest Trump move towards a tech decoupling between the US and China will also present a difficult choice for Europe, India, Southeast Asia, Africa and Latin America.
"This becomes especially challenging if countries are forced to make a decision to exclusively align themselves in terms of technology with either China or the US," said Ben Wootliff, a partner at consultancy Control Risk. "We're not there yet, but the Trump administration may be pushing for that."
A group of major U.S. companies, including Apple, raised concerns this week about the potential negative implications on U.S. firms from the TikTok and WeChat orders.U.S, saying it could undermine their competitiveness in the world's second-biggest economy, according to Reuters.
"Given that WeChat has become a critical part of everyday life and commerce in China, such a move would likely also be cataclysmic for Apple's business in China — without Weixin available on the iPhone, for example, sales would likely plummet," CNN Business quoted Paul Triolo.
Regardless of which Chinese companies are next on Trump's target list, tech decoupling between the US and China may result in an irreversible shift in the global internet.
"If in 10 years time we say 'the global internet is dead', we will look back and see this as a turning point," said Ben Wootliff.
Graham Webster, China Digital Economy Fellow at Washington-based think tank New America, doubts the bans will even be implemented. "There are real privacy and cyber concerns with Chinese companies using apps, but this is not what's going on. If you wanted to deal with that, you'd have a much broader and more technical approach," Webster said.