"Chinese vaccines don't have very high protection rates", China's top official says
China's top disease control officials admit that Chinese's Covid-19 vaccines are effectively low, the government is considering mixing them to get a boost.
Chinese vaccines "don't have very high protection rates," said the director of the China Centers for Disease Control, Gao Fu, at a conference Saturday in the southwestern city of Chengdu, according to AP News.
Beijing has distributed hundreds of millions of doses abroad while trying to promote doubt about the effectiveness of the Pfizer-BioNTech vaccine made using the previously experimental messenger RNA, or mRNA, process.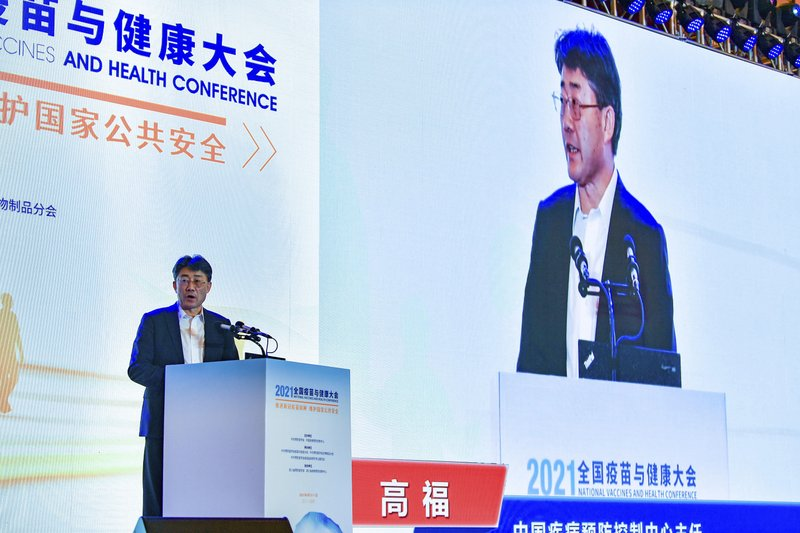 Gao Fu, director of the China Centers for Disease Control, speaks at the National Vaccines and Health conference in Chengdu in southwest China's Sichuan province Saturday, April 10, 2021. In a rare admission of the weakness of Chinese coronavirus vaccines, Gao the country's top disease control official says their effectiveness is low and the government is considering mixing them to give them a boost. (Chinatopix Via AP)
"It's now under formal consideration whether we should use different vaccines from different technical lines for the immunization process," Gao said.
Officials at a news conference Sunday didn't respond directly to questions about Gao's comment or possible changes in official plans. But another CDC official said developers are working on mRNA-based vaccines.
Experts say mixing vaccines, or sequential immunisation might boost effectiveness. Researchers in Britain are studying a possible combination of Pfizer-BioNTech and the traditional AstraZeneca vaccine.
The effectiveness of a Sinovac vaccine at preventing symptomatic infections was found to be as low as 50.4% by researchers in Brazil, near the 50% threshold at which health experts say a vaccine is useful. The Pfizer-BioNTech vaccine has been found to be 97% effective.
A Sinovac spokesman, Liu Peicheng, acknowledged varying levels of effectiveness have been found but said that can be due to the age of people in a study, the strain of the virus and other factors.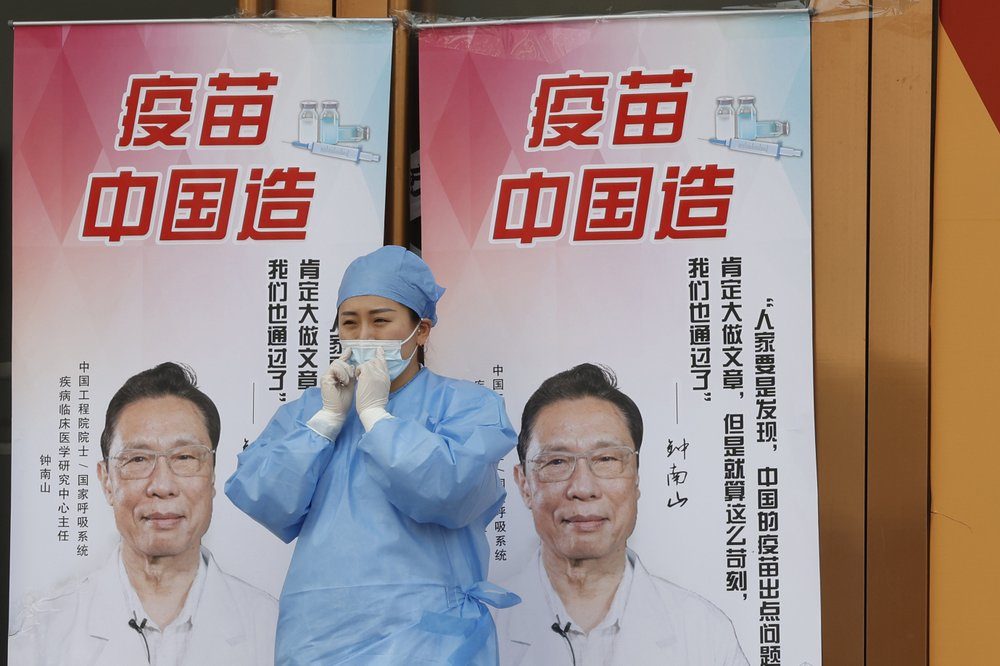 A medical worker adjusts her mask near propaganda boards showing famed Chinese medical expert Zhong Nanshan and the words "Vaccine China Made" outside vaccination center in Beijing Friday, April 9, 2021. In a rare admission of the weakness of Chinese coronavirus vaccines, the country's top disease control official says their effectiveness is low and the government is considering mixing them to give them a boost. (AP Photo/Ng Han Guan)
Liu Peicheng added studies find protection "may be better" if the time between vaccinations is longer than the current 14 days but gave no indication that might be made standard practice.
China has administered 164.4 million doses of its vaccine domestically, according to Our World In Data. Its two state-owned drug-makers, Sinovac and Sinopharm, have exported doses to 22 countries including Mexico, Turkey, Indonesia, Hungary, Brazil and Turkey, according to the foreign ministry.
Hungary is the only European Union member state to have rolled out the Chinese vaccine with Prime Minister Viktor Orban choosing to be inoculated with it.
Chinese authorities have not submitted their vaccines to the European Medicines Agency (EMA) for use across the 27-country bloc.
The EMA has so far approved the use of four vaccines — by Pfizer/BioNTech, AstraZeneca/Oxford University, Moderna, and Johnson & Johnson. It is also currently reviewing Russia's Sputnik V.
What do we know about Chinese's Covid-19 vaccines?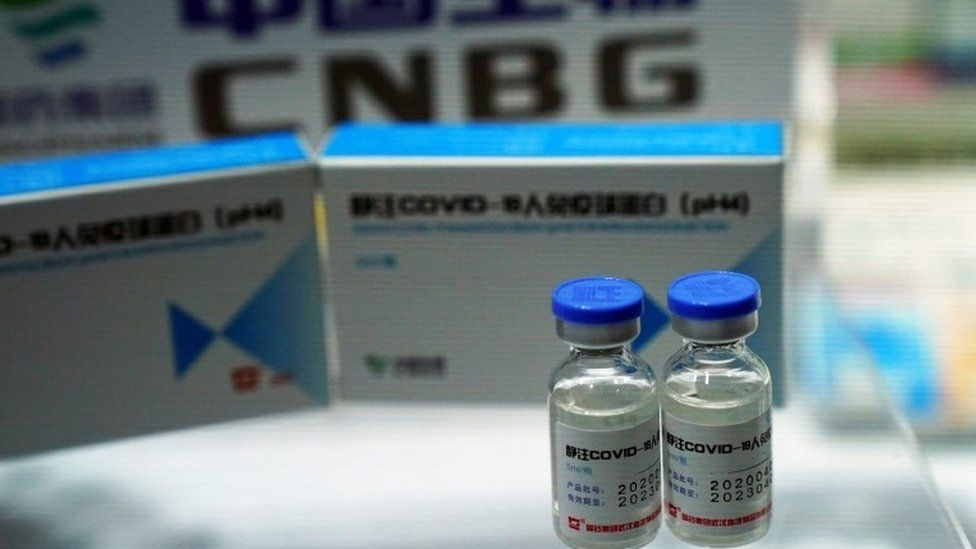 Photo: BBC
There are about a dozen Chinese vaccine candidates for covid-19, but five front runners have received emergency use approval in China as well as several other countries.
Sinopharm, a state owned enterprise, is currently working on two different jabs, both of which are based on an inactivated form of SARS-CoV-2. The first was developed at Sinopharm's Beijing institute while the second was developed in Wuhan. A third vaccine called CoronaVac was developed by the Beijing based pharmaceutical firm Sinovac. It is also based on an inactivated form of SARS-CoV-2.
All three of these require two doses but the fourth front runner, from vaccine developer CanSinoBIO, is single dose. Unlike the others, it uses a human adenovirus, Ad5, to deliver SARS-CoV-2 proteins into the body. (Russia's Sputnik V vaccine also uses a form of Ad5 as well as another adenovirus.) CanSinoBIO previously used the same approach to develop an Ebola vaccine that was approved for emergency use in China.
A fifth vaccine candidate, from pharmaceutical firm Anhui Zhifei Longcom, was given emergency use approval on 16 March. This one requires three doses and uses proteins based on the receptor binding domain of the SARS-CoV-2 virus.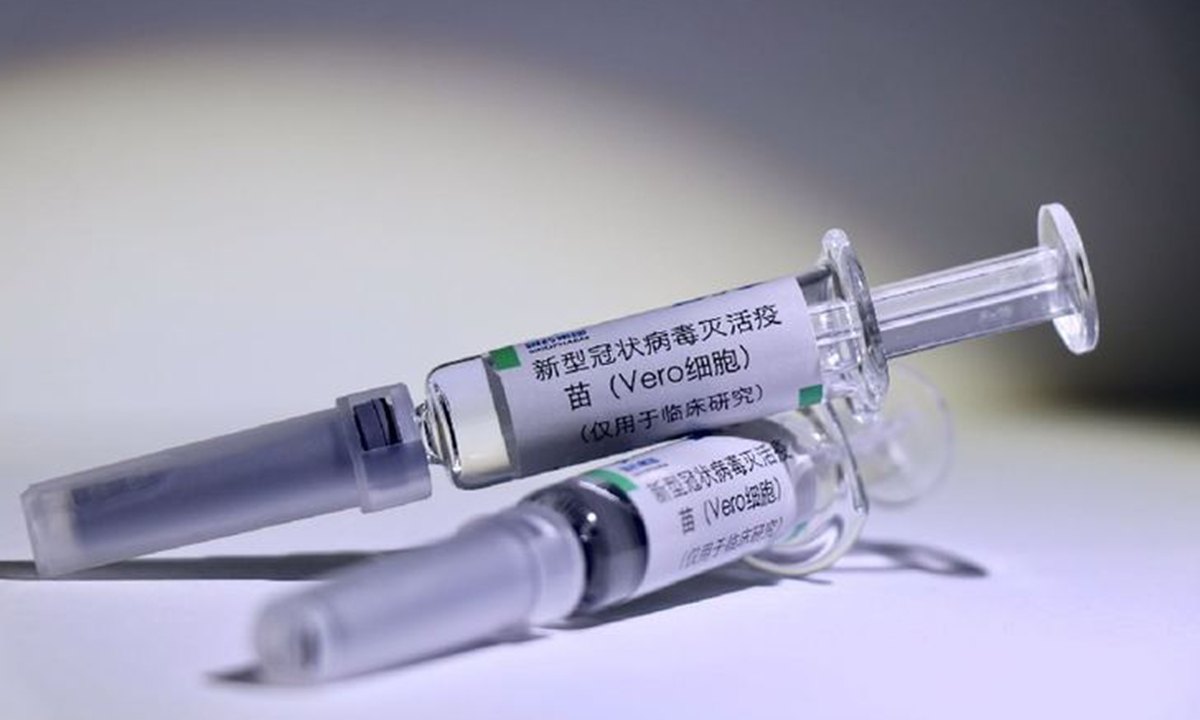 Photo: Getty Images
All five of these vaccines can be kept at normal fridge temperatures, a big advantage over others that require storage at extremely cold temperatures.
All five of the leading domestic candidates can be used in China, though it's unclear how many doses of each have been administered so far, or where. No other vaccines have been approved for use in China.
The country had administered around 120 million doses as of 31 March, according to data published by the National Health Commission and reported by Reuters. Zhong Nanshan, a former president of the Chinese Medical Association, told the news agency in early March that China is aiming to vaccinate 40% of its 1.4 billion population by the end of July. The country is prioritising 18 to 59 year olds in key worker groups, such as healthcare workers, before moving on to clinically vulnerable people and then those who are aged 60 or over.
Authorities behind Hong Kong's mass free vaccination programme have said that three centres originally set to offer the Pfizer vaccine would switch to Sinovac in response to strong public demand to be vaccinated as soon as possible.
Because of the lack of transparency surrounding Chinese made vaccines, however, vaccine hesitancy appears to be a problem. A survey by China's disease control and prevention centre found that just 42% of healthcare and epidemic preparedness workers were willing to have a vaccine during a recent rollout. There are reports of similar hesitancy in Brazil; in a recent poll in the country, just 47% of respondents said they would be willing to take a vaccine made in China.
Sinopharm's first vaccine has received the most emergency use approvals so far, nearly 30, including in Bahrain, Guyana, Hungary, Serbia, and the UAE. Hungary was the first EU country to approve use of a Chinese vaccine, with Prime Minister Viktor Orbán among those who have received it.
Several countries have approved Sinovac's CoronaVac jab for emergency use, including Brazil, Chile (where the vaccine has been trialled), Indonesia, Laos, Mexico, and Turkey.
Mexico and Pakistan have given emergency use approval to the CanSinoBIO vaccine.
The Anhui Zhifei Longcom vaccine has received approval for use in Uzbekistan.