Vietnam expected to produce home-grown Covid-19 vaccines this August
Three months after the third phase of human trials, by August, Vietnam is expected to produce its own Covid-19 vaccines to inoculate its citizens, said Major General Nguyen Xuan Kien.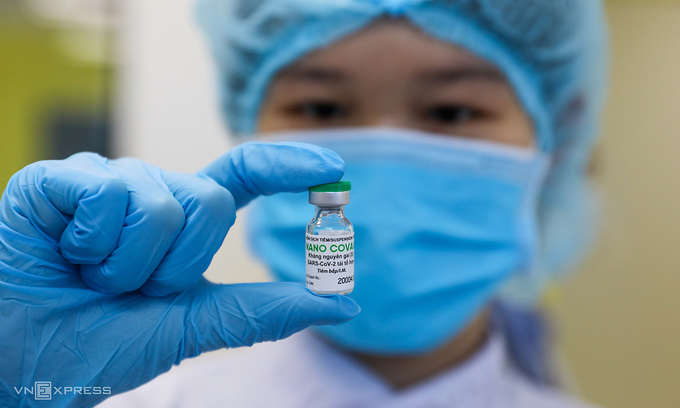 A worker holds up a vial of Nanocovax, a domestic Covid-19 vaccine, in a laboratory in HCMC's District 9. Photo by VnExpress/Quynh Tran.
At a press conference of the Ministry of Defense on April 9, Major General Nguyen Xuan Kien, Head of the Military Medical Department said that the unit has recently coordinated with Nanogen Pharmaceutical Biotechnology JSC to discuss the third phase of human trials of Nanocovax vaccine. To date, the Military Medical University has completed giving two vaccine shots to volunteers, Vnexpress reported.
According to General Kien, giving the first shot aims to determine the vaccine's safety and the body's side effects. Meanwhile, giving the second one aims to reaffirm the vaccine's safety and ascertain how it generates immunogenicity. As many as 500 volunteers were injected with the second shot of the Nanocovax vaccine. The Military Medical University is scheduled to commence the third phase of human trials in May, with the participation of 10,000 to 15,000 people.
"Hopefully, three months after the third phase of human trials, by August, we will have our own vaccine to inoculate soldiers and fellow citizens to actively prevent the epidemic", Kien said.
Vietnam currently has four domestic Covid-19 vaccines under development and trial. These are produced by Nanogen, the Institute of Vaccines and Medical Biologicals, the Vaccine and Biological Production Company No. 1 and the Center for Research and Production of Vaccines and Biologicals.
The government has also approved the AstraZeneca vaccine and Russia's Sputnik V Covid-19 vaccine for emergency use.
The country aims to secure around 150 million doses this year to cover 70 percent of its 98 million population from the EU, U.S., Japan, China, India, and Russia.
Vietnam launched its vaccination campaign on March 8. As of April 10, more than 58,000 Vietnamese have been administered the AstraZeneca vaccine.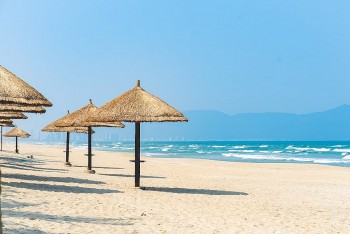 Travel
According to NZ Herald News, Da Nang beach is an ideal place to sunbathe during summer vacation.