Frontline officers, soldiers in central Vietnam get prioritized Covid-19 vaccines
60 officers and soldiers in Quang Nam province's Armed Force are given the first dose of AstraZeneca vaccine on April 9.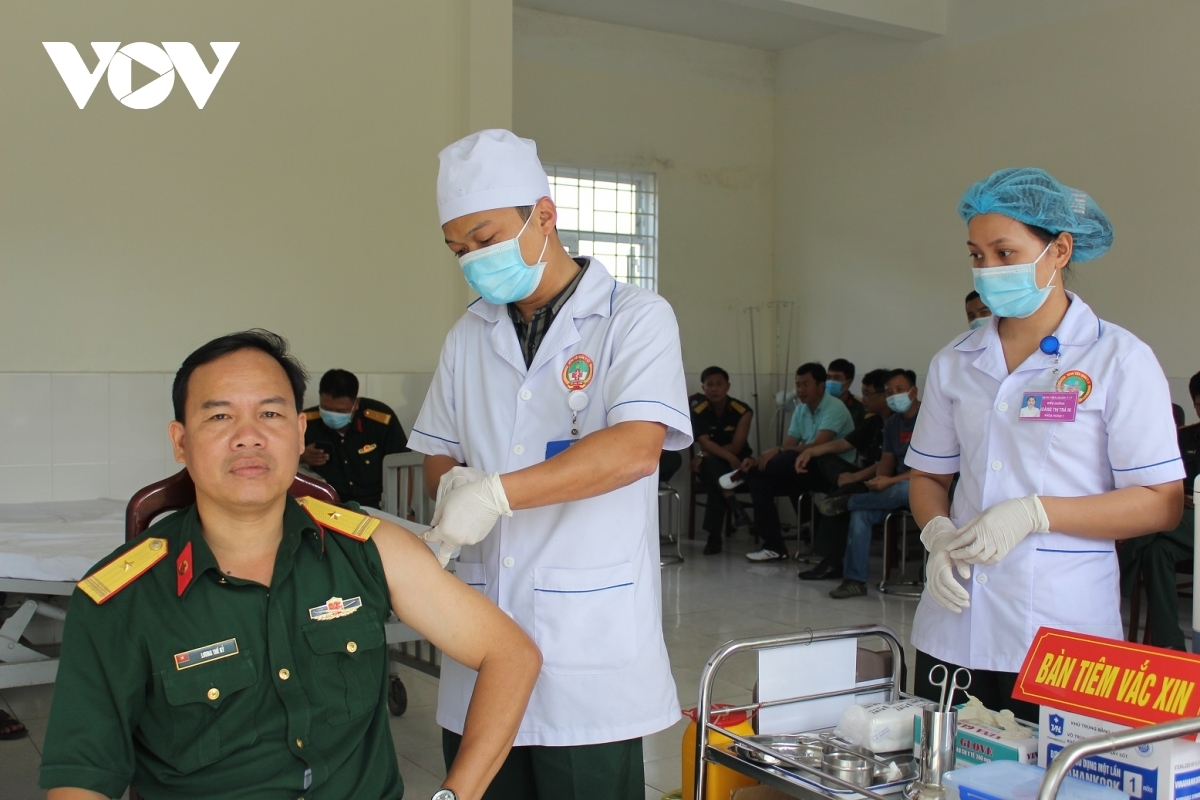 Over 60 officers and soldiers were given the jab on April 9 (Photo: VOV)
60 officers and soldiers in Quang Nam province's Armed Force are given the first dose of AstraZeneca vaccine on April 9.
The 60 recipients are all conducting mission at centralized quarantine facilities managed by the Provincial Military Command. All medical procedures are performed by military medical staff.
This vaccination program took place at CK42 Hospital, under the cooperation of Quang Nam's Military Command and Military Hospital No.17.
All officers and soldiers fully followed vaccination procedures prior to injection, including medical declaration, temperature measurement, vaccination consent and pre-vaccination screening form. Each then was given the first shot of AstraZeneca vaccine produced in Korea. After the injection, all were required to stay at the facility for 24 hours for further health monitoring.
Earlier in early April, border officers and soldiers patrolling at border gates and checkpoints in Tay Ninh province were also listed as a prioritized group for nearly 1,000 doses of Covid-19 vaccine. Dozens of soldiers were given the jab on April 1 morning.
The vaccination program is organized by the Vietnam Border Guard, Army Medical Department - Ministry of Defense and 175 Military Hospital.
The 175 Military Hospital has all areas, including registration, health screening, vaccination, post-vaccination monitoring area, well-supplied with medical equipment met with health authorities' safety standards.
Vaccinated officers and soldiers are given a safe vaccination certificate.
The vaccination program for border guards at the Southwest border is deployed at 6 provinces within April. Inoculation sites will be placed at all-level medical facilities, makeshift facilities, all medical staff carefully trained prior to vaccination.
Each site is to inject under 100 individuals per session to ensure thorough health screening and medical history registration. Those with fever, cough will get the vaccine the next day.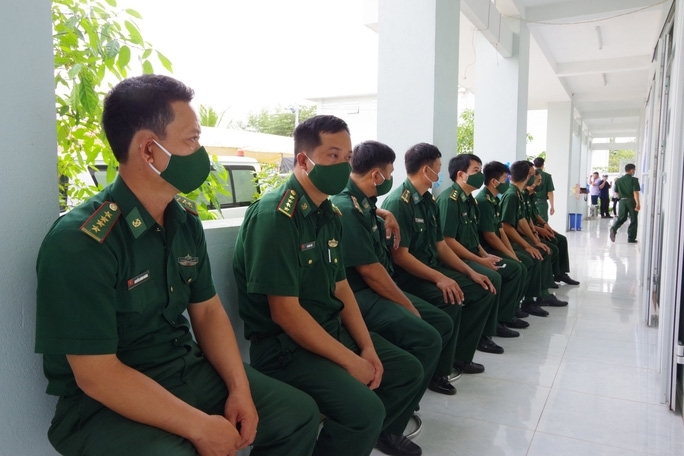 Boder guards in Tay Ninh province waiting outside for their turn to get the jab (Photo: Nguoi Lao Dong)
Earlier on March 30, the first 20 Vietnamese high-achieving athletes in three sports of wrestling, taekwondo, and judo were inoculated with the Covid-19 vaccine at Hanoi-based 108 Military Central Hospital.
Every day, there are 20 athletes to be injected with the vaccine according to the approved list, said the Vietnam Sports Administration.
Athletes of taekwondo, judo, fencing, wrestling, boxing, gymnastics, athletics, weightlifting and swimming participating in the Tokyo Olympic qualifiers will be the first vaccine recipients in the sports field. This is the Government's priority for athletes implementing international missions, Baotintuc reported.
As of April 7, as many as 55.151 Vietnamese people in 19 provinces and cities have been administered the AstraZeneca Covid-19 vaccine.
There have been 33% of recipients displaying commonly mild reactions such as swelling at the injection site, fatigue, mild fever, headache, and nausea. These reactions are normal which are also detected in other types of vaccines against measles, whooping cough, or tetanus.
There has been 1% of recipients experiencing severe reactions; however, they were timely treated and now are all in stable health conditions.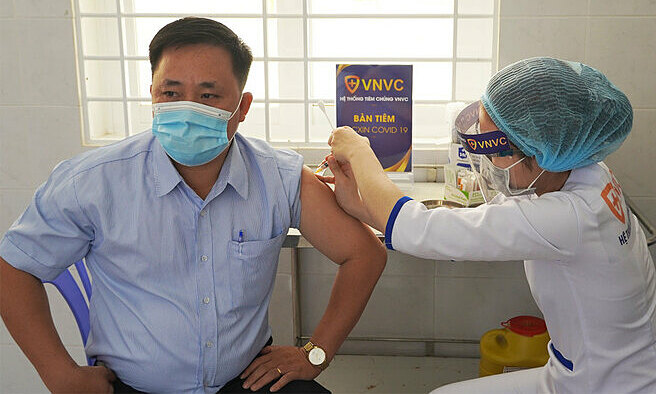 A medical staff in Ba Ria-Vung Tau Province receives his first shot of AstraZeneca's Covid-19 vaccine, March 2021. Photo by VnExpress/Hac Minh.
The post-injection reaction rate in Vietnam is lower than that announced by the producer. The country to date hasn't yet recorded any cases of blood clots after administration.
The immunization rollout in Vietnam has been scientifically implemented, in accordance with the safety regulations.
The vaccination sites meet the requirements of facilities, equipment, and medical workers. The vaccine recipients are screened before injection and have their health closely monitored after the process.
The recipients' information is fully updated on the e-health record system.
The list of 10 prioritized groups receiving free Covid-19 vaccine:

1. Medical and other frontline workers:

- Medical workers

- Those involved in taking samples, testing, contact tracing, members of Covid-19 community groups, members of the Steering Committees for disease prevention and control, reporters, volunteers.

- Military forces

- Public security forces

2. Diplomatic personnel

3. Customs and immigration officers

4. Those working in essential services like transport, aviation, electricity, water, etc

5. Teachers

6. Those with chronic diseases that make them more vulnerable to the disease caused by the virus.

7. People aged 65 and above

8. People in pandemic-hit regions

9. The poor and social policy beneficiaries

10. Those sent to study and work overseas by the competent state agencies.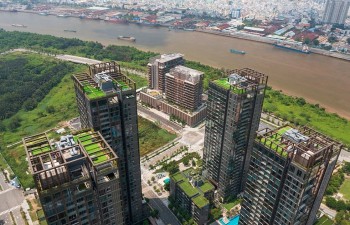 Economy
Vietnam Business & Weather Briefing (August 11): Vietnam to increase coal imports in 2025-2035 period, ten tonnes of Vietnamese longan exported to Australia.