Christian NGO Supports Border Residents
World Vision Vietnam is implementing programs to support women and children, the most vulnerable group in the northern mountainous province of Dien Bien
Along with providing daily necessities to needy households, World Vision Vietnam is working to improve the livelihoods of children and women, especially those in ethnic minority-inhabited and mountainous areas of Dien Bien Province.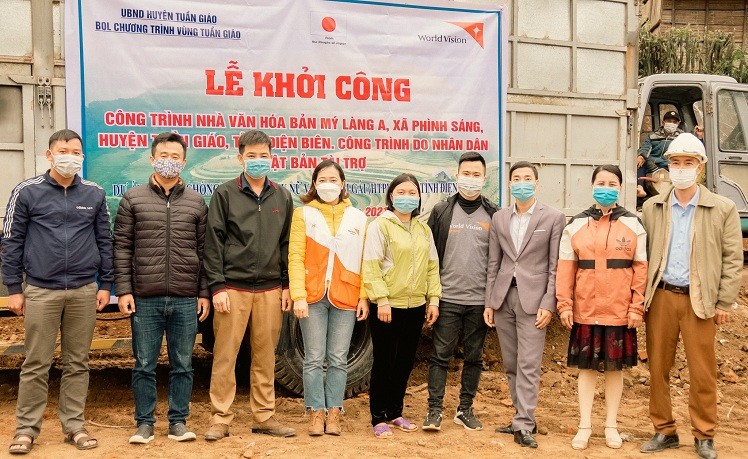 At the groundbreaking ceremony. Photos: World Vision Vietnam
Recently, within the Human Trafficking Prevention for Women and Girl Project, World Vision Vietnam had started the construction of a cultural house in three target villages for members of three women's clubs in My Lang A, Nam Mu, and Tenh La Communes, Tuan Giao District, Dien Bien Province.
With a budget of approximately US$ 76,651, the cultural house will become a place where women can comfortably and confidently exchange, share, and learn from each other in work and life. Specifically, the smart and friendly design will separate children's play areas from other areas such as nursing or clothe changing rooms. Only when female members feel safe and comfortable participating in activities at the cultural house will knowledge and skills in life skills, gender equality, or domestic violence be absorbed most effectively.
Last month, World Vision Vietnam also joined hands with the Agricultural Service Center of Muong Cha District to hand over the breeding cow to members of the women's clubs.
Accordingly, 30 breeding cows were given to 60 women in 36 and Cong Troi Villages (Sa Long Commune), and Huoi Toong 1 and Trung Dinh Villages (Huoi Leng Commune). In addition, World Vision Vietnam had also supported households with the necessary materials to build barns before providing them with livestock.
With a total value of more than US$ 19,862, this activity helps households improve their livelihoods through the application of safe and sustainable livestock techniques based on a thorough understanding of the market. This is also an opportunity for families to diversify their income sources, thereby improving the quality of life for all members, especially children.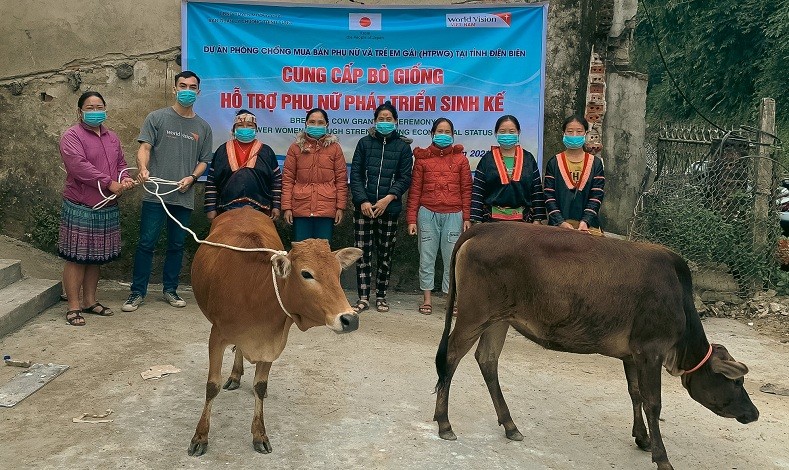 Poor households in northern Dien Bien province, are supported with cow breeds for economic development..
The Japanese Ministry of Foreign Affairs funds the Human Trafficking Prevention for Women and Girls in Dien Bien project under the Grant Assistance for Japanese Non-governmental Organization project.
The project is expected to be implemented in three years in Muong Cha and Tuan Giao districts to empower women and girls to protect themselves and their peers from the risks of human trafficking and violence, with a particular focus on strengthening their economic status.
For those who are not as familiar, World Vision is a global Christian humanitarian, development, and advocacy organization that provides short and long-term assistance to 100 million (and counting) people worldwide. Their focus is the well-being of the most vulnerable children.
The organization started working in Vietnam in 1988. Since then, World Vision has implemented many relief and development programs, partnering with the Vietnamese government, other NGOs, and communities.
Child sponsorship is one of World Vision's highlight programs. Last November, a World Vision Vietnam's children group in Muong Cha District has participated in the webinar "Promoting children's participation in families, schools and communities" organized by the Department of Children in collaboration with Save the Children and MSD.
The children shared the Children-Led Initiative Model in World Vision Vietnam's Children's Club at the event.
The model promotes children's participation, where they propose ideas, participate, mobilize the community and local leaders to implement policies towards positive changes in children's lives.
The initiative implementation equips children with the necessary knowledge and skill and helps them understand their values and the essential role of children in solving problems in the community.
Between 2018 and 2021, World Vision Vietnam has supported Children's Clubs in Dien Bien and Hoa Binh Provinces to implement around 130 initiatives, including 30 on child protection advocacy. About 2,000 children have participated in these initiatives.
Children's Club is World Vision Vietnam's model for children aged 6 - 15 to participate under parents/caregivers' consent. It equips children with essential life skills and values ​​so they can actively express thoughts and opinions; be confident and self-respect in all circumstances; respect each other and be aware of child protection issues.
In addition, the Children's Club also supports other participants such as teachers, local partners, other members of the community, develop creative thinking in organizing activities for children, improve skills to solicit children's participation and be more aware of children's images, voices, and roles.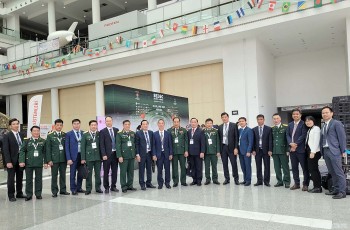 Friendship
Vietnam's presence at the security and defence exhibition SEDEC 2022 in Ankara has been seen as important initial steps to promote the Vietnam-Turkey cooperation.