Classical Music Concert to Celebrate Vietnam-Austria 50 Years of Diplomatic Relations
In the framework of Vietnam-Austria's 50th anniversary of diplomatic relations celebration, the Austrian Embassy in Hanoi collaborated with the Vietnam Symphony Orchestra (VNSO) to hold a concert titled "Musik Aus Wien: Mozart & Strauss."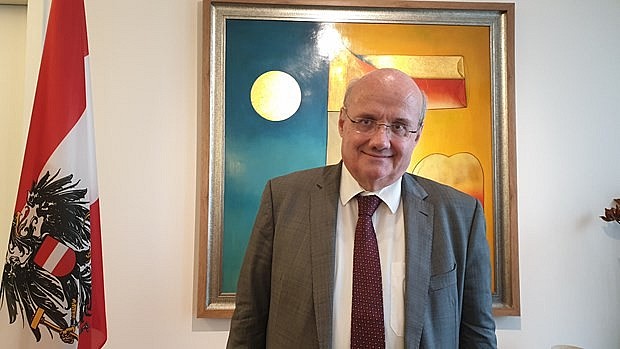 Austrian Ambassador to Vietnam Hans-Peter Glanzer.
On the morning of November 15, at a press conference to introduce the concert, Austrian Ambassador to Vietnam Hans-Peter Glanzer said the concert was a cultural highlight in a series of events organized by the Austrian Embassy to celebrate the 50 years of diplomatic relations between Vietnam and Austria (December 1, 1972 - December 1, 2022). Thus, it is a remarkable event to conclude a year of celebration.
The Vietnam Symphony Orchestra, conductor Rainer Honeck from the Vienna Philharmonic, and singers Marta Poliszot and Adrian Erod from the Vienna Operahouse, will cooperate to perform works in the Second Viennese school, which marks an important milestone in twentieth-century symphonic music.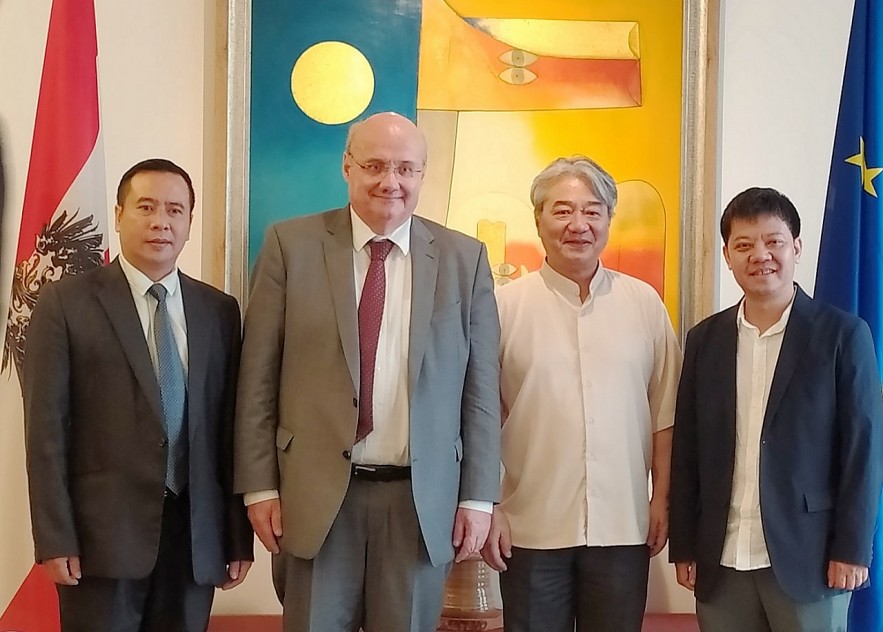 (From left to right) Chu Anh Hung, Deputy Director of Hanoi Opera House, Hans-Peter Glanzer, Austrian Ambassador, Honna Tetsuji, Music Director and Principal Conductor of VNSO, Trinh Tung Linh, Director of VNSO.
Also within the framework of the 50th anniversary, the Vietnam Symphony Orchestra and artists from Austria will cooperate to hold masterclasses for musicians in Vietnam.
According to Honna Tetsuji, Music Director and Principal Conductor of the Vietnam Symphony Orchestra, the concert is a part of their project to introduce a new musical school that Vietnamese audiences are not familiar with. The project will last until 2024 - the 150th anniversary of Arnold Schoenberg's birthyear - a well-known composer who had a great influence on twentieth-century European music.
Director of the Vietnam Symphony Orchestra Trinh Tung Linh said that at the concert, the audiences are served famous pieces with new expressions from the collaboration of Vietnamese orchestras and famous European artists.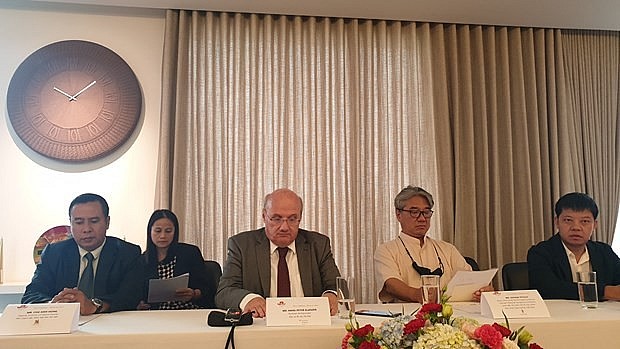 At the press conference.
"Musik Aus Wien" Concert will be held at the Hanoi Opera House at 8 pm, Saturday, November 26, 2022. At the concert, artists will perform works of Wolfgang A. Mozart, Johann Strass II, Josef Strauss and Emmerich Kalman.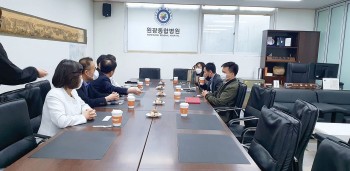 Overseas Vietnamese
A meeting was organized at the Wonkwang Hospital on the provision of medical support for the Vietnamese community in Korea in accordance with the signed cooperation agreement.