CNN: Fish Sauce is The Soul of Vietnam's Food
Fish sauce - nước mắm, or literally 'salted fish water' - is a Vietnamese culinary icon, an indispensable national ingredient
Chris Dwyer, a reporter for CNN, says he has loved Vietnamese fish sauce made in Phu Quoc, Vietnam's largest island off the southern province of Kien Giang.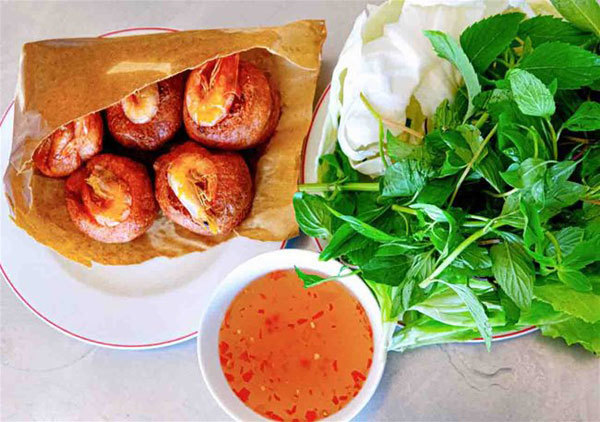 Fried shrimp cakes are served with lettuce, herbs and sweet and sour fish sauce. Photo: Vietnamnet
In his article published in CNN on August 4, he described the special fish sauce as an indispensable national ingredient that ranks among condiments such as olive oil or soya sauce.
According to the CNN reporter, visitors don't need to look far to sample a taste of Vietnamese fish sauce as it is present in pho, (the nation's traditional noodle soup), spring rolls, com tam, banh xeo, com thit nuong, as well as dozens of other ubiquitous dishes.
Vietnam has more than 3,000km of coastline and an abundant source of seafood. Just like rice, fish sauce is a staple of almost every dish in Vietnam. "For Vietnamese people, a meal without fish sauce is considered incomplete," culture expert Tran Ngoc Them once wrote in his book Vietnam Culture Foundation.
The earliest mention of fish sauce is found in Roman literature in the 4th century BC.
Nowadays fish sauce is popular in Southeast Asian countries – in Thailand it is known as nam pla, in Myanmar as nganpyaarrai, in the Republic of Korea as eojang.
In Vietnam, fish sauce is used widely – as a seasoning, a dipping sauce, in humble daily meals and at fancy parties. Nuoc mam is said to help distinguish Vietnamese food from that of its neighbours.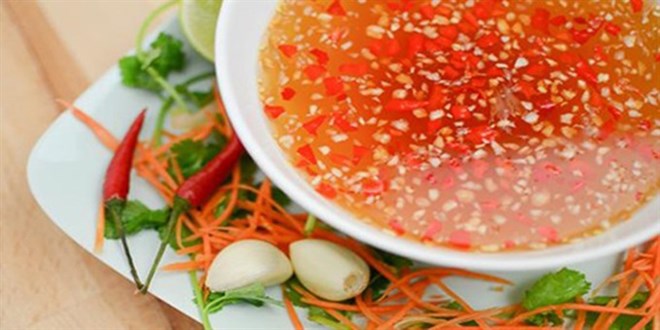 When served with noodles or pancakes, sugar, water, garlic and chili are added to the fish sauce to disguise the strong fish smell.
In order to learn more about Vietnamese fish sauce, Dwyer paid a visit to Phung Hung on Phu Quoc island, a 45-minute flight southwest of Ho Chi Minh City.
The reporter found the Phung Hung fish sauce workshop has been in business since 1950 and is very proud of its reputation as one of the leading producers on an island which many Vietnamese feel is responsible for making the finest fish sauce available in the country.
Dwyer learned that the crucial ingredients in fish sauce are ca com (black anchovies), and smaller white anchovies. Together, they comprise roughly 95% of the fish used in the dish. Larger fish such as sardines and herring make up the rest.
Black anchovies are layered with salt right on boat before being brought back to the island and transferred to premium wooden barrels.
A local transferring black anchovies into a fish sauce barrel. Source: Kiengiangtravel.vn
The CNN reporter shared that fish sauce barrels are used as hand-crafted items from wood of boi loi, a tree from Phu Quoc National Park.
The quality and type of wood add to the quality of the fish sauce. Barrels used to make the fish sauce in Phu Quoc have a cylinder shape and wide mouth. They are made from 55 wooden boards with equal sizes, specifically 2.2 meters (height) x 20 centimeters (width) x 6 centimeters (thickness). The barrel has a diameter of about 3.2 meters at the mouth and 2.6 meters at the bottom. The barrels are secured with thick bands made from rattan, also found on Phu Quoc island's forest.
He revealed that part of the secret in the sauce is Phu Quoc's unique combination of environmental factors, including the right humidity and heat which slowly lets the mixture be reduced to leave between three and four thousand litres of fish sauce per barrel.
The finished product has a deep brown color and a rich umami taste. The price of Phu Quoc fish sauce may vary, depending on its protein content.
Fish sauce facilities are also a unique tourism product on Phu Quoc Island. Visitors come to these facilities not only to see the fish sauce barrels but also to learn about the art of making fish sauce and the cultural values nurtured by locals.
The Ministry of Culture, Tourism, and Sports of Vietnam recognized fish sauce making on Phu Quoc Island of Kien Giang province as a national intangible cultural heritage.
The art of making fish sauce, has been around for over 200 years. It has become a way of life for locals on Phu Quoc Island.
Dwyer quoted Spanish chef Bruno Anon, who leads the culinary program at Regent Resort Phu Quoc, as saying that fish sauce is the national soul and essence of the Vietnamese people, which sets the country's cuisine apart from the rest of the world.
"In every Vietnamese meal, a small bowl takes pride of place, a sauce that ties together everything on the table," Bruno Anon added.
The CNN reporter said that several acclaimed fine dining restaurants such as Toyo in Manila in the Philippines are also huge fans of fish sauce, locally known as patis.
He was also reminded of 2016 when globally renowned chef Anthony Bourdain took then-US President Obama for a humble bowl of bun cha, rice vermicelli with grilled pork.
"The key flavor profile was, as Bourdain explained, nuoc mam - the ubiquitous Vietnamese fermented fish sauce," he concluded.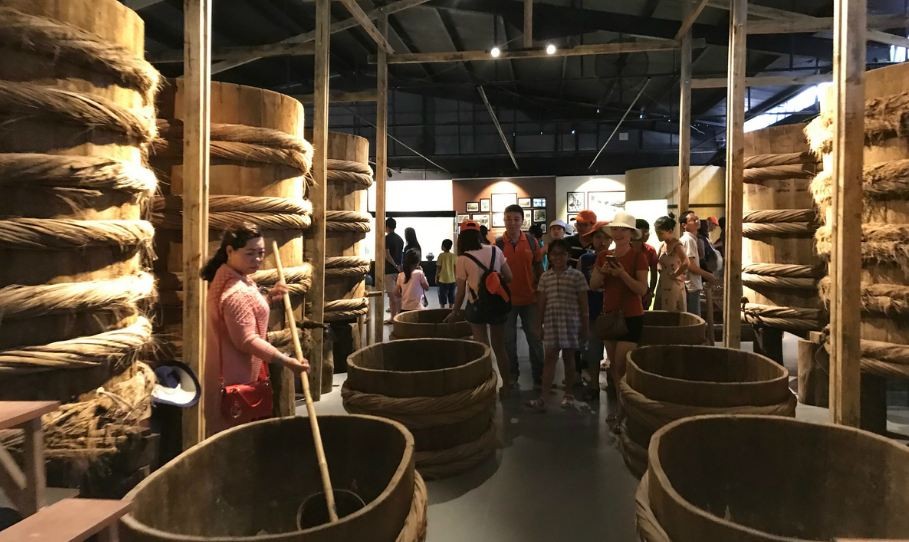 Visitors inside the fish sauce museum in Phan Thiet city, in the central province of Binh Thuan. Photo: VnExpress
Tribute to kings
No one knows exactly when Vietnamese people started making and using fish sauce. It was first documented in Dai Viet Su Ky Toan Thu or Complete Annals of Dai Viet (Dai Viet is the former name of Vietnam), a book compiled by royal historian Ngo Sy Lien in the 15th century.
The book mentions that in the 10th century, locals made fish sauce and offered the condiment as a tribute to kings. This indicates that Vietnamese people used fish sauce before the 10th century and that it was a well-known specialty that Chinese rulers demanded Vietnam give as payment.
Other Vietnamese historical books also recorded nuoc mam as a specialty of some central regions of Vietnam and as a commodity required by the government as a form of tax in some periods of the Nguyen dynasty (1802-1945). In other words, households that made fish sauce had to pay the government a certain amount of fish sauce every year.
American Poet Bruce Weigl who fought in the battlefields of the central province of Quang Tri in 1967 and 1968 during the Vietnam War, waxed poetic about Vietnamese fish sauce in his writing My Own Personal Fish Sauce.
Weigl described his experience of being offered rice with some fish sauce. "It was delicious: a wonderful combination of pungent and sweet, and the richness too of the taste of the river that flows back into the darkness where time is… It [fish sauce] has become the smell of Vietnam for me in my mind when I'm home and lonely for my second country."
Weigl decided to try making it himself at home in the US, becoming known as the "Fish sauce Ambassador". He has gone from 'being a fan to being a connoisseur'.
Fish sauce is used most popularly in cooking, as seasoning accompanying meals and as a dipping sauce. When served with noodles or pancakes, sugar, water, garlic and chili are added to the fish sauce to disguise the strong fish smell.
Cao Bang's Delectable Street Food

Currently, Kim Dong pedestrian street in Cao Bang city has gradually become a highlight for the city's tourism, a place for people to have fun ...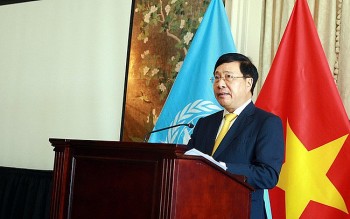 Friendship
Deputy Prime Minister Pham Binh Minh has asserted Vietnam's strong support for and commitment to the UN's role in leading and coordinating multilateral efforts to respond to global challenges.