Coach Park Hang-seo gives players taste of his home in Korea
Park Hang-seo, South Korean head coach of the Vietnamese men's senior and under-23 (U-23) football teams, has brought the junior side to his native land for winter training this month.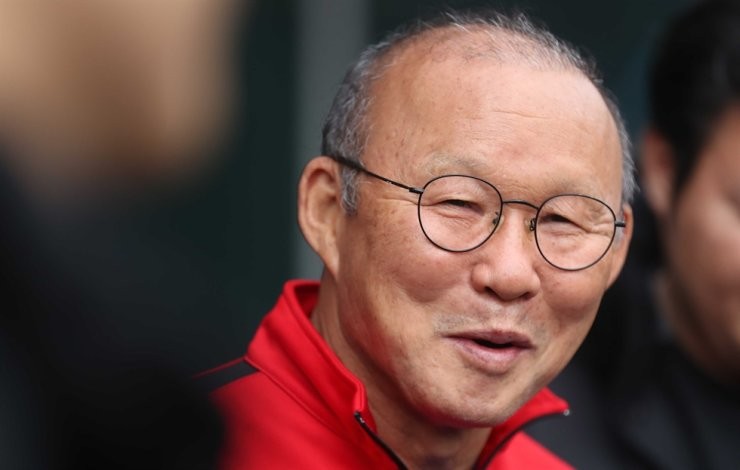 Park Hang-seo, Korean head coach of the Vietnamese men's senior and under-23 (U-23) football teams, speaks to reporters before practice at Tongyeong Stadium in Tongyeong, South Gyeongsang Province, Tuesday. Yonhap
But it'll be part training camp and part excursion. After Vietnam captured their first-ever gold medal at the Southeast Asian (SEA) Games earlier this month, Park wanted to give his players a breather and a chance to recharge their batteries ― and do so while getting a taste of their coach's home.
The monumental gold medal came last Tuesday, and Park brought his team to Tongyeong, some 330 kilometers south of Seoul in his home province of South Gyeongsang, last Saturday.
"The SEA Games just ended, and we have some banged-up players," Park told reporters before practice on Tuesday. "I wanted to give them some time to heal. Even though it's a bit cold, it's great to be home."
It won't be all fun and games for Park and his U-23 team. They're gearing up for the Asian Football Confederation (AFC) U-23 Championship in January next year in Thailand.
That competition will act as the Asian qualifying tournament for the 2020 Tokyo Olympics. The top three teams will punch their tickets to the Olympics. Vietnam will face North Korea, Jordan and the United Arab Emirates in Group D, with the top two advancing to the quarterfinals.
Vietnam have never played in the Olympics.
"I haven't been able to pay too much attention to the junior side, with the World Cup qualifiers also going on at the same time as we were preparing for the SEA Games," Park said. "For the AFC U-23 Championship, the roster will have 23 players. I brought 28 players, including three goalkeepers, here, and those who haven't played much of late will go through regular training here."
Park, who first took over Vietnam in October 2017 and signed a lucrative, two-year extension last month, has re-written Vietnamese football record books. He led the country to a runner-up finish at the 2018 AFC U-23 Championship and to the semifinals at the 2018 Asian Games. Vietnam also won the Suzuki Cup title over Malaysia in December 2018, their first in 10 years.
Park said when he first went to Vietnam, his initial objective was to last one year and see what happened afterward.
"Whatever I've done in the past is in the past and I'll have to be ready for new challenges," Park said. "That's the life of a football coach."
Asked what his main coaching philosophy was, Park said, "I want to make sure I bring out the best in my players and make sure they can maximize their talent. I've been able to accomplish so much as a coach in Vietnam because I've been blessed with great players."
Park served as an assistant to Guus Hiddink on the South Korean bench when the Taeguk Warriors marched into the semifinals at the 2002 World Cup. He reiterated his early statement that he doesn't intend on taking the South Korean job.
"I won't even get an offer, and even if I did, I have no desire to coach South Korea," Park said. "There are a lot of coaches who are younger and more capable than I am. I've just signed my extension and I'd like to finish my football career in Vietnam."
Asked what makes Vietnam successful, the coach said, "I think the Vietnamese players always battle hard on the ground and they're always hungry."
Economy
In the first two months of 2023, India's mobile phone exports exceeded $2 billion, equivalent to over Rs16,500 crore, due to increased production and shipments from manufacturers, particularly Apple and Samsung. This surge in exports brings the total export value to over $9 billion since April 2022.