Coldplay Applauds Vietnamese Dance Cover to Hit Song 'My Universe'
The British rock band Coldplay has praised a video of Vietnamese dancers performing to their viral track with K-pop band BTS 'My Universe'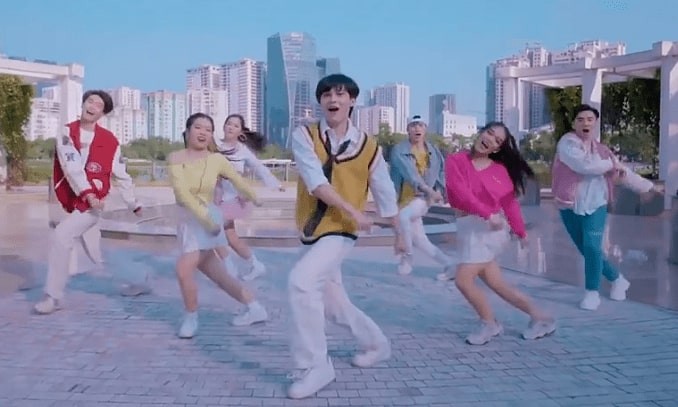 A screenshot of people dancing to 'My Universe' in HCMC. Photo courtesy of Coldplay
On their official Facebook, the band wrote a Vietnamese status with the message saying: "It's amazing to see the beautiful choreography made by dance groups in Vietnam to My Universe."
They also tagged the official Facebook pages of the six dance teams in the post, which has raked in over 600 likes, VNE reported.
Many Vietnamese wrote positive reviews in the comment section:
Facebook account Nguyen Hang wrote: "OMG they write in Vietnamese, wonderful."
"Love you guys, please come and hold a tour in Vietnam. There are many Coldplay fans here," a person named Thai Thanh Tung said.
'My Universe' is a song from Coldplay's 9th studio album, featuring South Korea's top boy band - BTS.
The song received an explosive response because it was a collaboration between two popular bands from two countries, with the lyrics performed in both English and Korean.
The song also topped Billboard's music chart while the music video received more than 150 million views on YouTube.
(Video: Opps Crew)
In November, 2020, So Y Tiet, a Vietnamse ethnic cowherd man, became an Internet phenomenon after several international stars commented on his numbers song, and found a way to earn money from his newfound fame, according to VNE.
At the time the US presidential elections were ongoing, some stars shared Ytiet's video with tongue-in-cheek comments.
Rapper Carbi B posted a photo of Ytiet on Instagram with the caption, "The only person I trust to count the ballots."
Singer Rihanna also posted a photo of Ytiet, asking where he was when people needed him.
Many people then watched his rap videos on YouTube, saying the U.S. elections took them there.
In these videos, the man from the central Binh Dinh Province raps numbers in English, alphabets and days in a week. His accent, humorous way of talking and facial expressions have made Ytiet a sensation, especially among foreigners.
Many said that they like Ytiet because of his soft melodies and the idea of having a farmer who can rap and talk honestly.
Chris Brown was the first international star to mention Ytiet on Instagram.
"How many times have you watched the go crazy video????" the American singer asked in July.
(Video: DatPiff)
Singer Miley Cyrus and rapper Snoop Dogg shared his video, while Canadian singer Justin Bieber left a comment that Ytiet's voice had emotion.
In September American rapper Wiz Khalifa released a track called "From 41 to 49" on his official YouTube channel.
Ytiet's initial video has raked in over two million views on YouTube while the Number Song (From 41 to 49) video has nearly 1.8 million.
In a video in October Ytiet said after becoming famous he has been invited to sing at some minor events and paid around VND2 million ($86.29). After earning VND35 million ($1,511) in this manner, he built a toilet for his family.
Best-Selling Albums of 2021

Morgan Wallen's Dangerous: The Double Album continues to sell the most in 2021, thanks to strong streaming and physical sales.