Congratulations to Laos on 45th National Day
On the occasion of the 45th anniversary of the National Day of Lao PDR (December 2, 1975 - December 2, 2020), on November 30, a delegation of the Vietnam Union of Friendship Organisations (VUFO) and Vietnam-Laos Friendship Association visited the Lao Embassy in Hanoi to offer congratulations.
At the event. Source: VNT
At the meeting, Tran Van Tuy, Chairman of the Vietnam-Laos Friendship Association and Nguyen Phuong Nga, VUFO President sent their warmest greetings to the Party, State, people and Embassy of Laos; affirming that together with the Embassy and Laos partner organizations, they will continue to maintain and strengthen this special friendship and solidarity.
Lao Ambassador to Vietnam Sengphet Houngboungnuang said the affection, support and deep concern of the Vietnam - Laos Friendship Union and VUFO is a valuable encouragement to the Embassy of Laos. This is also the motivation for the Embassy to fulfill its tasks well, contributing to consolidating and developing the Vietnam-Laos friendship.
A Ministry of Foreign Affairs delegation led by Deputy Minister Nguyen Quoc Dung also visited Lao Embassy to offer greetings on the occasion of the country's 45th National Day.
Talking to Lao Ambassador, Dung lauded Laos' significant achievements in national construction, development and defense over the past 45 years.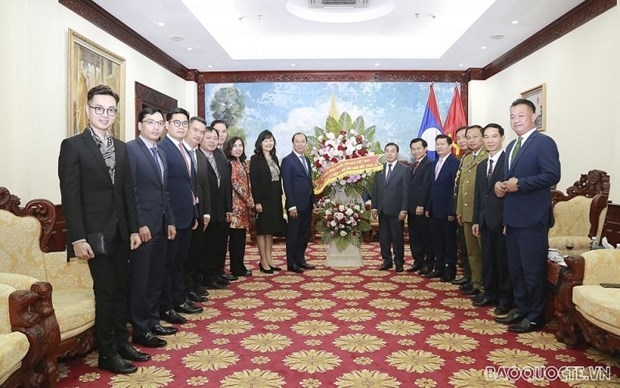 The Ministry of Foreign Affairs delegation visited the Lao Embassy in Hanoi. Source: baoquocte.vn
He expressed his delight at the continuous fortification and development of the two countries' special solidarity amid COVID-19, adding that this year they have flexibly organized a number of important diplomatic activities and achieved practical outcomes.
Dung took the occasion to praise the ambassador's contributions to strengthening bilateral cooperation and said he hopes the embassy will work closely with the ministry in preparing for key events in December.
The events include ceremonies celebrating Laos' 45th National Day and the 100th birthday of late President Kaysone Phomvihane (December 13), as well as the 43rd meeting of the Vietnam - Lao intergovernmental committee.
For his part, the Lao ambassador pledged to continue cooperating closely with Vietnam's Foreign Ministry in enhancing the two nations' great amity, special solidarity, and comprehensive cooperation./.
Handbook
Yoga has recently become one of the best exercise methods that bring many health benefits to people, but it also requires a lot of technique and training to avoid injuries. There are several ways to practice it home, and will still help you achieve your goals.