Connecting Vietnam and India via Spirituality, Culture
At Tran Quoc Pagoda (Tay Ho District), the Vietnam Buddhist Sangha, the Vietnam-India Friendship Association in Hanoi, and the Indian Embassy on May 25 held Vesak 2023.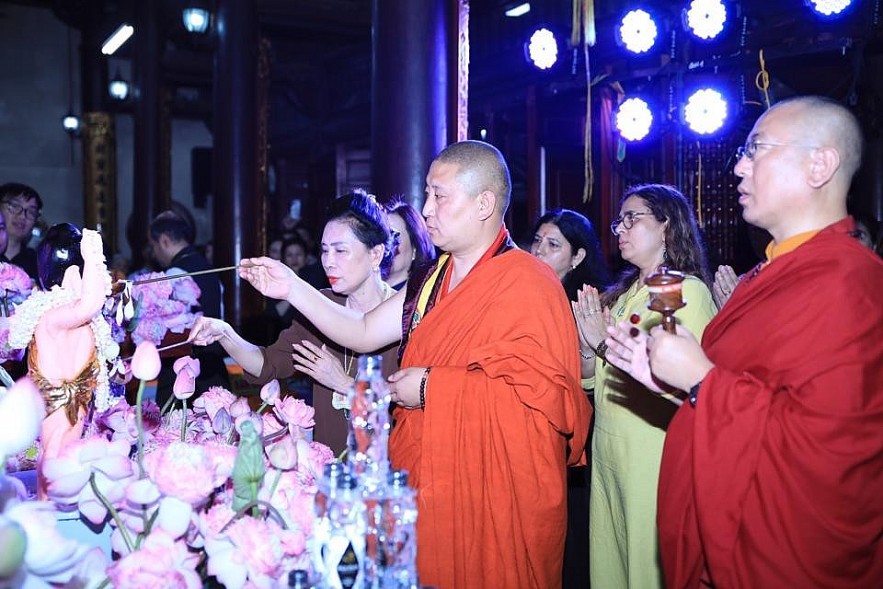 The ritual of bathing the Buddha at Vesak 2023 in Hanoi.
At the ceremony, Most Venerable Thich Thanh Nhieu read the message of Most Venerable Thich Tri Quang, supreme patriarch of the Vietnam Buddhist Sangha to all Vietnamese monks, nuns, and Buddhists at home and abroad.
The message reads, "In the context that humanity has just experienced the Covid-19 pandemic, war, and conflicts are still complicated here and there in the world, following the vow of Bodhisattva Thich Quang Duc, together, we are committed on the path of practicing Bodhisattva.
I call on monks and nuns, Buddhists of all worlds should try their best to do good deeds, contribute to the construction of the country, and create peace to form a lotus flower offering to the Buddha in this year's Vesak".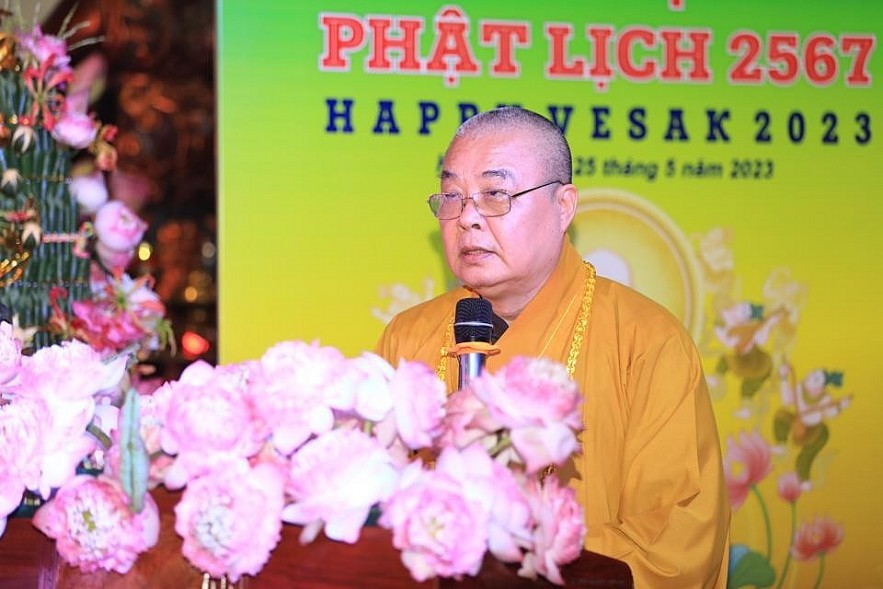 Most Venerable Thich Thanh Nhieu reads the message of Most Venerable Thich Tri Quang.
"May all of you join hands in the bodhisattva's vows, continue on that path, dignify yourself and serve people, to have a good life.
I pray that the war will end, the pandemic will be eliminated, the whole place will be happy, all people will be at peace, and the country of Vietnam will be strong and prosperous".
Speaking at the ceremony, Sandeep Arya, Indian ambassador to Vietnam thanked the Vietnam Buddhist Sangha as well as the Hanoi government for supporting Vesak to take place successfully.
The Ambassador confirms that in the process of the good relationship between Vietnam and India, Buddhism becomes a cultural and spiritual bridge, a special link sharing common spiritual and cultural values ​​between the peoples of the two countries.
Sandeep Arya, Indian ambassador to Vietnam.
The Ambassador also hoped that, through Vesak, the basic messages and teachings of Buddhism would be spread, directing people to good values, and further improving themselves. They also contribute to connecting the two peoples, building and consolidating the Vietnam-India Comprehensive Strategic Partnership.
At the event, there were activities to share the meaning of Vesak, as well as the ceremony of chanting and praying, and bathing the Buddha.
These are traditional, important, and unique rites, with the meaning of showing reverence and remembrance of the Buddha's merits, and at the same time praying for national peace, and harmony in the world.