Habitat builds healthy and safe communities in Tien Giang
Without a healthy and safe environment, families cannot thrive and children cannot realize their potential.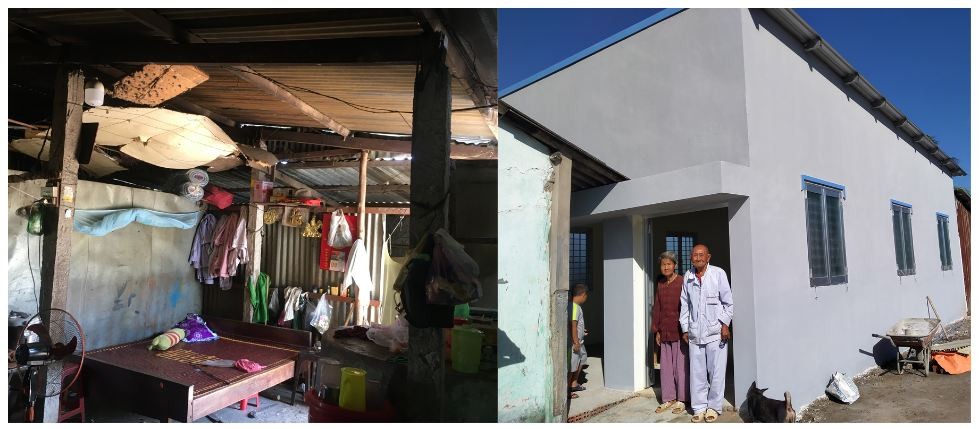 Mr. Uong's house before and after receiving the project's support. Source: Habitat for Humanity Vietnam
Mr. Uong used to live with his multi-generational family in a run-down house. Thanks to a Habitat for Humanity Vietnam project, the 91-year-old man and his family have been built a safe and accessible home to better living conditions.
His family was among more than 1,800 individuals in six communes of Go Cong Town in the Mekong Delta province of Tien Giang benefited from a nine-month project that conducted by Habitat for Humanity Vietnam and its local partner.
Tien Giang is located in the south region of Vietnam, with one-third of the population living in temporary or substandard housing that could get easily deteriorated due to complicated weather developments, drought, and saline intrusion.
With funding support from Techtronic Industries, Habitat Vietnam and its local partner have completed the nine-month project that aimed to improve the housing and water, sanitation and hygiene facilities of vulnerable communities in here.
In partnership with Go Cong Town's Women Union, Habitat Vietnam worked with 84 families in six communes to improve their homes as well as access to clean and safe water through the installation of water pipelines and water tanks.
They also attended hygiene and Covid-19 prevention training as part of Habitat Vietnam's early response to drought as well as Water, Sanitation and Hygiene (WASH) accessibility. The students of Tan Trung primary school used to use this unhygienic handwashing place. The project supports a newly built handwashing facility to ensure standard sanitation quality for nearly 500 students here.
Through improving the water and sanitation facilities in Tan Trung Primary School, the distribution of hygiene kits and WASH training, students have access to more information on how to maintain good hygienic practices to prevent the transmission of Covid.

A newly built handwashing facility to ensure standard sanitation quality for nearly students in Tan Trung Primary School.
President of Go Cong Town Women's Union Tran Nguyen Diem Trang, expressed her gratitude to Habitat Vietnam's continuous support over the past four years. According to Trang, drought and saltwater intrusion happened here for a long time which is located in the downstream area of the Tien River. Local people did not have enough clean water to use. The project support is on time to help people prepare for the upcoming dry season.
"We are proud to be associated with Habitat Vietnam to enhance people's living conditions and contribute to the local socio-economic development," she shared.
"Having this support in place is a great step forward in improving the community health and wellbeing and creating opportunities for the future," said Bells Regino-Borja, national director of Habitat Vietnam. "I am grateful that Habitat Vietnam has been able to partner with Techtronic Industries, local authorities and the community in ensuring that everyone has a decent place to live, with access to clean water and sanitation systems and resilience to disasters."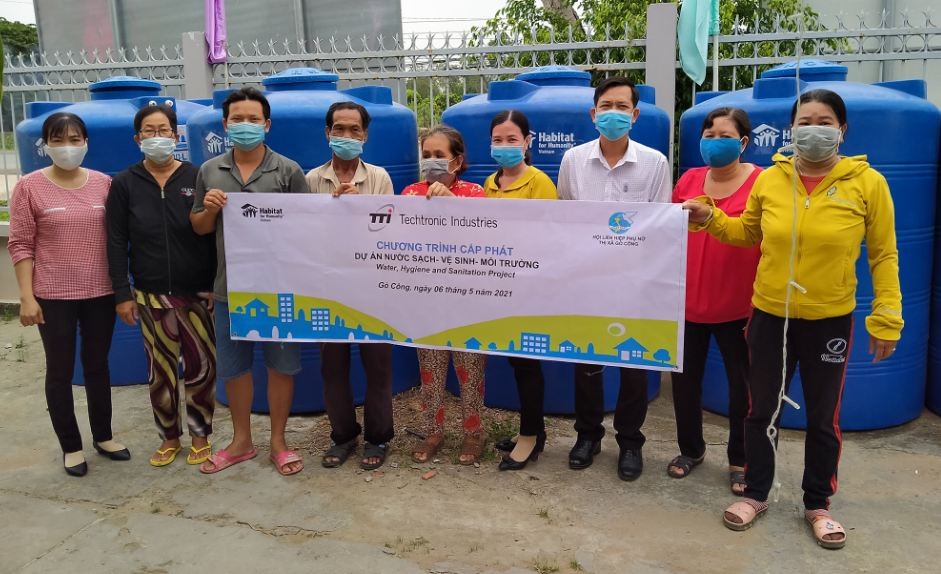 People received water tanks to store clean water for the upcoming dry season.
Vietnam faces a high risk of disasters and climate change. The country experiences an estimated annual average loss of USD 2.37 billion due to natural hazards, especially floods and saltwater intrusion.
The level of saltwater intrusion in the 2020 - 21 dry season was higher than average, but lower than the dry season in 2015 and 2020. Saltwater intrusion from sea through river mouths began occurring at the delta's main rivers on Jan. 24, nearly one month earlier than the average of many years.
Tien Giang has taken measures to supply water for daily use to more households in areas affected by saltwater intrusion to ensure no one has to buy water at high prices.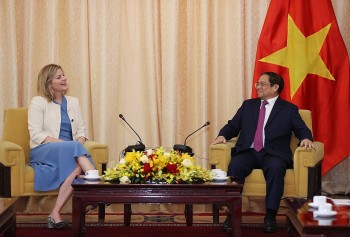 National
The Netherlands committed to cooperate with Vietnam, and together find innovative and sustainable solutions to accelerate green economy transformation.