Workers to be prioritized for Covid-19 vaccines
The proposal, if approved, would help protect a large number of industrial workers who are vulnerable to coronavirus but crucial to supply chains.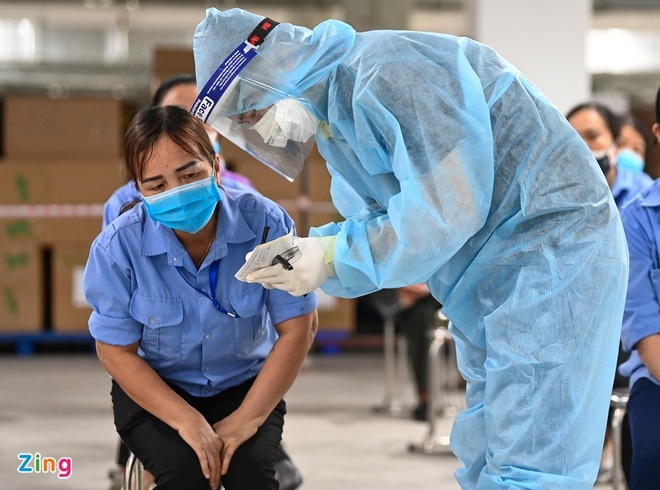 Around 1,100 cases in the 4th wave are workers (Photo: Zing News)
The Vietnam General Confederation of Labor on Tuesday proposed the Government to add workers to Covid-19 vaccine priority list.
The list earlier comprised frontline medical workers, other medical staff, soldiers, police officers, teachers, diplomatic personnel, customs and immigration officers, those working in essential services like transport, people aged 65 and above, poor people, those with chronic diseases, people seeking to study or work abroad, and those living in pandemic-hit areas, according to VNE.
Earlier the Vietnam Textile and Apparel Association and the Vietnam Association for Supporting Industries (VASI) had written to the government asking for industrial workers to be vaccinated quickly.
Supporting industry companies are willing to pay for this, it said.
Tran Van Thuat, vice president of the confederation said the 4th coronavirus wave was more complicated and hitting hard on industrial workers, especially those in Bac Ninh and Bac Giang provinces. 33% of the total infections reported since April 27 and thousands under centralized quarantine or self-isolation are workers. A large number of blue-collars have been laid off following the suspension of their workplaces.
The confederation has earlier issued policies supporting affected medical personnel and workers. Along with on-site visits, Bac Giang authorities also give daily rations of food and other necessities worth VND 75,000 (3.24 U.S. dollars) to each worker in quarantined or blocked areas.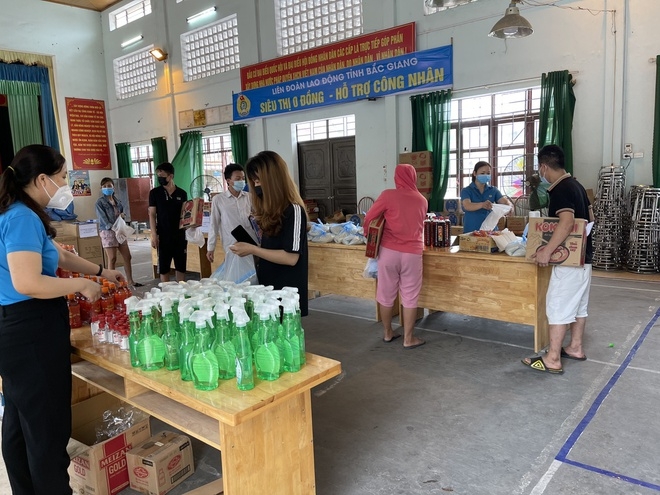 Workers in Bac Giang getting their food ratoins (Photo: Zing News)
Vietnam began its nationwide vaccine rollout on March 8 using the Bristish-Swedish AstraZeneca vaccine. Over a million shots have been given, around 28,800 recipients have been fully vaccinated.
With the 288.000 doses arrived at Tan Son Nhat International Airport on Tuesday night, Vietnam has so far been allocated 2.9 million doses of AstraZeneca. The country is expecting around 110 million Covid-19 vaccine doses by late 2021. 38.9 million of the doses are from Covax, 30 million via Vietnam Vaccine JSC's contract, 31 million from Pfizer-BioNTech.
Authorities have reportedly been going all out to raise the number to 150 million doses, targeting to cover 75% of the population.
Health Minister Nguyen Thanh Long said the ministry was in talks with foreign groups and companies to secure more vaccines, including Pfizer-BioNTech and Sputnik V. It has also signed up a contract under the cost-sharing scheme with Covax to enjoy cheaper prices.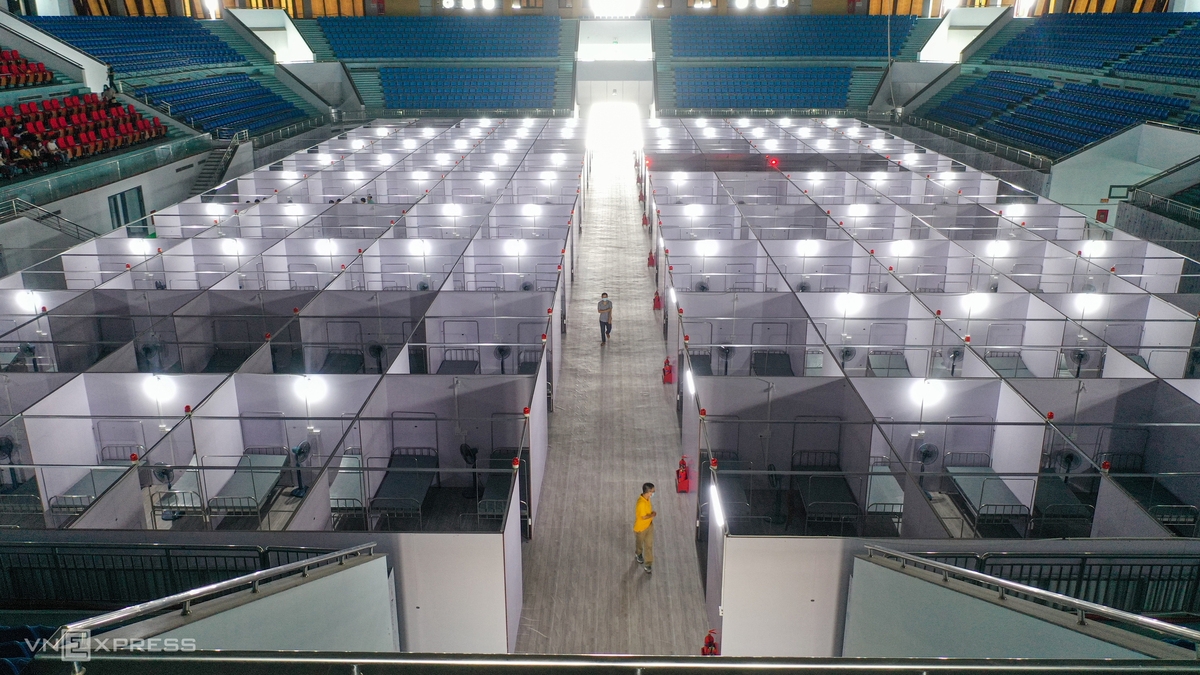 A 628-bed field hospital have been built in Bac Giang province (Photo: VNE)
Indigenous vaccines are also being developed, with human trials underway for Nanocovax by Nanogen Pharmaceutical Biotechnology JSC and Covivac by the Institute of Vaccines and Medical Biologicals.
Nanocovax is expected to begin the third phase of trials next week on 13,000 volunteers, and, if everything goes well, could enter production as early as September.
A month into the new wave that started April 27, Vietnam has recorded 2,873 local Covid-19 cases in 30 cities and provinces. Bac Giang and Bac Ninh suffer the highest infections with 1,454 and 556. The country has so far documented 4,362 local cases and 1,489 imported cases.
The number of recoveries has reached 2,794, while the death toll stood at 44. Among active patients, 70 have tested negative for the virus once, 41 twice and 69 thrice.
The 4th wave has been predicted as more prolonged and complicated. However, it has basically been put under control as most of the new cases are either under quarantine or from blockaded areas. Infection sources had also been traced.