Coronavirus latest news in US: Jumps to over 31,000 with NYC having 5% of cases worldwide
The number of Covid-19 infections in the US has surpassed 31,000, and as the number rises, especially in New York, some states are acting quickly by ordering variations of stay-at-home orders for residents.
The respiratory virus, known officially as COVID-19, has reached every continent except Antarctica, and every state in America since emerging in the Chinese city of Wuhan in December.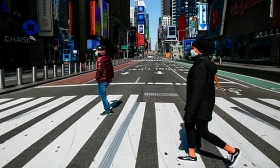 People wear face masks as they cross a street in Times Square on 22 March 2020 in New York City Photograph: Kena Betancur/AFP via Getty Images
The situation is worsen in New York City
Confirmed coronavirus cases have risen sharply in New York as both the state governor, Andrew Cuomo, and Mayor Bill de Blasio, called for urgent and better assistance from the federal government. The city has over 15,000 confirmed cases as of Sunday afternoon, up from 4,812 since Saturday. There have been 390 reported deaths in the US, with New York state the country's hardest hit, with 114 deaths.
The growth is due, in part, to the rapid expansion of testing but also due to the accelerated growth of the virus throughout the city.
On Sunday evening the city faced shutdown after Cuomo, on Friday, ordered the shutdown of all non-essential businesses in the state. Except for essential services, all New Yorkers are now ordered to stay indoors from 8pm Sunday evening.
New York City Mayor Bill de Blasio and New York Police Commissioner Dermot Shea announced they will be cracking down on large gatherings that linger in city parks, to prevent COVID-19 exposure.
The order comes after reports of people interacting too closely in parks over the weekend, despite a shelter-in-place order by the mayor. Cops will be in cars, bikes and other vehicles with a speaker, alerting parkgoers not to linger, and if crowds get too big, the officers will break them up, according to de Blasio and Shea.
The mayor said they will run this policy for a week, and reassess their procedures.
He spelled out the challenge facing the city, "We are now in New York City the epicenter of this crisis in the United States of America. I am not happy to tell you that. You're not happy to hear it."
"The worst is yet to come. April is going to be a lot worse than March. And I fear May could be worse than April," said Mayor.
Trump to deploy National Guard in NY, California, Washington
The National Guard will be deployed to assist in the fight against the coronavirus in the hard-hit states of New York, California and Washington, President Donald Trump announced.
The move, announced at Sunday evening's briefing of the White House Coronavirus Task Force, will include delivery of medical supplies and the establishment of medical stations in those states.
"The federal government will be funding 100% of the cost to deploy National Guard units to carry out approved missions to stop the virus while those governors remain in command," Trump said.
In addition, the Federal Emergency Management Agency (FEMA) is directed to supply four large medical stations with 1,000 beds for New York, eight large federal medical stations with 2,000 beds for California. and three large federal medical stations and four small federal medical stations with 1,000 beds for the state of Washington.
Pete Gaynor of the Federal Emergency Management Agency said that medical supplies, including personal protective equipment, will be arriving in the affected states within 42 hours.
Also at the briefing, officials urged that testing be prioritized toward the neediest cases.
Members of the task force said that 254,000 Americans have been tested for COVID-19, with 30,000 of those -- 11.8% -- testing positive.
According to commercial testing labs, the U.S. should be caught up on the backlog in testing by midweek, officials said.
The number of novel coronavirus cases around the world is over 328,000 worldwide with Italy and the United States behind China as the countries with the most cases of COVID-19 infections, according to data compiled by the Center for Systems Science and Engineering at Johns Hopkins University.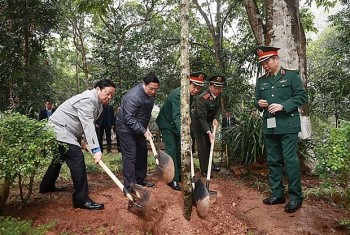 National
The Prime Minister launches a tree planting festival in Ba Vi on New Year of Cat.