Coronavirus latest news, March 24: Coronavirus invaded 195 countries globally
Coronavirus latest news, March 24: Coronavirus enemy has invaded 195  countries and territorries with more than 378,000 infections and over 16,400 deaths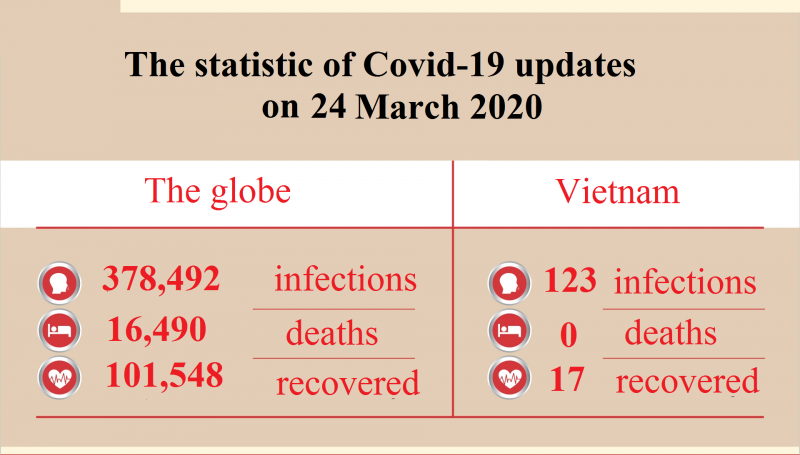 Updated coronavirus on 24 March
In the morning on 24 March, Vietnam has recorded the total 123 infections of Covid-19, 17 of them recovered and discharged from hospitals, and no deaths was reported until now.
106 infectious patients are being quanrantined and treated in 15 national medical centers around the country, 3 among in very serious conditions, the remains in good health status. At the same time, there has been 3 medical officials reported positive for Covid-19.
The world
Italy is still considered the highest-infection epicenter in Europe and second only to China. Today, the country has reported more 4.789 infections, 601 deaths, raising the total number to 63.927 and 6.077 in turn. The country now is the nation with the highest number of deaths in the world, two of its reasons linclude its aging population and overload in hospitals.
Spain is the second epicenter in Europe with total 35.136 cases, 2.311 deaths, increasing 6.368 infections and 539 deaths compared to previous day. Facing to unstopped infection increasing, the government determined to lockdown the whole country.
Germany also recorded more 4.183 infectious cases and 29 deaths, raising the total number to 29.056 and 123. Despite the high number of infections, Germany keeps its dead number at low, only 0,42%. On 22 March, it was annouced by German government that PM Angela Merkel was self-isolating and working at home after her direct contact with a n-CoV infectious doctor. Today she was confirmed of test first negative for coronavirus.
In the USA, more 9.883 new infections were confirmedm, lifting the number of infections to 43.449 cases nationwide, 545 deaths, increased by 132 cases compared to previous day.
Iran is still the second epicenter in Asia, only folllowing China mainland with 23.049 infections and 1.812 deaths. The country is also one of nations reporting the highest number of deaths due to the impact of sanctions.
China and South Korea haven't updated their new statistic of infections since yesterday.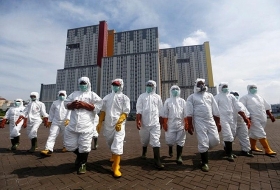 Indonesian medical officials working for the disinfection of athlete village in Jakarta. (Photo: Reuters)
In the south east Asia, Malaysia became the biggest epicenter with 1,518 infections and 14 deaths. Indonesia reported its highest number of deaths among ASEAN member states with 49 deaths and 579 infections.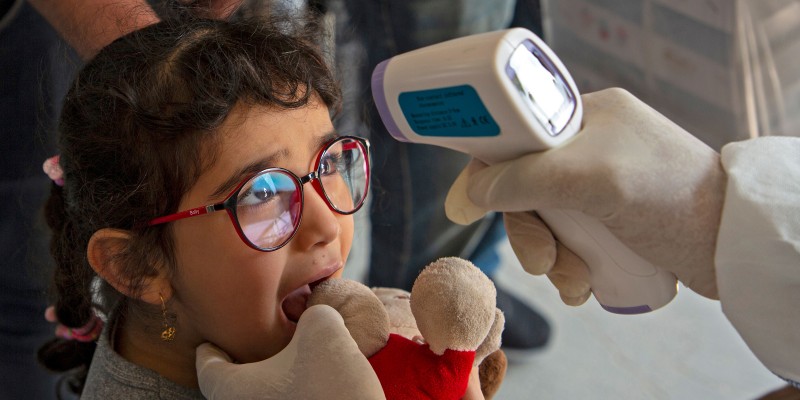 Coronavirus latest news, March 24: Global death toll passes 15,000
France likely to extend lockdown; Norway to set up UN fund for poorer countries; Japan Olympics chief says postponement being considered; Global stocks plunged again today; More than 750 million people across India are under lockdown...
Johns Hopkins University is collating the total number of deaths from coronavirus worldwide and it now stands at 15,308.
The global number of confirmed cases stands at 349,211. Below, we have more details on some countries, who reported an increase in cases today.
In Spain, one of Europe's worst hit countries after Italy, the coronavirus death toll has reached 2,182, adding 462 fatalities overnight.
The figures from the Spanish health ministry came as latest figures for other countries including Belgium, Switzerland and Iran were also released.
The death toll in Iran from the new coronavirus has increased to 1,812, with 127 new deaths in the past 24 hours, a health ministry spokesman told state TV on Monday, adding that the country's total number of infected people has reached 23,049.
Belgium announced 3,743 cases (up from 3,401 the day before).
Swiss health authorities reported 1,046 (not 956) more coronavirus infections, bringing the total number of people who have tested positive in Switzerland and Liechtenstein to 8,060 as of midday on Monday.
Russia may postpone vote on extension of Putin
Russia may be forced to put off a public vote on amendments allowing Vladimir Putin to hold office until 2036, as the coronavirus threatens to upend a busy political season in Russia.
The Kremlin so far has not rescheduled 22 April vote that was intended as a public endorsement for Putin's surprise plan to "reset" his term limits, allowing him to run for a fifth and even sixth term as president under a revised constitution.
But as Moscow and other Russian cities introduce stricter preventative measures against the coronavirus, election officials have discussed the possibility of home voting or other ways to pull off a nationwide plebiscite in a country of 140 million when health officials desperately want to reduce face-to-face contact.
"The vote is set for 22 April, but the health of the country's citizens is most important," said Dmitry Peskov, a spokesman for Putin. "If the growth of the epidemiological situation gives cause to reschedule then it will be done."
At least 34,000 coronavirus cases in the US
According to CNN Health's tally of US cases that are detected and tested in the United States through US public health systems, there are at least 34,407cases of the novel coronavirus in the United States. 414 people have died.
The total includes cases from all 50 states, the District of Columbia and other US territories, as well as all repatriated cases.
Indian states impose complete lockdowns
Nineteen out of India's total 28 states and nine union territories have ordered a complete lockdown in a bid to tackle the spread of coronavirus.
Six states and union territories have issued a full lockdown only in certain districts, while three states/union territories have imposed partial restrictions to promote social distancing, said the country's Junior Health Secretary Lav Agarwal at a press conference on Monday.
In states that have imposed a complete lockdown, only essential services will be operational. These water, electricity, health services, fire services, groceries and municipal services.
All shops, commercial establishments, factories, workshops, offices, markets and places of worship will be closed and interstate buses and metros will be suspended. Construction activity will also be on a halt during this period.
The 19 states/union territories that have implemented a total lockdown are Andhra Pradesh, Arunachal Pradesh, Bihar, Chandigarh, Chhattisgarh, Delhi, Jammu and Kashmir, Ladakh, Goa, Himachal Pradesh, Jharkhand, Maharashtra, Nagaland, Punjab, Rajasthan, Telangana, Tripura, Uttarakhand and West Bengal.
This covers some of the biggest cities in the 1.3 billion-strong nation, including the capital New Delhi, the financial hub of Mumbai, the tech cities of Bangalore and Hyderabad as well as Pune and Kolkata.
Coronavirus (Covid-19) update and breaking news
*On Monday, Spain's Health Ministry announced that the total number of cases registered in the country had risen to 33,089 — 4,517 more than Sunday. The number of deaths was now at 2,182, or 462 more than Sunda
*Former Malaysian Prime Minister Mahathir Mohamad tested negative for the new coronavirus but is still under home quarantine after coming into contact with a politician who was infected with virus, his aide said.
*Japan is set to ask travelers from the United States to self-quarantine for 14 days after their arrival to contain the spread of the new coronavirus, a government source said.
*After weeks of denials from officials in Damascus, Syria has confirmed its first case of Covid-19, as fears mount of an outbreak that will have catastrophic consequences on the war-torn country
Singapore has confirmed 54 new cases of Covid-19,
the overwhelming majority of whom had returned to the Asian city state from overseas.
Of the total, which is a record for the number of new cases detected in Singapore in a single day, 48 arrived in the city already infected.
Together they bring the total number of infected patients in Singapore to 509, 15 of whom are in intensive care. So far 152 in the country people have recovered.
Olympics organizers "should look at canceling" 2020 Games
The organizers of the 2020 Olympics "should look at canceling," British Prime Minister Boris Johnson's spokesperson said Monday.
"We want the International Olympic Committee to make a definitive decision soon to bring clarity to all of those involved," the spokesperson told political reporters.
The spokesperson expressed concern about the "significant uncertainty" Olympics hopefuls are facing now, adding "Their health and safety, alongside that of sports fans and officials due to work at the Games, must be absolutely paramount."
The Japanese government will soon tell the International Olympic Committee that it will accept postponement of the forthcoming Summer Games if the organization decides on it as a precaution against the coronavirus, a source familiar with the plan said Monday.
Japanese Prime Minister Shinzo Abe said Monday this summer's Tokyo Olympics cannot be held under current circumstances due to the new coronavirus pandemic, suggesting for the first time that the games may have to be postponed.
The Tokyo Olympic organizing committee will determine in the coming days whether to stage the Japanese leg of the torch relay as planned on Thursday in Fukushima Prefecture, as developments surrounding the coronavirus pandemic have been changing rapidly, the organization's President Yoshiro Mori said Monday.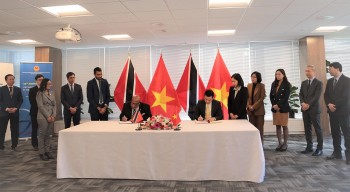 Friendship
Signing the Joint Communiqué establishing diplomatic relations between the Socialist Republic of Vietnam and the Republic of Trinidad and Tobago.