Coronavirus update: Many countries ease lockdown; France, New Zealand set to reopening
Covid-19 update: After strict coronavirus lockdown, France set to lift, re-opening shops, hair salons. New Zealand reopening restaurants, gyms, movie theaters. Spain ease coronavirus lockdowns. Australia has announced plans to jump-start tourism. Restrictions are easing in the United States.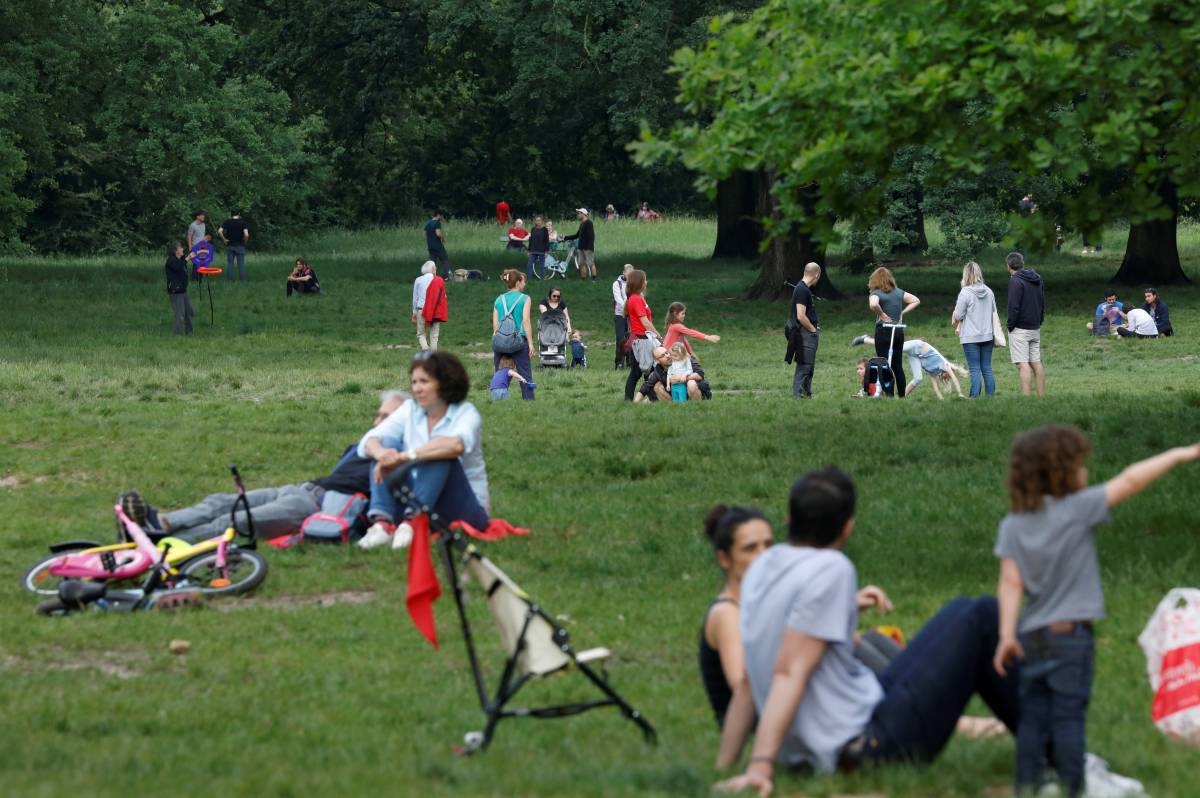 People enjoy the good weather in Bois de Vincennes park on the eve of the gradual lifting of lockdown restrictions during the outbreak of the coronavirus disease (COVID-19) in Paris, France, May 10, 2020. . REUTERS/Charles Platiau/File Photo
France set to lift, re-opening shops, hair salons
France, whose official death toll is the world's fifth highest, had enforced an eight-week lockdown, since March 17, to slow the spread of the new coronavirus, with residents only allowed out for essential shopping, work and a bit of exercise.
Shops and hair salons can now reopen, while people can venture out without a government-mandated form, except for trips of more than 100 km (62 miles), which are only allowed for professional reasons, funerals or caring for the sick.
President Emmanuel Macron's government decided to lift the lockdown after the number of patients in intensive care — a key measure of hospitals' ability to cope with the epidemic — fell to less than half the peak of over 7,000 seen in early April. The number of daily deaths from coronavirus infections, which fell to 70 on Sunday, bringing the total to 26,380.
Ahead of Monday's end to lockdown, many people were keen to enjoy life's simple pleasures again, including getting a new hairstyle.
New Zealand reopening restaurants, gyms, movie theaters
New Zealand is moving to reopen the parts of daily life where people come into contact with each other, allowing stores and restaurants to resume operations this Thursday, followed by pubs a week later.
But Prime Minister Jacinda Ardern said that New Zealanders must remain vigilant against the new coronavirus.
"We all know there is more to do," she told reporters Monday. "We may have won a few battles, but we have not won the war."
Under the four-level alert system Ardern's government implemented to control the spread of covid-19, New Zealand spent five weeks in almost complete lockdown, with only essential work and grocery store visits allowed. For the past two weeks, businesses have been allowed to reopen as long as they can enforce physical distancing and serve customers without coming into contact with them.
From Thursday this week, restaurants and cafes, stores and movie theaters will be allowed to reopen, as will playgrounds and gyms. Workers in hair and beauty salons, which can't carry out their services at a distance, will be required to wear masks and gloves. Schools, child-care centers and universities will reopen on Monday.
Bars and pubs will be allowed to reopen from May 21 but, as with restaurants and cafes, they will be required to space out the tables and offer service from only one server. All gatherings, from parties to religious services, must be limited to 10 people.
New Zealand's lockdown approach, aimed at eliminating not just containing the virus, quickly got infections under control. There were two days last week with no new infections reported, and three or fewer on the days since, all of them linked to known clusters.
The success has also been linked to aggressive testing, with 3.5 percent of the entire population having been swabbed, Ardern said, more than most other countries.
Spain ease coronavirus lockdowns
Millions of people in Spain were set to embrace a relaxation of stay-at-home rules on Monday, but Britain extended its lockdown as countries plot their way tentatively through the coronavirus crisis.
Spaniards outside of urban hotspots such as Madrid and Barcelona – which remain under lockdown – made plans to meet friends and family in bars and restaurants that have outdoor spaces.
In Spain, however, they were getting ready to celebrate.
"We have already set a date for dinner on Wednesday, just 10 of us. I can't wait to touch someone, to kiss and be kissed," said 66-year-old Beatriz
Gonzalez in the Spanish city of Las Palmas in the Canary Islan
UK wary
But Prime Minister Boris Johnson said it was too soon for Britain to do the same.
Almost seven weeks after a nationwide stay-at-home order was put in place, more than 31,800 have died during the outbreak in Britain – the worst toll in Europe and second only to the United States.
Johnson, who himself spent a week in hospital with COVID-19, said on Sunday the measures had come "at a colossal cost to our way of life" but added it would be "madness" to squander the progress by moving too soon.
"This is not the time simply to end the lockdown this week," the 55-year-old said, but he unveiled a "conditional plan" to ease the measures in England in the months ahead.
Ease lockdown
Belgium and Greece are among other European nations set to ease lockdowns on Monday.
Turkey had already eased some restrictions and let over-65s out for the first time on Sunday.
Iran, the Middle East's worst-hit country, has also relaxed its lockdown measures, and bazaars and shopping centres in the capital Tehran were bustling again after being nearly deserted for weeks.
But health ministry spokesman Kianoush Jahanpour warned the situation "should in no way be considered normal," as one region recorded a spike in death rates and reimposed a lockdown.
And the resumption of league football in Europe was dealt a blow after confirmation of infection clusters among players in Spain, Germany and Portugal. Football bosses in all three countries, however, insisted that season restarts planned for the coming weeks were still on track.
Russia and Brazil both passed grim milestones at the weekend. Russia's caseload surpassed 200,000 and is expected to become the highest figure in Europe within days, even as the number of deaths remains relatively low at fewer than 2,000.
While officials say the figures reveal the effectiveness of Russia's testing regime, an opposition-allied doctors union said the authorities were under-reporting deaths of medics.
Brazil can't find a way to shut down
While much of the world is negotiating the terms of reopening, Brazil, which has registered nearly 11,000 dead and become the world's latest coronavirus hot spot, still cannot find a way to properly shut down.
In hard-hit urban centers such as Rio de Janeiro, people still pack the streets. The boardwalks are still populated by beachgoers, including the elderly. Brazilian President Jair Bolsonaro is still downplaying the threat, declaring last week he would celebrate the weekend with a giant barbecue. Following pushback, he rode a water scooter instead.
AFP, ABC, VNA