President Trump proclaims 'We're Opening Up Our Country Again'
President Donald Trump announced Thursday that the US is reopening after more than a month of lockdowns over the coronavirus fear, vowing that he will once again lead the country to prosperity from the current economic crisis. 
(Video: The White House)
In a video posted on the White House Twitter page, Donald Trump vowed that America's comeback from the current crisis has officially begun.
"This is a big moment in our history because we're opening up our country again," Trump said. "People are coming out, they are starting to go around and see what's happening. They've been sort of shut down as the expression goes, but we're opening up our country."
"People want our country to open up. Now, we want to do it in a safe way," he added, "you know all about social distancing and washing your hands and all of the things that we're supposed to do."
President Donald Trump then commented on the state of the economy, which has been ravaged by lockdowns during the pandemic. The President emphasizes the US's economy will come back "very, very strong" and vowed that he will once again lead the country to prosperity from the current economic crisis.
"I did it once, we're going to do it again, and it's going to be just as strong by the time we have it done," he said, promising that "it's going to be a lot sooner than anybody would understand", according to The White House.
"We're going to have an incredible next year, and I look forward to it," the president concluded.
The remarks from Trump come a day after he signaled that the coronavirus task force would take on somewhat of a new role as the country begins to open back up, WJ news reported.
"The White House CoronaVirus Task Force, headed by Vice President Mike Pence, has done a fantastic job of bringing together vast highly complex resources that have set a high standard for others to follow in the future," Trump tweeted.
Trump also praised the task force for mobilizing the production of medical and personal protective equipment, and for handling the challenging logistics of the country's fight against the COVID-19 pandemic.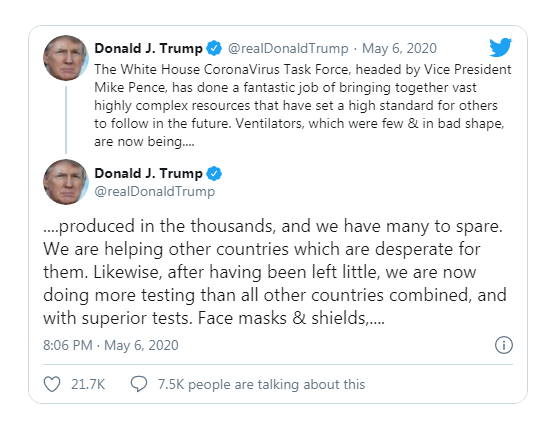 The president added the task force will also begin to focus on treatments for the virus, as well as a vaccine.
Vice President Mike Pence told NBC News the task force will begin the process of handing back control to individual government agencies later this month or next month.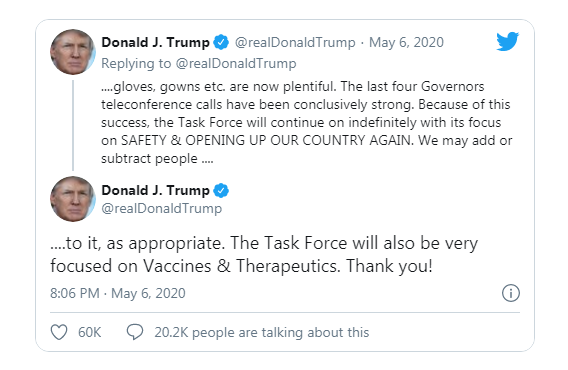 According to CGTN, the U.S. economy saw a sharp drop in the first quarter of 2020, ending the longest economic expansion on record. The 4.8% decline in U.S. gross domestic product is the steepest economic decline 12 years. Many economist say U.S. GDP could be headed for its largest contraction since the Great Depression.
As of May 8, the US's cumulative cases stand at 1,292,850, among which 76,938 lives have been claimed, nearly 6 percent have recovered. The country has been experiencing days of record one-day increase (roughly 30,000 cases within 24 hours) and is currently the hardest-hit epicenter worldwide, statistics from WorloMeters show.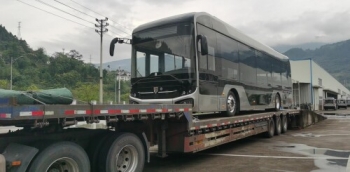 Economy
Ev Dynamics (Holdings) Limited is a pioneer and a prominent player in China's new energy commercial vehicles market, as well as a whole-vehicle manufacturer of specialty passenger vehicles and new energy passenger vehicles.