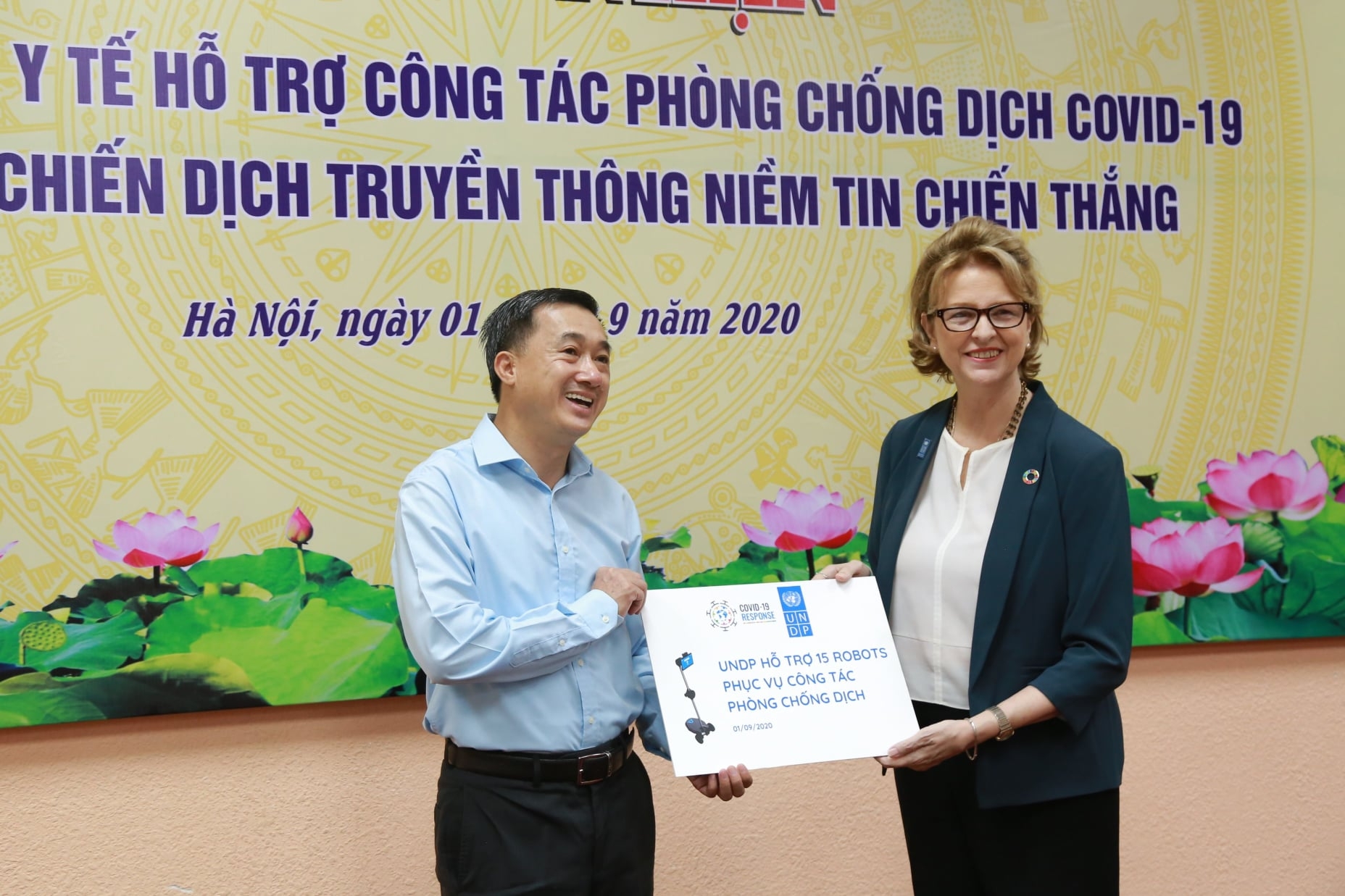 UNDP donates 15 Ohmni Robots to the Ministry of Health to help protect frontline doctors and nurses in central provinces' hospitals from COVID-19 and other infectious diseases. Photo: UNDP
Ohmni Robots have the main function of remote communication, remote diagnoses and treatment.
The robots are made by Ohmni Labs, which is based in Silicon Valley but has a Vietnamese co-founder and an operation team in Vietnam.
More than 1,000 Ohmni Robots have been used in the US, India and Japan, mostly for hospitals and nursing homes.
Handing over the robots to the hospital, UNDP Resident Representative in Vietnam Caitlin Wiesen said that this is the UNDP's second delivery of the robots, intended to protect medical workers in highly infectious context.
"Vietnam exemplary response to COVID-19 is an example of this. I would like to congratulate the Ministry of Health for your great contribution to Vietnam's success in responding to the pandemic, especially your quick action in mobilizing best doctors for treatment of COVID-19 patients and containment of the virus spread during the recent resurgence," said Wiesen.
Those robots can provide a safe interface between the doctor and the patient for diagnoses and they enabled doctors to see far more patients at a time.
Vice Minister of Health Tran Van Thuan thanked UNDP for its timely support to the Ministry. "Ohmni Robots donated by UNDP have the main function of remote communication, diagnoses and treatment without direct contacts with the patients. The National Hospital for Tropical Diseases has used this robot and highly appreciate it. I hope that modern science and technology will help partly ease the pressure on doctors and nurses, thus increasing the effectiveness of their treatment and care for COVID-19 patients," he said.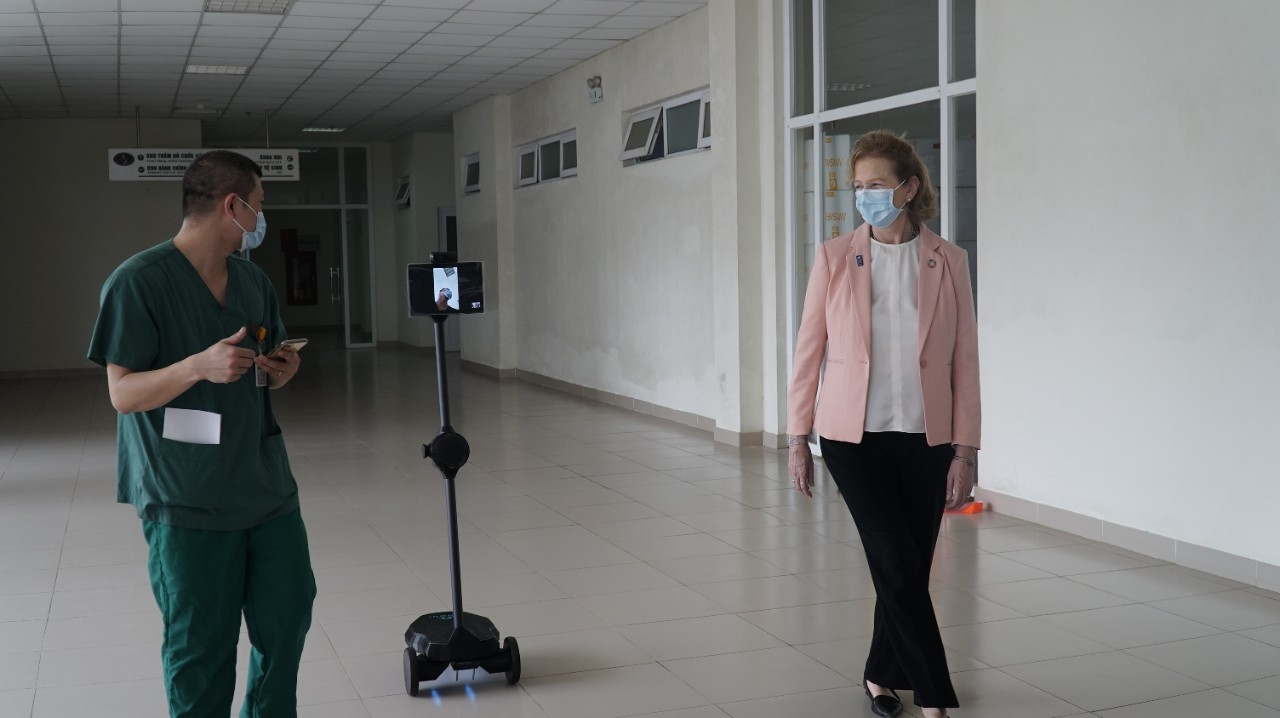 Dr. Tran Van Bac, Deputy Head of the National Hospital for Tropical Diseases's Emergency Department, and Ms. Caitlin Wiesen, UNDP Resident Representative in Vietnam, test Ohmni Robot in July 2020. Photo: UNDP
In June, UNDP donated three Ohmni Robots to the National Hospital for Tropical Diseases.
During the ceremony, the Health Ministry also received donated medical supplies from Grab Vietnam and Wipro Consumer Care Vietnam.
Vietnam again recorded zero new case of COVID-19 during the past 12 hours, keeping the infection tally to 1,044, while the overall number of fully recovered patients climbed to 735, the Ministry of Health reported on September 1.
Among the total figure for infections, 690 are locally-transmitted cases, 350 are imported into the nation which were immediately put into quarantine upon arrival.
The number of infections linked to Da Nang, the country' biggest COVID-19 outbreak hotspot, has risen to 550 since July 25.
Currently, 55,370 people having close contact with infected patients or returning from pandemic-hit areas are under quarantine across the country, including 908 at hospitals, 16,117 people at concentrated quarantine establishments and 38,345 at home./.
Hannah Nguyen