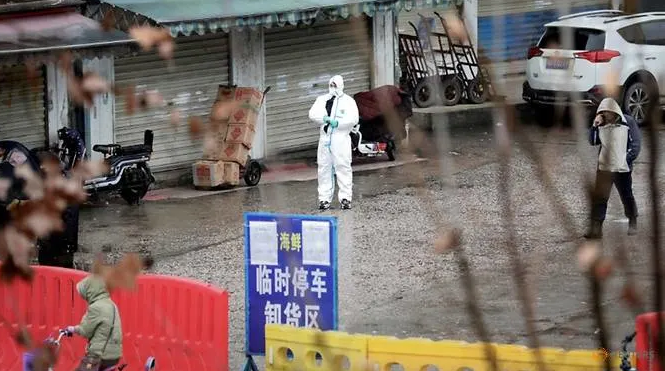 A worker in a protective suit is seen at the closed seafood market in Wuhan, Hubei province, China on Jan 10, 2020. (Photo: REUTERS/Stringer)
The National Health Commission also reported a jump in the number of deaths, with 150 new deaths for a total of 2,592.
The total number of confirmed coronavirus cases on the mainland is now 77,150.
The coronavirus has spread to more than 25 countries and is causing mounting alarm due to new pockets of outbreaks in Europe, the Middle East, and Asia.
South Korea reported a jump in cases Monday and now has 833. It's the third-highest national total behind China and Japan.
Italy reported a third death while cases spiked, and authorities suspended football games while the Venice Carnival was cut short.
Iran's confirmed death toll rose to 12, the total number of confirmed cases now stands at 66, Iran's Deputy Health Minister Iraj Harirchi said during a news conference on state TV on Monday.
Countries bordering Iran have taken preventive measures to limit the spread of the virus from Iranian travellers, with some barring Iranians from entry altogether.
The World Health Organization has named the illness COVID-19, referring to its origin late last year and the coronavirus that causes it.
WHO EXPERTS VISIT WUHAN
Chinese authorities said experts from the WHO visited Wuhan over the weekend – the first reported visit by the WHO since the virus emerged from the city of 11 million people late last year.
The international group of experts inspected two hospitals during their visit, including a makeshift one at a sports centre, the National Health Commission said on Monday.
They also met with Ma Xiaowei, the director of China's national health commission, and top officials at the centre for disease control for Hubei province, of which Wuhan is the capital.
'COMPLETE BAN' ON WILDLIFE TRADE
China's top legislative committee on Monday began deliberating a proposal to ban all trade and consumption of wild animals, a practice believed responsible for the country's deadly coronavirus outbreak.
The official Xinhua news agency said the proposal was submitted to the Standing Committee of the National People's Congress (NPC).
"It aims to completely ban the eating of wild animals and crack down on illegal wildlife trade," it said.
The report added that the measure was aimed at "safeguarding public health and ecological security".
Chinese health officials have said the virus likely emerged from a market in the central city of Wuhan that sold wild animals as food.
Late last month after the epidemic began exploding across the country, China ordered a temporary ban "until the national epidemic situation is over".
-- Mainland China: 2,592 deaths among 77,150 cases, mostly in the central province of Hubei
-- Hong Kong (China): 74 cases, 2 deaths
-- Macao (China): 10 cases
-- Japan: 838 cases, including 691 from a cruise ship docked in Yokohama, 4 deaths
-- South Korea: 833 cases, 7 deaths
-- Italy: 220 cases, 7 deaths
-- Singapore: 89 cases
-- Iran: 66 cases, 12 deaths
-- United States: 35 cases; separately, 1 US citizen died in China
-- Thailand: 35 cases
-- Taiwan (China): 28 cases, 1 death
-- Australia: 23 cases
-- Malaysia: 22
-- Vietnam: 16
-- Germany: 16
-- France: 12 cases, 1 death
-- United Arab Emirates: 13 cases
-- United Kingdom: 13
-- Canada: 10
-- Philippines: 3 cases, 1 death
-- Kuwait: 3 cases
-- India: 3
-- Russia: 2
-- Spain: 2
-- Lebanon: 1
-- Israel: 1
-- Belgium: 1
-- Nepal: 1
-- Sri Lanka: 1
-- Sweden: 1
-- Cambodia: 1
-- Finland: 1
-- Egypt: 1
-- Kuwait: 3
-- Bahrain: 1