Vietnam Covid-19 Updates (April 26): Additional 7,417 Cases Recorded
The total number of Covid-related fatalities in the country now stands at 43,021, or 0.4% of the overall caseload.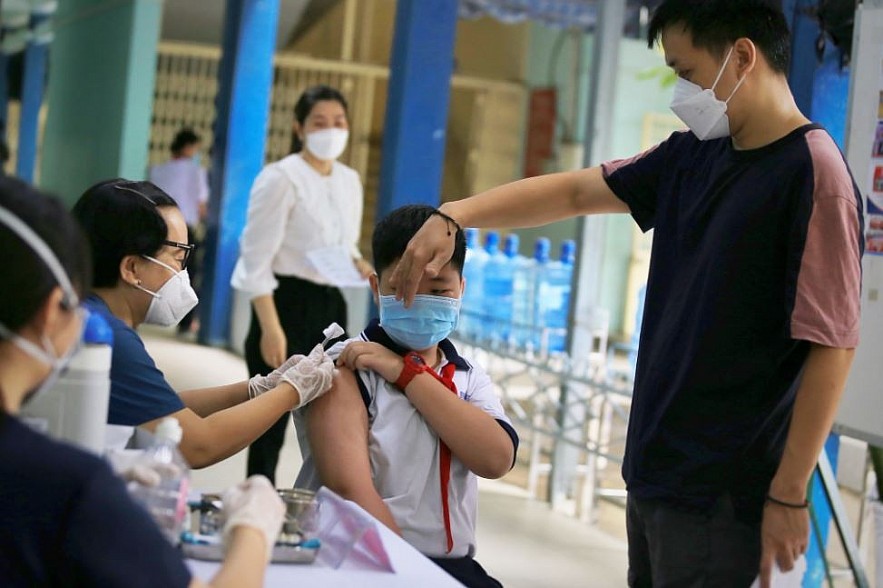 Photo: Thanh Nien
New Covid-19 infections drop by nearly 1,400, 8 fatalities confirmed
The Health Ministry reported a further 7,417 fresh Covid-19 cases across 60 localities nationwide, in addition to nine deaths on April 25. Of the figure, a total of 5,327 transmissions were detected in the local community.
Hanoi continued to top the list with 941 new cases, followed by Phu Tho with 493 and Quang Ninh with 411. With the number of new Covid-19 cases dropping sharply in recent times, many facilities for treating mild patients in Hanoi are either being paused or are reducing their capacity.
It can therefore be considered necessary to suspend and shrink treatment facilities in the current context in order to avoid wasting medical equipment and operating personnel. However, these facilities remain ready to be brought back into use in the event that there are new developments relating to the pandemic.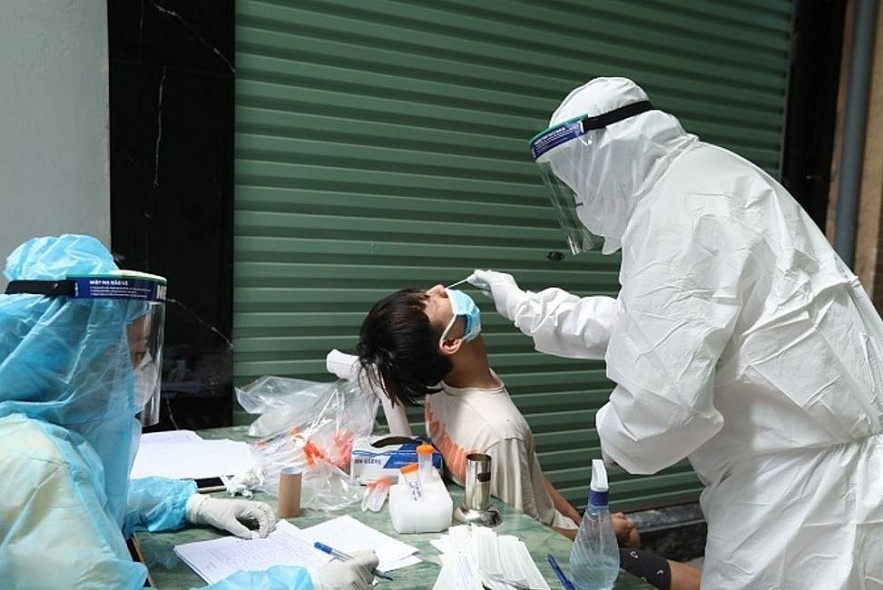 Photo: Doi Song Phap Luat
One million disadvantaged people are expected to get support during Humanitarian Month
The Vietnam Red Cross Society (VRCS) Central Committee will strive to mobilize VND 400 billion (over USD 17.4 million) to support 1 million people with difficult circumstances during the Humanitarian Month 2022 starting from May 1. According to the President of the VRCS Central Committee Bui Thi Hoa, this year's event aims to call on the community to join hands in humanitarian activities, thus popularising the kindness, and meaningful actions, toward building a community of solidarity and compassion.
The peak period of the month will take place from May 8 (World Red Cross and Red Crescent Day) to May 19 (the birthday of President Ho Chi Minh – Founder and first Honorary President of the VRCS), Hoa said. The launching ceremony of the Humanitarian Month 2022 will be broadcast live on channel VTV2 of Vietnam Television and relayed on channel HTV1 of Ho Chi Minh Television Station.
To kick off the Humanitarian Month 2022, the VRCS Central Committee will present 15,000 multi-purpose life jackets worth VND 22 billion; first aid bags, and safe houses for fishermen worth 5 billion VND to 14 provinces and cities in the central region; and donate 17 billion VND to people affected by the pandemic. At the launching ceremony, humanitarian markets will be held for disadvantaged people affected by natural disasters and diseases. Volunteers and fishermen will be trained in first aid, and disaster prevention and response skills.
Domestic and foreign organizations and businesses that have actively accompanied and supported the Humanitarian Month will be honored at the ceremony. Notably, the VRCS will launch programs to raise funds for disadvantaged fishermen, and improve nutrition for poor and disabled children.
Photo: Binh Dinh
Global Google searches for Vietnamese tourism see spike
Recent analytical data from Google Destination Insights indicates that the number of international searches by users keen to learn more about Vietnamese tourism is witnessing a drastic upturn. According to the information, searches by international tourists for flights and tourist accommodation have soared by up to 50% since Vietnam decided to fully re-open its borders to tourists from March 15. The top keywords include terms such as "Vietnam tourist", "Vietnam tourism", "Vietnam trip", "Vietnam travel", "Vietnam tour package", and "tourist visa Vietnam 2022".
Google Destination Insights also highlights that tourists from Singapore, the Philippines, Australia, India, the United States, the UK, and Canada, had the highest search volume for tourist information about the country. This represents a positive sign for the strong recovery of the Vietnamese tourism industry this year. The increase can be put down to many factors, including the full reopening of the tourism sector, the effective control of the pandemic, the comprehensive vaccine coverage, and the restoration of activities to adapt to the new normal.
Most notably, the upcoming SEA Games 31 in May is viewed as a golden opportunity for Vietnam to attract greater numbers of tourists. As scheduled, the nation will welcome over 7,000 athletes from 11 regional countries to compete in 526 events. Moreover, the country also plans to launch several tours to famous sites and programs through which guests, international sports delegations, athletes, and reporters can savor the unique cuisine of Hanoi and neighboring provinces.
The total number of Covid-related fatalities in the country now stands at 43,021, or 0.4% of the overall caseload. A further 6,685 patients were declared free from the virus on the same day, duly taking the total number of recoveries up to 9,092,760.
Across the nation, 212.6 million doses of Covid-19 vaccines have been administered to date. At present, more than 40 provinces and cities have conducted their vaccination campaign against Covid-19 for children from five to under 12 years old, with a total of 374,255 doses of vaccines given to children in this age group.