Covid-19: Foreigners in Major Cities Get Vaccine Shots, Financial Aid
The central city of Da Nang has administered Covid-19 vaccines to foreigners, ensuring that they get at least one shot of the vaccines. Meanwhile, foreigners in Ho Chi Minh City receive gifts and necessities.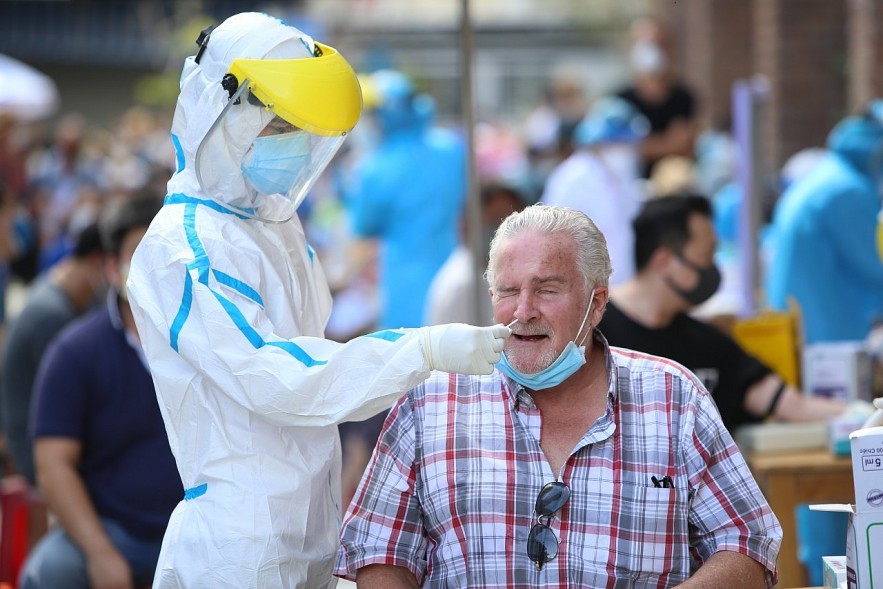 A foreigner in Da Nang takes Covid-19 testing.
Foreigners in Da Nang injected with at least one dose
Huynh Duc Truong, Director of the municipal Department of Foreign Affairs, said his department has coordinated with the Department of Health, People's Committees of districts, and agencies to make a list of foreigners and overseas Vietnamese with different nationalities in the city.
"Da Nang ensures that all of the foreign nationals living and working in the city receive at least one dose of Covid-19 vaccines allocated by the Ministry of Health as soon as possible," the official promised.
About 4,800 foreign nationals are living in Da Nang city, with Koreans making up the largest number (20.5 percent).
Covid-19 vaccine shots have been given to many foreigners in Da Nang, including employees of foreign consulates general, non-governmental organizations (NGOs) and businesses. Most of them have got at least one shot.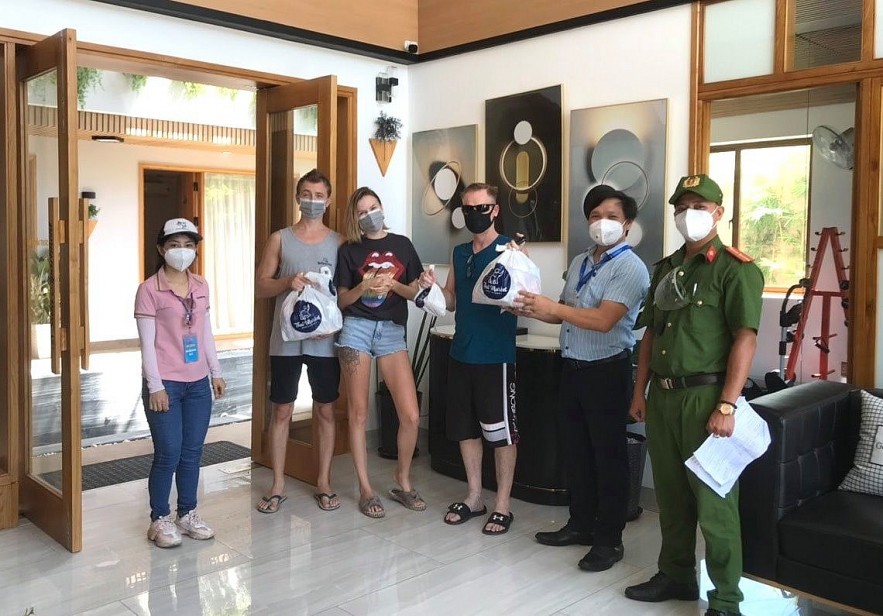 Foreigners in Da Nang receive gift packages.
Apart from vaccinations, Da Nang has set up hotlines to support foreigners, who would call for help in purchasing food, medicines and other necessities, medical services and visa extension.
For those who are unable to afford their food, the foreign department has verified their cases and given them a hand.
Financial support to foreigners in HCM City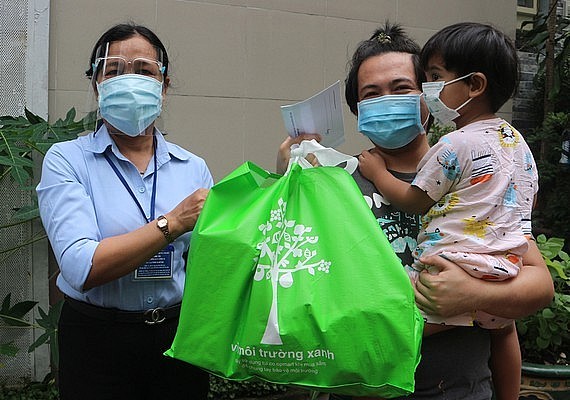 HCM City has provided foreigners with financial assistance.
HCM City, the country's current biggest Covid-19 hotspot, has also vaccinated foreigners and provided them with financial assistance.
Murat Kaymakcigglu from Turkey got a gift package worth VND500,000 (US$21.9) and VND2 million in cash from the Vietnam Fatherland Front Committee in Thu Duc city, along with another VND3 million and medical supplies from the special task force established to support foreigners in the locality.
The man, who completed his first Covid-19 vaccine dose, expressed his happiness to receive the gifts amid the tough period, saying he was lucky to live in Vietnam.
As a teacher of English, Kaymakcigglu has been rendered jobless by Covid-19, and suffered from severe asthma.
Local authorities have also urged his landlord to provide free accommodation for the man in the face of the pandemic.
Districts like Tan Binh and Phu Nhuan have also followed the suit. Tan Binh, for example, has presented 133 gift packages worth VND50 million to foreigners and vaccinated them.
Trinh Thi My Hue, Vice President of the Vietnam Fatherland Front Committee in Thu Duc, said as from August 19, her agency has coordinated with local police to review the list of foreigners in difficult circumstances, and presented each of them with a package valued at VND2.5 million.
Three volunteers of the special task force can speak English, Chinese and Japanese, making it easier for the work./.
Hotlines available in English for foreigners in Da Nang:
- Son Tra district: Mr. Dang Cao Ky, phone: 0935.994.359, email: kydc@danang.gov.vn
- Ngu Hanh Son: Ms. Nguyen Thuy Linh, phone: 0935.240.791, email: linhnt3@danang.gov.vn
- Hai Chau district: Ms. Nguyen Thị Cam Tu, phone: 0913.830.038, email: tuntc1@danang.gov.vn
-Thanh Khe and Cam Le districts: Ms. Nguyen Thi Phuong Huyen, phone: 0934.797.275, email: huyenntp@danang.gov.vn
- Lien Chieu and Hoa Vang districts: Mr Nguyen Hong Linh, phone: 0905.133.664, mail: linhnh@danang.gov.vn
Hotlines available in other languages for foreigners in Da Nang:
- Hotline in Chinese: Ms. Nguyen Thi Hong Hanh, phone: 0916.681.599, email: hanhnth7@danang.gov.vn
- Hotline in Korean: Ms. Tran Thi Phuong Nga, phone: 0905.902.287, email: ngattp@danang.gov.vn
- Hotline in Japanese: Ms. Thai Thi Ha Giang, phone: 0349.589.943, email: giangtth2@danang.gov.vn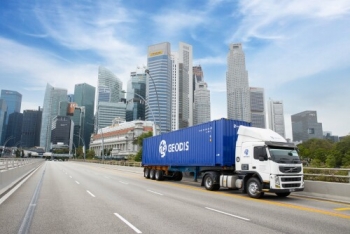 Economy
GEODIS, a global leading transport and logistics services provider, has expanded its road network in Southeast Asia to Vietnam; another step towards its ambition to develop a scheduled road service connecting Singapore to China.