Covid-19 in India: High-tech hunt for scarce COVID-19 vaccines
Tech experts in Indian have designed websites for people to get Covid-19 shots online, which concerns the fairness among society and jeopardises chances of an equitable vaccine rollout.
High-tech hunt for scarce COVID-19 vaccines in India raises fear for fairness
Indian tech experts have written software code and designed websites to help people book scarce COVID-19 vaccinations online, raising concern about an unfair advantage for the tech savvy and jeopardising chances of an equitable vaccine rollout, according to Reuters.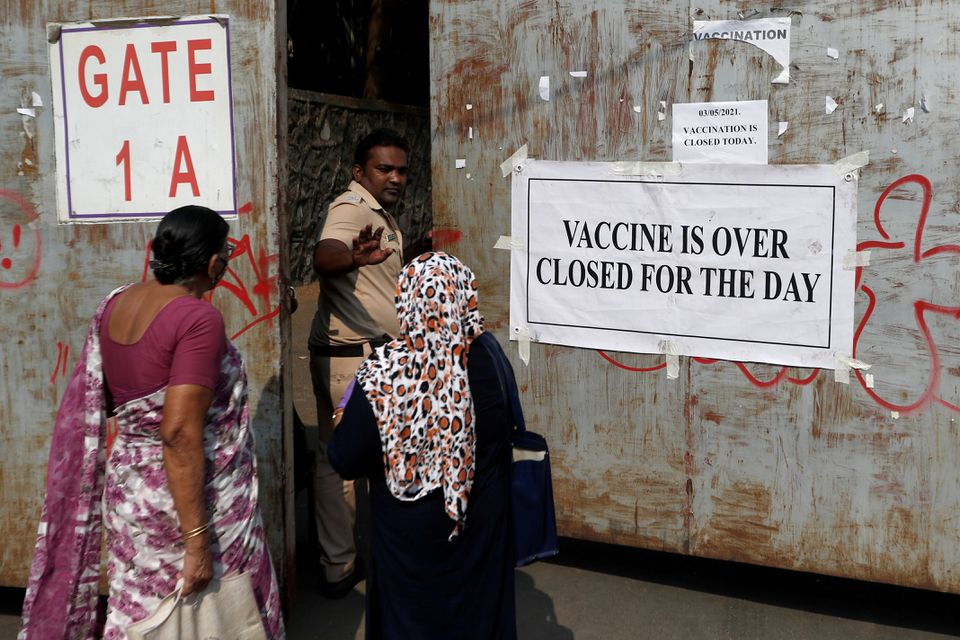 A policeman asks people who came to receive a dose of a coronavirus disease (COVID-19) vaccine to leave as they stand outside the gate of a vaccination centre which was closed due to unavailability of the supply of COVID-19 vaccine, in Mumbai, India, May 3, 2021. REUTERS/Francis Mascarenhas
India has faced criticism for a slow vaccine campaign as it battles a second wave of coronavirus infections that is seeing about 350,000 new cases recorded every day. Only 2% of its 1.3 billion population have been fully immunized.
The government further opened up vaccination for adults from May 1 but registration on its CoWIN website is mandatory for those between the ages of 18 and 44. Slots are hard to get as demand far outstrips supply.
In a bid to streamline the process, computer experts have used the publicly available coding of the CoWIN platform to create websites that post results every few minutes after running automated searches on the government website.
Alerts are sent over email and routed to several Telegram app chat groups where thousands are waiting.
Shyam Sunder said his website - getjab.in - was notifying users by email when slots become available. Some 80,000 people from 400 districts across the country had registered with his site, he said.
But the technological workarounds are facing criticism from those who say they sacrifice the goal of vaccine equity in a country where many people - especially in rural areas - do not have the digital skills to join the online hunt.
"What we need: Free and equitable vaccination policy. What we have got: Techies making use of scripts to quickly book off the entirety of whatever little vaccine slots that open up," Twitter user Rakshith said.
R.S. Sharma, chairman of the government panel managing the CoWIN platform, told Reuters security measures were in place and there was no unfair use of the booking platform, which he said was getting 55,000 hits a second.
India's coronavirus deaths rose by a record 3,780 during the last 24 hours, a day after the country became the world's second, after the United States, to cross the grim milestone of 20 million infections.
'Human catastrophe' as India's COVID-19 surge spreads to Nepal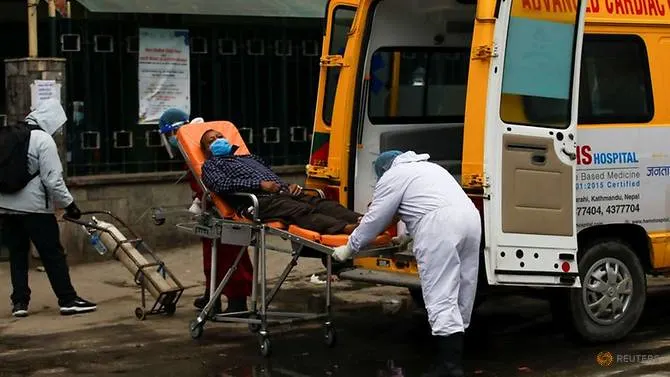 A patient suffering from COVID-19 is transferred from an ambulance as a second coronavirus wave surges in Kathmandu, Nepal, May 4, 2021. (Photo: REUTERS/Navesh Chitrakar)
Nepal is being overwhelmed by a COVID-19 surge as India's outbreak spreads across South Asia, the International Federation of Red Cross and Red Crescent Societies said on Wednesday (May 5).
"We need to act now and we need to act fast to have any hope of containing this human catastrophe. This virus has no respect for borders and these variants are running rampant across Asia," said Alexander Matheou, Asia Pacific director for the Geneva-based agency representing the global humanitarian network.
Nepal is now recording 57 times as many cases as a month ago, with 44 per cent of tests now coming back positive, the statement said, Channel News Asia reported.
On Tuesday, Nepal reported 7,587 new cases and 55 more deaths in the preceding 24 hours. The country has recorded a total of 351,005 cases and 3,417 deaths, according to the country's Ministry of Health and Population.
Nepalese towns near the Indian border could not cope with the growing number of people needing treatment, while only 1 per cent of the country's population was fully vaccinated.
"What is happening in India right now is a horrifying preview of Nepal's future if we cannot contain this latest COVID surge that is claiming more lives by the minute," said Netra Prasad Timsina, chair of the Nepal Red Cross.
"It is beyond distressing to see that people cannot say goodbye to their loved ones as cremations are taking place at record levels due to these new COVID variants, which are striking down people of all ages in Nepal."
The statement noted that other neighbours of India were also in the firing line as the outbreak spreads. Hospital intensive care units in Pakistan and Bangladesh were full or close to capacity, it said.
India G-7 Delegation Forced To Self-Isolate After Positive Coronavirus Tests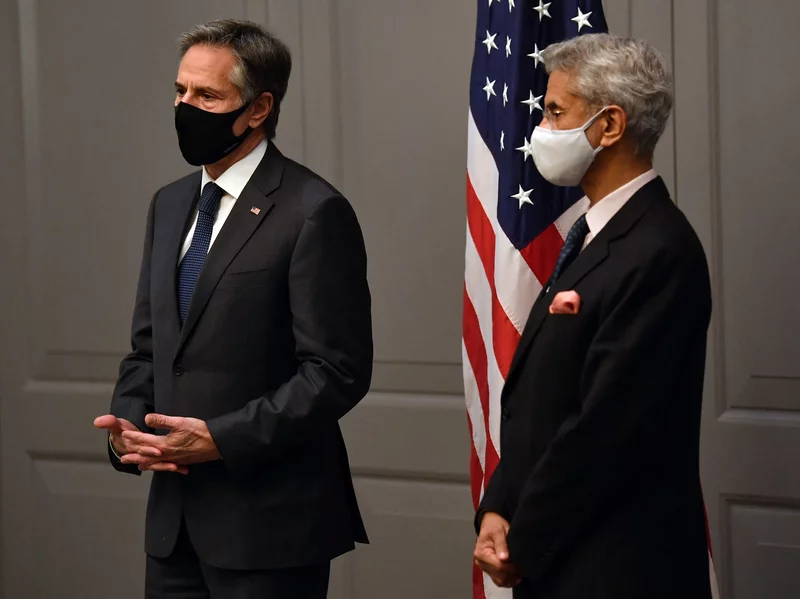 Secretary of State Antony Blinken attends a news conference with India's Foreign Minister Subrahmanyam Jaishankar following a bilateral meeting in London on Monday during the G-7 foreign ministers meeting. Ben Stansall/AFP via Getty Images
India's top diplomat and his entourage have been forced to self-isolate, participating in a G-7 foreign ministers meeting only virtually — from hotel rooms near the venue in London — after at least two members of the Indian delegation tested positive for the coronavirus.
India is currently battling the world's biggest COVID-19 wave, and is thus on the United Kingdom's Red List, meaning travel from India into the U.K. is restricted. The rules stipulate that while regular Indians are barred from entering the U.K., diplomats may do so, but are required to self-isolate, according to NPR.
It appears that India's minister of external affairs, Subrahmanyam Jaishankar, was granted an exception to that rule, because he has held several in-person meetings, including with U.S. Secretary of State Antony Blinken, since arriving in London on Monday.
British media reported that two members of Jaishankar's delegation had since tested positive.
In a tweet, Jaishankar said he had been made aware of the exposure Tuesday evening. "As a measure of abundant caution and also out of consideration for others, I decided to conduct my engagements in the virtual mode," he wrote. "That will be the case with the G7 Meeting today as well."
Jaishankar's meeting Monday with Blinken was their first in-person meeting since the Biden administration assumed office. U.K. Home Secretary Priti Patel also met Tuesday with Jaishankar, tweeting a photo of them wearing masks.
The news of Jaishankar's trip to London, as well as the positive coronavirus tests among his staff, sparked criticism back home in India. Some Indians questioned the wisdom of his travel at an all-hands-on-deck moment in the pandemic.