Covid-19 in Vietnam: No new cases reported, 120 foreigners expressed their grateful thanks
For the first time in almost a month, Việt Nam has no new cases of coronavirus to report. As many as 120 foreigners have expressed their grateful thanks for Vietnamese assistance and support when they were allowed to leave for home from a concentrated quarantine camp in Ho Chi Minh City on April 4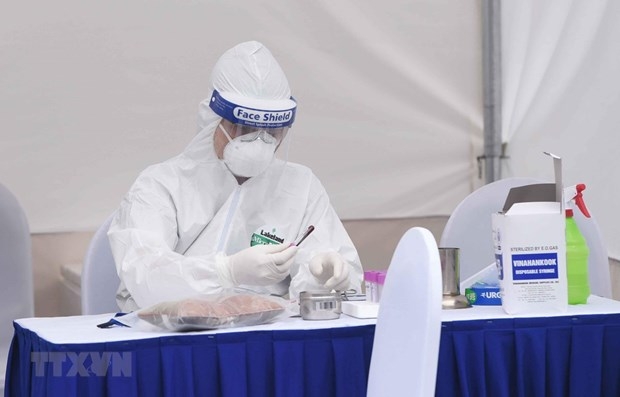 Quick SARS-CoV-2 tests conducted in Hà Nội's Cầu Giấy District. — VNA/VNS Photo
The National Steering Committee on COVID-19 Prevention and Control announced Sunday morning that nobody has tested positive overnight.
It is the first time the country has been able to record zero cases since March 6.
So far, the amount of people nationwide carrying the virus remains at 240. Of those, 149 are Vietnamese nationals who have returned home from overseas and 61 cases are connected to the Bạch Mai hospital in Hà Nội.
There are 69,266 people currently in quarantine. Among these, 1,268 people are being monitored at hospitals, 44,667 people are quarantined at centres or other establishments and 22,331 are self-quarantined at home.
In Hà Nội, the total number of samples tested by PCR, the most accurate way to detect the disease, is 8,886, none of which are positive.
And there is more good news.
The Ministry of Health said four COVID-19 patients in a serious condition have made positive progress.
Patient number 19 no longer needs Extracorporeal Membrane Oxygenation (ECMO) - a heart-lung by-pass machine, that pumps and oxygenates a patient's blood outside the body, allowing the heart and lungs to rest. The patient was taken off the machine on April 4 after she tested positive for COVID-19 on March 26, 27 and 29.
Three other people have been weaned off ventilators over several days and are now practicing breathing on their own.
Among these, patient number 161 is 88 years-old and has other conditions including cerebral hemorrhage, high blood pressure, diabetes and aortic valve regurgitation.
She is now in a clinically stable condition.
Coronavirus update in Vietnam: Infections rise to 240, no deaths reported
The Ministry of Health announced another confirmed case at 06.00pm on April 4, bringing the country's total tally of infections to 240.
The 29-year-old Vietnamese patient is a freelance worker in Thailand. Before boarding a Vietnam Airlines flight to Vietnam on March 20, she took part in a farewell party with one of her friends who later tested positive for the SARS-CoV-2 virus that causes the COVID-19 disease.
Upon arriving in Hanoi, she was placed in isolation at a quarantine camp in Ninh Binh province. Ten days later she had a high temperature of above 38oC and moved to a restricted isolation zone of Ninh Binh general hospital.
Later tests showed the patient had contracted with the deadly virus. Six of her roommates at the quarantine camp had their samples taken on April 1, with results coming back negative.
Two thirds cases coming from abroad
According to the Ministry of Health, 149 out of the 240 confirmed cases entered Vietnam from abroad, mostly from epidemic-hit countries, making up 62% of the total.
No deaths have been reported so far. A total of 90 people have fully recovered and received discharge from hospital.
The remaining 50 patients are being treated at 21 health facilities across the country, with most of them in stable health condition and only 7 cases under intensive care.
Headache for Hanoi capital
While the capital city of Hanoi has been struggling to stamp out a thorny COVID-19 outbreak at Bach Mai hospital with more than 40 relevant infections confirmed, it has to face a new risk of community infection after a Swedish patient was diagnosed with the coronavirus on April 1.
The Swedish citizen, who suffers from acute leukemia, had shown no signs of the coronavirus symptoms until he was admitted to a hospital in Hanoi and tested positive for the deadly virus.
According to the Ministry of Health, 101 people, including 86 doctors and nurses of several big hospitals in Hanoi where the patient had visited for treatment, have been quarantined for testing after having close contact with the patient. Latest results showed they were all not exposed to virus infection.
Nearly 200 other people who had indirect contact with the patient have also been quarantined for COVID-19 testing.
All health facilities in Hanoi where the patient had visited have been isolated for chemical disinfection to prevent the virus spreading to the community.
The ministry requested that Ho Chi Minh City and Ninh Binh province quickly examine places where the patient had visited during his stay in Vietnam to come up with appropriate quarantine plans.
120 foreigners thank Vietnam after 14-day quarantine ends
They were among 930 people who had completed a mandatory 14-day quarantine period at Ho Chi Minh City-based National University.
They had several times tested negative for the deadly SARS-CoV-2 virus that causes the COVID-19 disease.
All of them entered Vietnam from coronavirus-hit countries such as France, the UK, Russia, Germany, the Republic of Korea, Indonesia and Malaysia.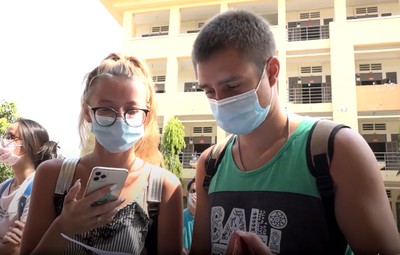 Texting friends before leaving the camp
They were brought to the concentrated quarantine camp as soon as they landed in Vietnam more than two weeks ago, in an attempt to prevent the possible spread of the virus to the community.
Living in the quarantine camp is an unforgettable experience for foreigners coming to Vietnam for the first time.
"It was a bit scary at first, especially for foreigners," said a female foreigner who joined her friends leaving the camp.
"Everything here was very strange, from the living environment to different language, but I enjoyed the life here. The government took care of everyone, they have done a great job, I am grateful."
Expressing his heartfelt gratitude to the Vietnamese government for its considerable assistance, a male foreigner called on everyone to join hands to combat the disease.
"I would like to thank you for what you have done to minimize the impact of the disease. I enjoyed the time here, an interesting experience I have never had. Thank you very much Vietnam. Let's get rid of over the problem."
After receiving the negative test results, they were all allowed to leave the camp for places of residence with assistance from the military.
In the context of the complex nature of the COVID-19 epidemic in Vietnam, the Government has directed relevant ministries and agencies to take special care of foreigners in Vietnam to ensure they enjoy a normal, safe life, and have instant access to medical services in case of emergency. What Vietnam has done has received great international support and acclaim.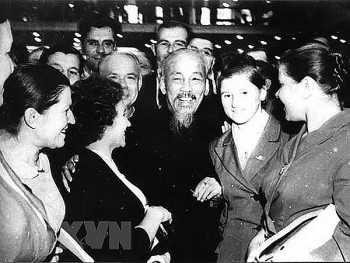 National
Throughout its history Vietnam has come into contact and exchanged with many cultures and civilizations.