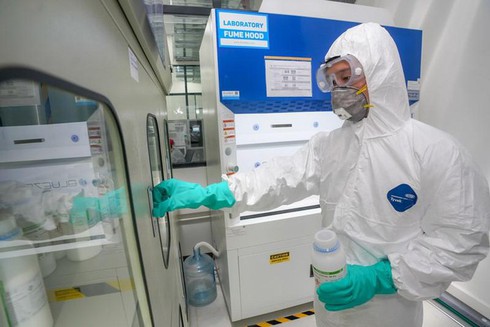 A medical staff works in a research lab of Vingroup. Photo courtesy of Vingroup
Acccoding to Deputy Prime Minister Trinh Dinh Dung, the health sector will encounter difficulties in supplying ventilators to hospitals when the epidemic breaks out on a large scale.
It is also not easy to place orders for the devices from abroad as they are now in short supply in countries seriously hit by the COVID-19 pandemic.
Given the current context, the promotion of research and production of domestic ventilators is vital to disease control in Vietnam, Dung said.
He asked the Ministry of Health to review the number of ventilators in hand, examine demands and draw up plans for placing orders in case of the spread of the coronavirus.
The ministry was required to work on research and production plans with domestic businesses that volunteer to manufacture ventilators in the country.
Vingroup recently announced it will research and manufacture invasive and non-invasive ventilators and body temperature monitors for domestic consumption. The group signed contracts with US partners to purchase components, and first complete products are expected to be commercially marketed in a couple of weeks.
Vingroup has two plants – VinFast and VinSmart which are capable of producing 45,000 noninvasive ventilators and 10,000 invasive ventilators a month, said Vingroup CEO Nguyen Viet Quang.
Production is expected to begin in two weeks, after which Vingroup said it plans to sell these products to the Ministry of Health at the cost price of imported parts at VND22 million ($930) for each non-invasive ventilator and VND160 million ($6,800) for each invasive ventilator.
VOV