88,000 face masks from Vietnam arrived in Italy
Italian Ambassador to Vietnam Antonio Alessandro expressed gratitude for Vietnam's medical supplies sent to his country to assist in its battle against the COVID-19 coronavirus.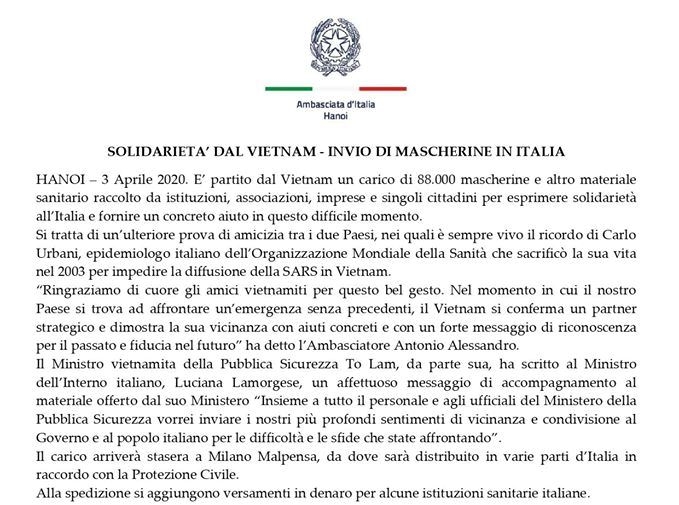 The Italian Embassy thanks Vietnam for mask donation amid COVID-19 in a letter posted in the embassy's Facebook Fanpage.
The Italian Embassy in Vietnam on April 3 said that the shipment consisted of 88,000 masks and medical items donated by Vietnamese associations, businesses and individuals, has been arrived in Milan.
Notably, the Vietnam-Italy Friendship Association has donated over 40,000 face masks to help Italian people in the fight against the COVID-19.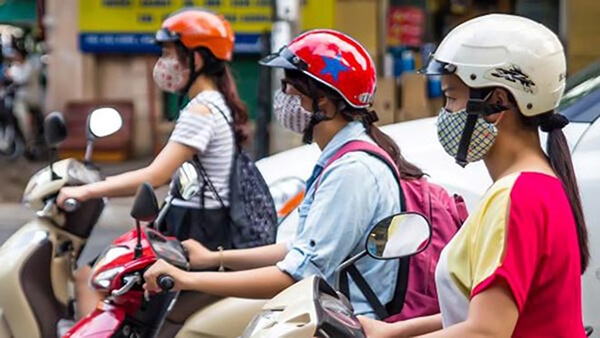 Face masks from Vietnam arrived in Italy
According to the Italian embassy, ​​this is a movement showing solidarity with Italy in difficult times and also the most evident evidence of the friendship between the two countries.
It is also a tribute to Carlo Urbani, an Italian epidemiologist working for the World Health Organization (WHO) stationed in Hanoi first alerted the world to a pneumonia-like emerging disease in February 2003 that was later identified as SARS. His early warning may have saved millions of lives, but Urbani became infected with the virus while treating SARS infected patients, and died in Bangkok on March 29, 2003 at the age of 46 due to complications from the condition.
Italian Ambassador to Vietnam Antonio Alessandro shared: "We would like to extend our sincere thanks to the Vietnamese friends for this beautiful gesture. Vietnam has affirmed its position as a strategic partner of Italy and has shown our close cooperation with specific assistance… "
Italy is among the hardest hit nations in the COVID-19 pandemic, with total 124,632 cases as of April 4 and death toll of more than 15,300. Of those originally infected nationwide, 20,996 were declared recovered.
In the spirit of supporting and sharing difficulties with the medical staff on the front line against the COVID-19 pandemic in Vietnam, the Vietnam - Italy Friendship Association also donated 20 million VND (840 USD) to the Central Hospital for Tropical Diseases.