COVID-19: Japanese woman tests positive for second time
A woman working as a tour-bus guide in Japan tested positive for the coronavirus for a second time, Osaka's prefectural government said on Wednesday (Feb 26), the first person in the country amid growing concerns about the spread of the infection.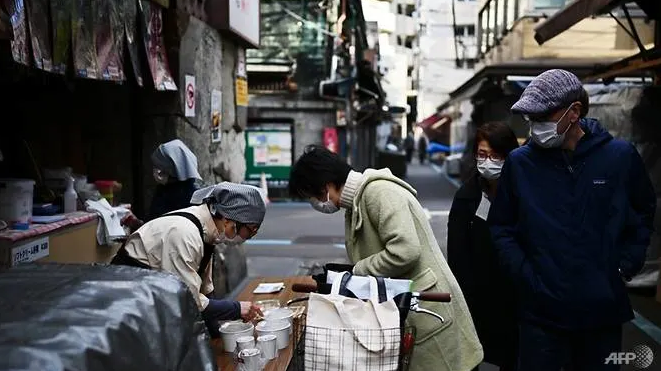 A woman buys food in Tokyo's Tsukiji area on Feb 17, 2020. (Photo: AFP/Charly Triballeau)
The second positive test comes as the number of confirmed cases in Japan rose to 186 by Thursday from around 170 the day before.
The 186 cases reported by Japan's health ministry are separate from 704 reported from an outbreak on a cruise liner that was quarantined off Tokyo earlier this month. A total of seven people have died, including four from the ship.
The woman, a resident of Osaka in western Japan, tested positive on Wednesday after developing a sore throat and chest pains, the prefectural government said in a statement, describing her as being in her forties. She first tested positive in late January and was discharged from the hospital after recovering on Feb 1, according to the statement.
The health ministry confirmed the case was the first in Japan where a patient tested positive for coronavirus for a second time after being discharged from hospital, the Nikkei newspaper said.
Though a first in Japan, cases of second positive tests have been reported in China, where the disease originated late last year. The outbreak has spread rapidly and widely, infecting about 80,000 people globally and killing nearly 2,800, the vast majority in mainland China.
"Once you have the infection, it could remain dormant and with minimal symptoms, and then you can get an exacerbation if it finds its way into the lungs," said Philip Tierno Jr, professor of microbiology and pathology at NYU School of Medicine.
He said much remains unknown about the virus. "I'm not certain that this is not bi-phasic, like anthrax," he said, meaning the disease appears to go away before recurring.
Asked to comment on prospects for the Olympic Games going ahead in Tokyo this summer, Prof Tierno said, "The Olympics should be postponed if this continues ... There are many people who don't understand how easy it is to spread this infection from one person to another."
Japan has changed its strategy in combating the contagion, seeking to slow its spread and minimise the number of deaths.
As part of the attempt to contain the outbreak, Tokyo Olympics officials are considering scaling down the torch relay, Tokyo 2020 CEO Toshiro Muto said on Wednesday.
The government is also considering scaling back this year's Mar 11 memorial ceremony for victims of 2011's massive earthquake and tsunami, Chief Cabinet Secretary Yoshihide Suga told reporters on Thursday.
Meanwhile a major Japanese bank reported an employee had tested positive for coronavirus. MUFG Bank, part of Mitsubishi UFJ Financial Group Inc, the country's largest lender by assets, said a member of staff at a branch in central Aichi prefecture, had been confirmed to have the virus on Wednesday.
'Crossroads'
Japan is at a "crossroads" in preventing a major coronavirus outbreak and may need to reconsider the Olympics if domestic transmissions are not brought under control, an expert advising the government has warned.
Norio Ohmagari, an infectious disease specialist, told AFP in an interview that he believes measures being taken by the government can still prevent the virus from spreading more widely, but that the next three weeks will be critical.
"We are now on the crossroads for the containment of the COVID-19 or the ... outbreak of this COVID-19 within our country," said Ohmagari, director of the department of infectious diseases at Japan's National Center for Global Health and Medicine.
Ohmagari, who helps advise the government, defended measures including requesting, but not ordering, the cancellation of major events and encouraging teleworking and off-peak commuting.
"If we keep going with what we are doing right now we do have (the) significant possibility for the containment or the elimination of this COVID-19," he said.
He conceded however there is still significant uncertainty, which has cast a shadow as Tokyo gears up to host the Olympics from July.
Ohmagari said he would want to see domestic transmissions of the virus brought under control before the Games.
"We have to see the situation at least three weeks from now," he said.
"If we can contain the secondary transmission within the country... I think that's a very good sign, and it's a very good signal for us to decide 'go' for the Olympics and Paralympics."
But if infections are continuing domestically, authorities will face a "big, big decision."
"If there is a significant outbreak or, I do not hope this to happen but, a pandemic of this kind of infectious disease, we really have to think about holding this kind of large event, is it feasible or not?"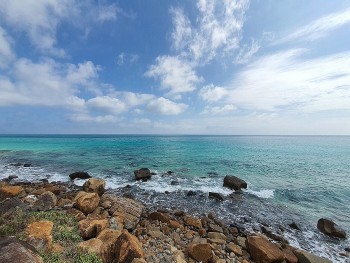 Viet's Home
Con Dao, a historical and famous island situating in the southern province of Ba Ria - Vung Tau, has been named among the top 16 best island vacations in the world, as compiled by tourism magazine Condé Nast Traveler (CNTraveler) of the United States.