COVID-19 spreads to Brazil, Greece as cases rise in Italy and other countries
Italy saw a fresh jump in the number of COVID-19 cases on Wednesday (Feb 26), with 12 dead and 374 infections. Meanwhile, Greece and Brazil have confirmed its first coronavirus cases.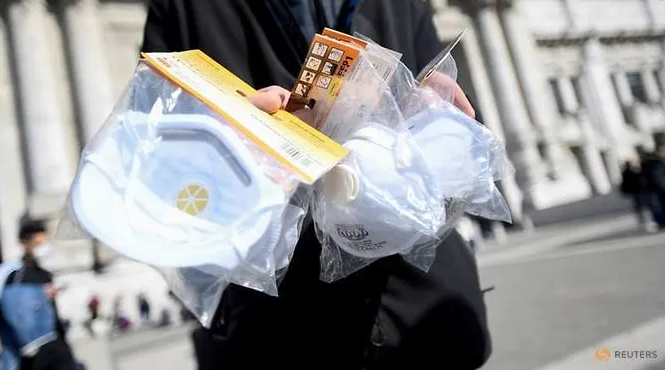 A street vendor sells face masks outside the central railway station, after a coronavirus outbreak, in Milan, Italy February 24, 2020. REUTERS/Flavio Lo Scalzo/File Photo
Europe
The new toll published by Italy's civil protection department is a jump from the 322 cases and 10 deaths recorded on Tuesday evening. Even though, all of those who have died so far were either elderly or had pre-existing medical conditions.
Earlier on Wednesday, Italy confirmed more than 30 new cases in the two worst-hit regions Lombardy and Veneto, with children found to have the illness for the first time.
Officials in Lombardy, which includes Italy's financial capital Milan, said cases had risen overnight to 259 from 240 on Tuesday, with four children, including a 4-year-old girl, infected in the first such cases in the country.
In neighbouring Veneto, the number of people confirmed to have caught the flu-like virus was 58, an increase of 13 on the previous tally given on Tuesday.
The death toll from the contagion, which came to light on Friday, has risen to 12. All those who have died so far have been elderly and most had underlying health problems.
After first emerging in Italy in Lombardy and Veneto, the country's economic powerhouse, the illness has now spread to seven other regions, including Sicily in the far south.
Coronavirus cases in people who travelled recently to northern Italy have now been found in France, Spain, Austria, Switzerland, Romania, Croatia and Algeria.
Greece has confirmed its first coronavirus case, the health ministry said on Wednesday.
The patient was a 38-year-old Greek woman who had travelled from an area of northern Italy, said Sotiris Tsiodras, a representative of the Ministry of Health.
France has reported four other new cases of COVID-19 in the past 24 hours, including two people returning from Italy, bringing the total number of infections to 17.
The health ministry's deputy head Jerome Salomon said the death was one of three new cases in France this week, bringing the total confirmed cases in the country to 17.
A 60-year-old French national was hospitalised in Paris in a serious condition and tested for the virus late on Tuesday. "Unfortunately (he) died during the night", he said.
The man was a teacher at a junior high school in the town of Crepy-en-Valois, about 80km northeast of Paris. He had not travelled to an area affected by the global coronavirus outbreak, said Etienne Champion, director general of the health agency of the Hauts-de-France region.
The first coronavirus death in France was an 80-year-old Chinese tourist who died mid-February.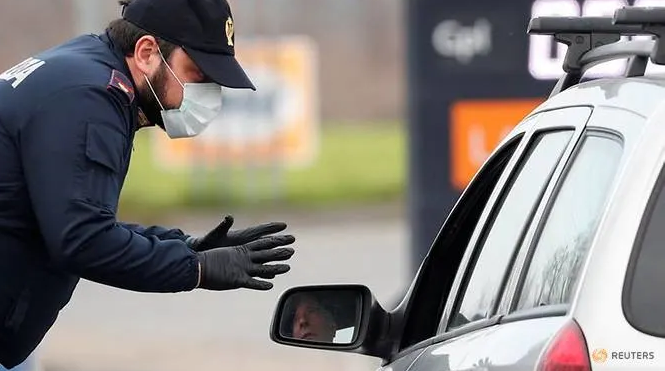 A policeman wearing a face mask warns a driver on the road between Codogno and Casalpusterlengo, which has been closed by the Italian government due to a coronavirus outbreak in northern Italy, February 23, 2020. REUTERS/Guglielmo Mangiapane/File Photo
Latin America
In Latin America, Brazil confirmed a case of the new coronavirus, after a Sao Paulo hospital flagged the possible infection of a 61-year-old man who recently visited Italy.
The diagnosis comes during Brazil's carnival holiday, a peak time for domestic travel when millions of revellers throng major cities for boisterous street celebrations.
The Sao Paulo resident had travelled to Lombardy, in northern Italy, from Feb 9 to Feb 21.
The man tested positive to a PCR real-time test on Monday and it notified Sao Paulo state's epidemiological agency on Tuesday, said the Albert Einstein Hospital in a statement.
He remains in good health and will be monitored in isolation for the next 14 days, the hospital said.
In the US, the 14 confirmed cases of coronavirus have been mostly travel related, with only two cases of person-to-person spread. There are also 39 cases among Americans evacuated from the Diamond Princess cruise ship in Tokyo and from Wuhan, China.
Middle East
Iran on Wednesday reported four more COVID-19 deaths among 44 new cases in the past 24 hours, taking the total number of fatalities to 19 and infections to 139.
The latest health ministry figures show the virus has spread to all four corners of the country.
But despite the rapid spread of the coronavirus, the authorities have so far dismissed quarantine as an option to control the outbreak.
Iran's deputy health minister on Tuesday confirmed he has tested positive for the novel coronavirus.
In a video broadcast on state television, the deputy minister admitted he was infected. "I too have been infected with coronavirus," Harirchi said in the video apparently shot by himself.
"I had a fever as of last night and my preliminary test was positive around midnight."
Kuwait and Bahrain on Wednesday also announced more cases of the coronavirus.
Kuwait's health ministry said that the number of people diagnosed with coronavirus in the country rose to 25 after 13 more cases were confirmed.
The cases were all related to people travelling to Iran, it said.
Meanwhile, Bahrain said the number of coronavirus infections in its country has risen to 26 after three new cases were confirmed, according to the state news agency (BNA).
The three were identified as Bahraini women who arrived at Bahrain international airport on indirect flights from Iran.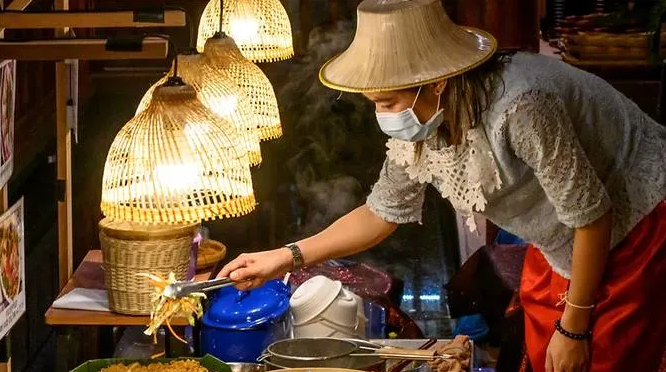 A street food vendor wearing a protective facemask, amid fears of the spread of the COVID-19 coronavirus, prepares food in a shopping mall in Bangkok on Feb 25, 2020. (Photo: AFP/Mladen Antonov)
Asia
Beyond mainland China, the outbreak has jumped to more than 30 countries and territories, with some three dozen deaths, according to a Reuters tally. Spreading infections in Iran, Italy and South Korea are of particular concern.
In South Korea, which has the most virus cases outside China with 1,200 infections and 12 deaths, authorities were testing all the estimated 215,000 members of the Shincheonji Church of Jesus.
The country's outbreak is believed to have begun in the city of Daegu with a 61-year-old woman who is a member of its congretation.
Japan also reported two more deaths linked to the coronavirus on Wednesday.
A Tokyo man in his 80s who tested positive for the infection died of pneumonia, the health ministry said.
He had not travelled to China recently and there was no sign he had contact with known infected individuals, it said in a statement.
Another elderly person in the Hokkaido region of northern Japan died of viral pneumonia, the ministry said.
The governor of Hokkaido, where at least 38 people have been diagnosed, said he was asking local municipalities to close public schools for one week from Thursday.
In Tokyo, meanwhile, the regional education board said public high schools could start late to spare students travelling on packed commuter trains.
Along with at least 165 infections across the country, Japan has dealt with lingering worries about those who disembarked from the virus-hit Diamond Princess cruise ship.
The government has contacted 813 former passengers of the ship and found "45 people had certain symptoms", Health Minister Katsunobu Kato told parliament.
Around 970 people were allowed off the boat last week after testing negative for the virus, but several have subsequently been diagnosed with the illness.
Thailand, on the same day, reported three new cases of the coronavirus on Wednesday (Feb 26), taking total infections nationwide to 40.
Two of the new patients, who are all Thai nationals, had returned from a vacation in Japan's northern island of Hokkaido and came into contact with the third, said Sukhum Kanchanapimai, permanent secretary at the ministry.
Thailand was the first country outside China to confirm a case of COVID-19 on Jan 13.
In late January, Thailand had the second-highest number of infections after China, but new cases have gradually declined.
No one in Thailand has died from the coronavirus./.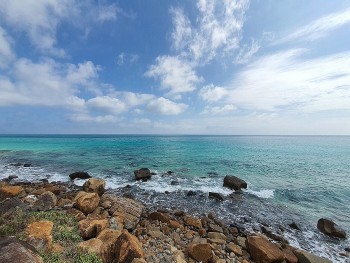 Viet's Home
Con Dao, a historical and famous island situating in the southern province of Ba Ria - Vung Tau, has been named among the top 16 best island vacations in the world, as compiled by tourism magazine Condé Nast Traveler (CNTraveler) of the United States.