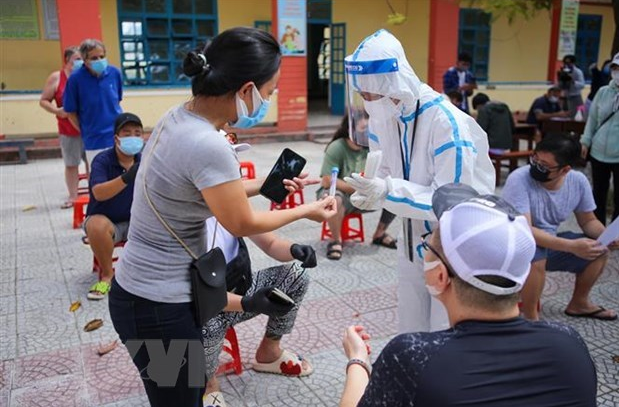 A site collecting samples for COVID-19 testing in Da Nang city (Photo: VNA)
Vietnam reports no new COVID-19 cases on August 24 morning
Vietnam's total COVID-19 cases remained at 1,016 in the morning of August 24 as no new infections were reported in the country over the past 12 hours, according to the National Steering Committee for COVID-19 Prevention and Control.
Of the national tally, 674 cases were locally transmitted, with 534 recorded as from July 25. As many as 568 patients have made full recovery. There have been 27 fatalities so far. Among the active patients, 39 have tested for SARS-CoV-2 once, 49 twice, and 28 three times.
A total of 70,620 people who had close contact with COVID-19 patients and came from pandemic-hit areas are under quarantine nationwide, including:
- Concentrated isolation at the hospital: 1,992
- Concentrated isolation at another establishment: 18,776
- Self-isolation: 59,852
5 patients were cured of COVID-19 in Da Nang
According to information from Da Nang Lung Hospital, on August 23, the hospital held a ceremony to announce the cure of COVID-19 for 2 patients.
Two patients cured of COVID-19 were patient no. 439 and patient no. 494, all of whom underwent 3-6 tests negative for the SARS-CoV-2 virus.
Da Nang Lung Hospital also informed that both patients did not have clinical signs and their health was stable. After the announcement ceremony, 2 patients will be transported home by a dedicated vehicle for medical isolation in accordance with regulations of the Ministry of Health.
Also on August 23, Hoa Vang Hospital (Da Nang) continued to announce and discharge the hospital for 3 cases including patient no.701; patient no. 759 and patient no. 926.
All 3 patients underwent multiple tests that were found to be negative for the SARS-CoV-2 virus. Because patient 701 and patient 759 are on dialysis, they are transferred to Hospital C Da Nang to continue the cycle dialysis, only patient 926 is transported home to medical isolation for another 14 days under the supervision of the force. function.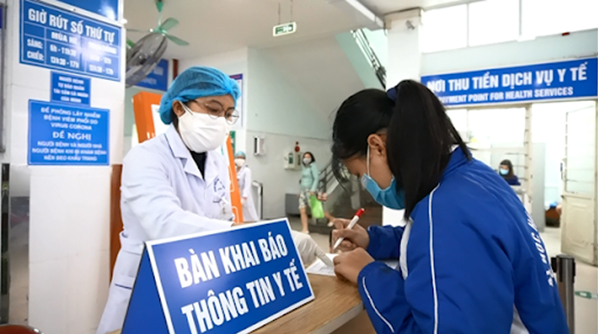 Hanoi suspended 3 hospitals for not complying with epidemic prevention standards (Photo: Kinh Te Do Thi)
Hanoi suspended 3 hospitals for not complying with epidemic prevention standards
For the first time, in Hanoi, at the same time, there were 3 hospitals: Sai Gon - Hanoi Eyes, HiTec Eye and Viet Nhat Eye were suspended because they did not perform well the prevention of Covid-19 according to regulations. Along with that, many other hospitals were criticized, reminded, and requested to comply with the anti-pandemic regulations. This is also the first time the country has simultaneously checked health facilities for the implementation of Covid-19 prevention.
According to Deputy Minister of Health Nguyen Truong Son, the Covid-19 break in Da Nang Hospital draw many experiences and lessons, including pandemic prevention in medical facilities. This is the point where Covid-19 is easy to spread, and at the same time increases the burden of treatment for both the patient and the medical profession. From the lesson that Da Nang hospital, the Steering Committee for COVID-19 Control in Hanoi identified hospitals as a place with high risk of infection, according to Kinh Te Do Thi.
Hanoi is also the first locality in the country to issue a regulation restricting family members from visiting patients right from the first pandemic break. Most hospitals have strictly implemented, unfortunately, still, some units are still subjective and neglectful. This is the gap in epidemic prevention, and if Covid-19 breaks out and spreads in these facilities, its harm will be immeasurable.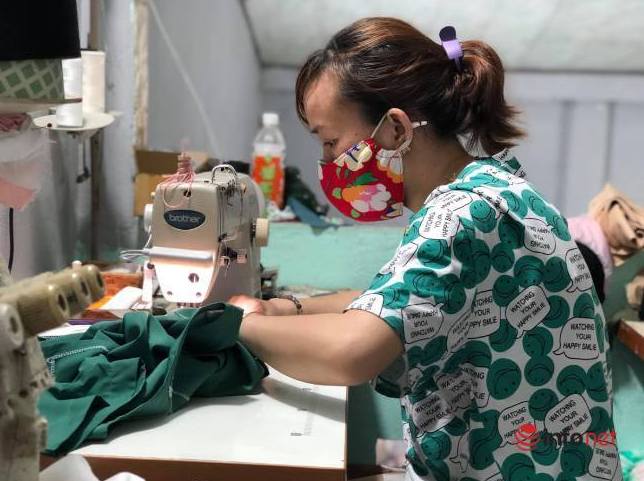 Da Nang women sew blouses to help doctors fight pandemic (Photo: Infonet)
Da Nang women sew blouses to help doctors fight pandemic
In the small sewing factory of Mrs. Le Thi Thu Nga's family (Cam Le district, Da Nang), the local women are working hard at sewing blouses to support the frontline doctors, cited by Infonet.
For nearly a week, Nga's sewing factory has always been busy, the sound of sewing machines slamming down continuously from morning to night, but not to sew the fashion designs as before. Ms. Nga and her sisters in the Women's Union are diligently sewing blouses to send to hospitals where doctors are fighting against the pandemic.
"The whole country is heading to Danang. When the Women's Union launched the blouse sewing and sent it to the frontline doctors to fight the epidemic, we immediately joined. In addition to the tailors at the workshop, I also mobilized the sisters in the branch of women who are proficient in sewing to contribute together. Some women come to receive the fabric and then take it home to make their own. Up to now, the women have sewn about 50 sets of clothes," shared Ms. Nga.
Funding to buy cloth is taken from the ward Women's Union fund and the sponsors' support. Finished clothes are washed, ironed flat, folded into bags carefully and sent to nurses and doctors.
Valerie Mai