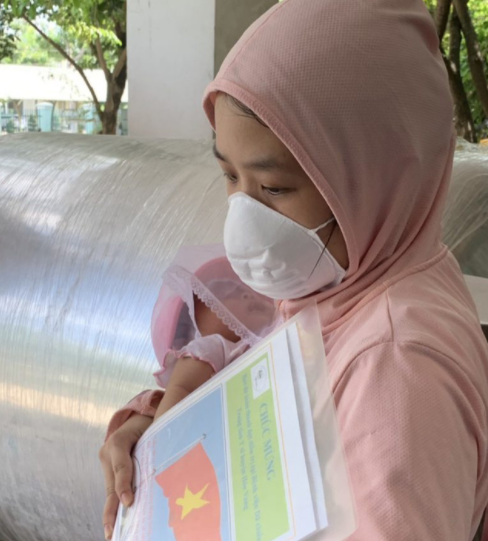 2-month-old patient held in her mother's arms (Photo: MOH)
7th morning with no new cases, 31 patients cured
The National Steering Committee for Disease Control and Prevention of COVID-19, on August 27 at 6 am, said that no new cases were reported. This is the seventh morning in a row Vietnam records no new infections. Vietnam has cured 632 patients. There are more than 70,000 people are quarantined.
On the afternoon of August 26, Hoa Vang Field Hospital - Da Nang held a ceremony to announce the cure of COVID-19 for 31 patients, including 2 pregnant women and a 2-month-old girl.
All 31 patients who were announced cured and discharged this afternoon had no clinical signs, the test results were within normal limits, and the SARS-CoV-2 test was negative 3 to 5 times.
Among the COVID-19 patients undergoing treatment, the number of first time negative for SARS-CoV-2 is 41; second negative: 52, and third negative: 51.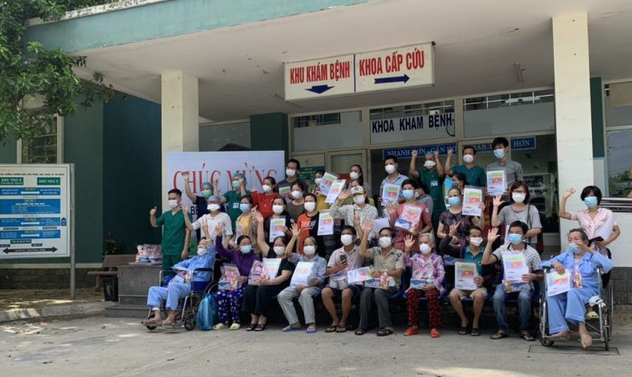 31 patients were announced cured by Hoa Vang Field Hospital. (Photo: MOH)
29th death confirmed
On August 26, the COVID-19 Special Standing Division of the Ministry of Health in Da Nang City informed the death of a COVID-19 patient. This is the 29th death in Vietnam since the pandemic appeared.
The fatal case was patient no. 827, male, 66 years old, lived in Quang Ngai province. He had a medical history of hypertension in patients with old stroke (1 year), chronic renal failure, hemodialysis.
On the morning of August 26, the patient died, diagnosed with complications of septic shock, multiorgan failure due to severe pneumonia ARDS complications (acute respiratory distress syndrome), SARS-CoV-2, final stage renal impairment.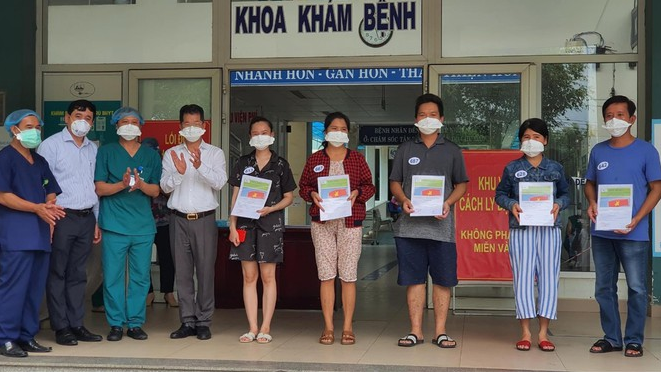 Patient 687 Mai Anh Duc (Third from the right) was discharged on August 14. (Photo: NVCC)
Da Nang cured patient provide free disinfectant water to hospitals
687 is the name of a project that provides free disinfectant water for hospitals, isolation sites in Da Nang to prevent COVID-19. The number 687 sounds nothing special, but for project founder - Mr. Mai Anh Duc (born in 1982, Hai Chau District, Da Nang) - 687 is the number that associated with him on the days he went under COVID-19 treatment at Hoa Vang Field Hospital.
Duc is the 678th COVID infection in Vietnam. After being cured, he collaborates with his friends and relatives to set up Project 687 to provide free disinfectant water for hospitals, isolation sites in Da Nang, cited by Tien Phong.
"As soon as the pandemic returned and Da Nang became a center break of COVID-19, I cherished to implement this project. I am in the business of imported water purification equipment, so I know about Japanese equipment that produces standard disinfectant water. I have contacted the distribution unit to get support with this device to produce free disinfectant water for the frontline units to prevent epidemics, "said Duc.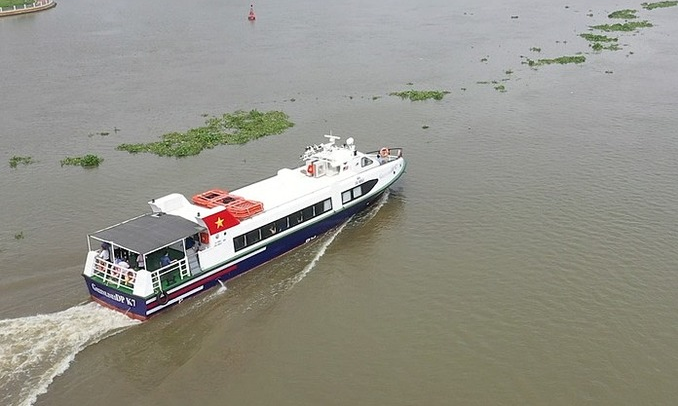 The HCMC-Binh Duong express boat runs on the Saigon River, July 2020. (Photo: VnExpress)
HCMC-Binh Duong express boat service frequency cut over Covid-19 concerns
The resurgence of Covid-19 has prompted a cut in the new HCMC-Binh Duong express boat service from seven to just one trip a week. The single trip will happen every Saturday from this week onwards, authorities announced Monday, cited by VN Express.
The move aims to limit the gathering of crowds after Ho Chi Minh City recorded 16 Covid-19 cases in the resurgence of community transmissions in Vietnam since July 25. Of the new infections in the city, eight are linked to the Da Nang outbreak, and eight are imported cases.
The express boat service, launched July 10, would return to normal only after the new Covid-19 wave is contained, the municipal Transport Department said.
Valerie Mai