Covid-19 updates in Vietnam: Six more COVID-19 cases take national count to 1,022
Vietnam's total COVID-19 cases raising to 1,022 in the evening of August 24 as six more cases were reported, four in the central city of Da Nang and two in the northern province of Hai Duong, some 60km from Hanoi capital.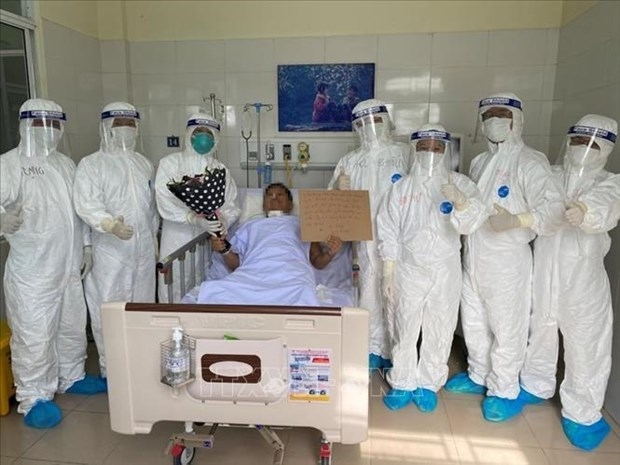 The 55-year-old male patient 582 who was announced to be free from SARS-CoV-2. Photo: VNA
Of the new patients detected in Da Nang, two are medical workers at the Da Nang Hospital, one is a market goer, and another had close contact with a COVID-19 patient.
The remaining two infections in Hai Duong are also cases that came into close contact with coronavirus infected people.
Of the national tally, 680 cases were locally transmitted, with 540 recorded as from July 25.
On the same day, four more people infected with the novel coronavirus were discharged from hospitals. By now 588 patients have been given the all-clear.
There have been 27 fatalities so far. Most of the fatalities were elderly people who suffered from serious illnesses such as end-stage kidney cancer, severe pneumonia, diabetes and multi-organ failure.
A total of 70,620 people who had close contact with COVID-19 patients and came from pandemic-hit areas are under quarantine nationwide.
The outbreak has since spread to 15 cities and provinces, with Da Nang alone being the hardest hit city, registering more than 300 cases.
However, new cases of coronavirus continue to show signs of slowing. The number of new infections in Da Nang has fallen in recent days, from an average of 20 cases a day from August 3 to 9 to about 10 cases from August 10 to 23.
Two patients from Quang Nam province and Hanoi, who had previously been given the all-clear, have once again tested positive for the virus, according to health authorities.
The first case involves a 19-year old female student from Que Son district in the central province of Quang Nam, she had previously been discharged from hospital on August 18 for a period of four days.
The patient began to show mild fever symptoms on August 22 before being re-admitted to Quang Nam General Hospital to receive strict medical surveillance, with her test results coming back positive for the SAR-CoV-2 virus.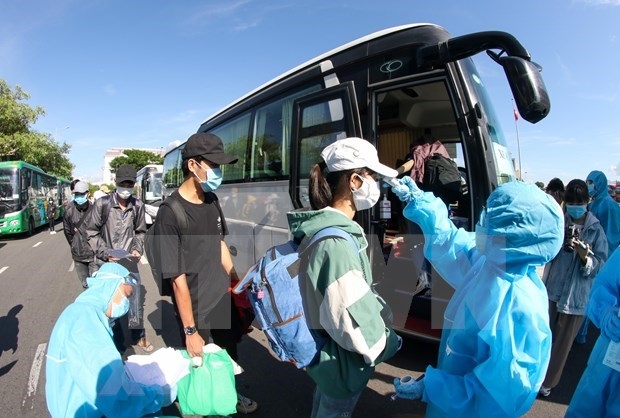 More than 700 people from the central province of Quang Ngai line up to board coaches heading home after finishing compulsory quarantine at a State-designed facility. Photo: VNA
Meanwhile, another COVID-19 patient in Hanoi also tested positive once again after being discharged from hospital for approximately a fortnight.
The 39-year old male patient, who lives in Romania, entered the country from Sweden on June 6 before being placed into quarantine at the Hanoi Vocational College of High Technology in Nam Tu Liem district.
The man's samples were later taken by Bac Tu Liem district's medical centre on August 13, with his test results coming back negative for SARs-COV-2.
After a period of roughly two weeks, he once again tested positive for the SASR-CoV-2 virus on August 23 and was re-hosptialised at the National Hospital for Tropical Diseases while his wife and children remain in quarantine at home.
Medical workers in Bac Tu Liem district have co-operated alongside the Hanoi Centre for Disease Control in order to spray disinfectants throughout the area whilst putting his house under lockdown.
In another move, the first face mask ATM in the capital officially opened to members of the public at 3 pm on August 24 as part of concerted efforts to combat the spread of the novel coronavirus epidemic nationwide.
The capital's first face mask ATM can be found at No. 23 Lac Trung street in Hai Ba Trung district./.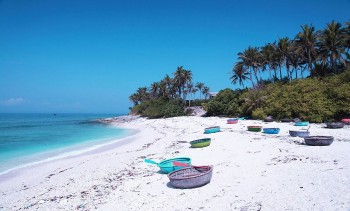 Travel
With more than 2000 miles of coastline, Vietnam brims with secluded coves, white sands, and waters fit for snorkeling. Crystal blue water, sandy beach, and bright sunshine, Vung Tau, and Nha Trang are voted among the most beautiful beaches by TikTok users.