COVID-19 Updates (Dec. 30): 3 new cases, 2 entered Vietnam illegally
Three more cases of COVID-19 were detected in the past 24 hours, which all involved people returning from abroad who had been quarantined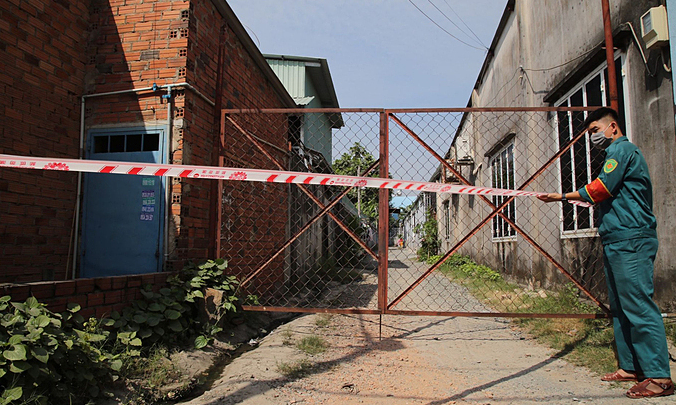 3 new cases, 2 of which entered Vietnam illegally. (Photo: VN Express)
3 new cases, 2 of which entered Vietnam illegally
Three more cases of COVID-19 were detected in the past 24 hours, which all involved people returning from abroad who had been quarantined, according to the National Steering Committee for COVID-19 Prevention and Control.
The 1452nd and 1,453rd patients are both Vietnamese, who illegally entered the country from Myanmar on December 24 via trails together with patient 1440 and 1451. Meanwhile, the 1454th patient is an eight-year-old Vietnamese. She returned home from the US on flight SQ178, which landed at the Tan Son Nhat International Airport on December 27.
By December 29 evening, Vietnam recorded a total of 1,454 cases of COVID-19, of which 693 were community infections. The number of deaths still remained at 35. As many as 1,319 patients have recovered from the disease. Of the active patients, 10 have tested negative once for SARS-CoV-2, 10 twice, and 13 thrice. A total of 16,553 people who had close contact with COVID-19 patients or returned from pandemic-hit areas are being quarantined nationwide.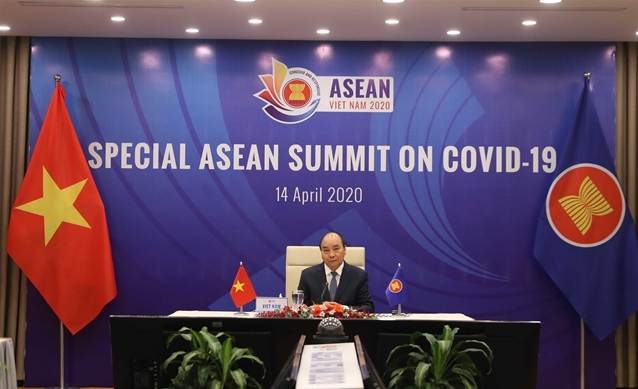 Vietnam leads ASEAN's efforts in fighting COVID-19, said Modern Diplomacy. (Photo: Vietnam News)
Vietnam leads ASEAN's efforts in fighting COVID-19, said Modern Diplomacy
As the Chair of ASEAN in 2020, Vietnam led the efforts of the ASEAN member nations in forging a response to the COVID-19 outbreak, said the website Modern Diplomacy.
An article published on the site on December 27 noted that as early as February 15 this year, Prime Minister Nguyen Xuan Phuc, after consulting with other ASEAN leaders, issued the ASEAN Chairman's Statement on ASEAN Collective Response to the Outbreak of Coronavirus Disease 2019. The statement expressed deep concerns over the spread of COVID-19, and recognized it as a "public health emergency of international concern", as declared by the WHO.
The article said that ASEAN member states need to prioritize the right to health and social protection, or security, for everyone, including the most marginalized and vulnerable, and reform the system of social protection and incorporating it into the economic recovery plan post-COVID to reduce the increasing poverty rate as a result of the pandemic. It also underlined the necessity for ASEAN to learn from best practices in other countries, especially in forming policies that include wider social and economic opportunities, as well as establish more targeted consultation and cooperation on public health policy, such as the regulations for quarantine, lockdowns or social movement restrictions and other related elements.
Hanoi tightens preventive measures against COVID-19 to prepare for New Year holiday. (Photo: Vietnam Plus)
Hanoi tightens preventive measures against COVID-19 to prepare for New Year holiday
Leaders of the capital city of Hanoi have asked localities to strengthen measures to prevent the spread of the COVID-19 pandemic ahead of the year-end occasions.
Along with the strict implementation of directions of the Prime Minister and city leaders in pandemic prevention, the localities should increase communications and ask locals to wear face masks at public places, requested Vice Chairman of the municipal People's Committee Chu Xuan Dung. He asked localities that plan to perform fireworks on New Year's eve to design specific plans to ensure top safety against the pandemic.
Meanwhile, it is necessary to prepare scenarios to protect the safety of delegates to the 13th National Party Congress, which is slated for late January 2021 in the city, he stressed. Alongside, local healthcare, tourism, public security, and transport sectors as well as the Capital Military High Command to roll out pandemic prevention measures ahead of the event.
Particularly, the city Department of Health was directed to coordinate with other relevant departments and agencies to build responding plans for different development levels of the pandemic, while preparing human resources and equipment for COVID-19 prevention activities and in case of an outbreak.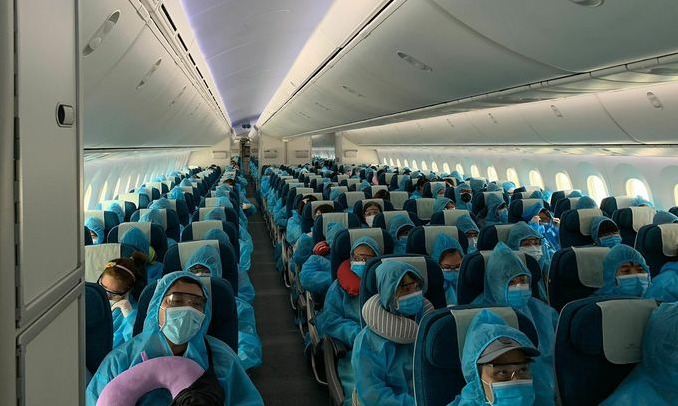 Over 340 Vietnamese citizens flown home from Taiwan. (Photo: VN Express)
Over 340 Vietnamese citizens flown home from Taiwan
More than 340 Vietnamese citizens were brought home safely from Taiwan (China) on a flight of Pacific Airlines on December 28, according to VNA.
The flight, arranged by Vietnamese authorities, the Vietnam Economic and Cultural Office in Taipei, the carrier and relevant agencies in Taiwan, carried the elderly, the ill or people suffering from occupational accidents, pregnant women, workers with expired labor contracts, students who finished their study and those in extremely difficult circumstances. The Vietnam Economic and Cultural Office in Taipei had sent staff to the airport to assist the citizens with boarding procedures.
In-flight safety and preventive measures against the spread of COVID-19 were strictly put in place by the airline to protect their health. Upon arrival at Da Nang International Airport of the central city of the same name, all crew members and passengers were given medical checkups and sent to quarantine in line with regulations.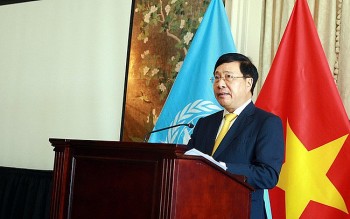 Friendship
Deputy Prime Minister Pham Binh Minh has asserted Vietnam's strong support for and commitment to the UN's role in leading and coordinating multilateral efforts to respond to global challenges.