COVID-19 Updates (September 20): First regular international commercial flight took off
After 6 months of pausing, at 6:30 am September 19, Vietnam Airlines regular international commercial flight VN310 on the Hanoi - Tokyo journey took off safely from Noi Bai airport.
First regular international commercial flight took off. (Photo: VN Express)
18th day recording no community cases
Today is the 18th day that Vietnam has not recorded cases in the community. The number of patients with COVID-19 is 1,068, 942 of which were cured.
As of 6 a.m. on September 20, Vietnam had a total of 691 cases of COVID-19 due to domestic infections. Currently, 24,396 people are under quarantine and health monitoring, VTV cited.
In Ho Chi Minh City, there have been 51 days of no new cases of COVID-19 recorded in the community. In Hanoi City, it has been 32 days since there was no new case of COVID-19 recorded in the community.
However, the Ministry of Health recommends that people comply with regulations on COVID-19 prevention, including: masks, disinfection, distance, not gathering and medical declaration to keep themselves and society safe from the COVID-19 pandemic.
First regular international commercial flight took off
The Boeing 787-10, one of the most modern wide-body aircraft of Vietnam Airlines, carrying nearly 60 people, mainly international students and workers to Japan, took off today. In addition to carrying passengers, the flight also transport cargo to serve trade and production.
Passengers on the flight are arranged to sit in distance in order to meet epidemic prevention regulations. They must also comply with the strict regulations of the Japanese authorities upon entry, such as having negative PCR test results for COVID-19 within 72 hours prior to departure, reporting travel history within 14 days, download the confirmation app.
After flight VN310, in September, Vietnam Airlines will continue to operate 2 more flights from Hanoi to Tokyo on September 25, September 30 and a flight from Ho Chi Minh City to Tokyo on September 30. According to Tuoi Tre, in addition to the Japan route, Vietnam Airlines plans to restore flights between Vietnam and Korea, China, Taiwan (China), Laos and Cambodia in the near future.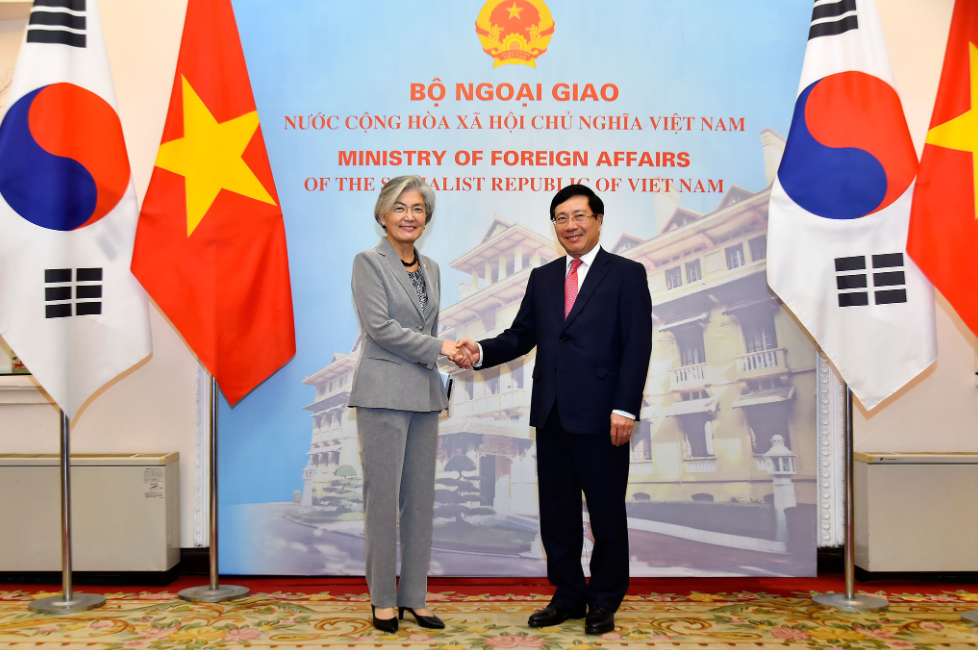 The Korean Foreign Minister is the first foreign senior officials to officially visit Vietnam since the Covid-19 outbreak. (Photo: Vietnamnet)
First foreign minister to visit Vietnam since Covid-19 outbreak
On the morning of September 18 in Hanoi, Deputy Prime Minister and Foreign Minister Pham Binh Minh held a meeting with Korean Foreign Minister Kang Kyung Wha on the occasion of his official visit to Vietnam from September 17-18.
The Korean Foreign Minister is also the first foreign senior officials to officially visit Vietnam since the Covid-19 outbreak.
Korean Foreign Minister Kang Kyung Wha high appreciate Vietnam's effort to successfully control the Covid-19 epidemic, congratulated Vietnam on its role as ASEAN Chair in the context of difficulties caused by the epidemic, and expressed his belief that, due to the history of 75 years of economic development since its independence, Vietnam will continue to achieve more socio-economic and external achievements in the coming time.
The Korean Minister of Foreign Affairs affirmed that the Korean Government attaches great importance to and wishes to further develop the relationship with Vietnam - a key partner in Korea's New South Policy.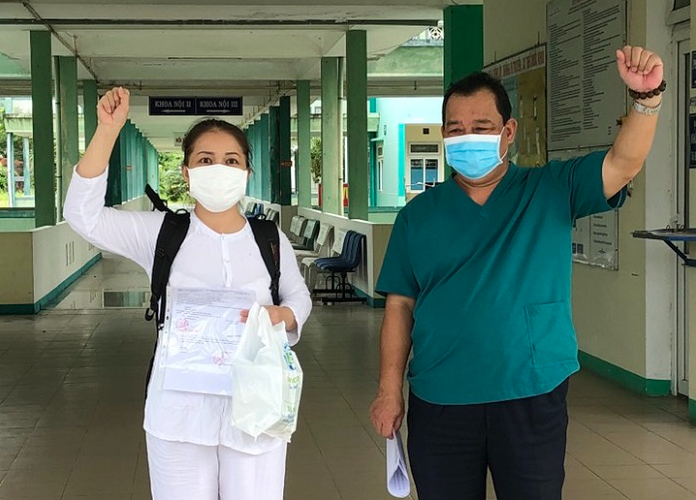 Da Nang hospital cured the last COVID-19 cases. (Photo: Vietnamet)
Da Nang hospital cured the last COVID-19 cases
On the afternoon of September 19, Da Nang Lung Hospital completed the procedure to discharge the last Covid-19 patient at the hospital. In specific, patient number 1015 residing in Quang Nam, hospitalized for treatment from August 23 already had 3 negative tests. The patient will continue to be isolated and self-monitoring at home for 15 days after discharge.
The patient said that in nearly 1 month of treatment, she received enthusiastic care from medical staff. "I am a vegetarian, so when I entered the hospital, the doctors and nurses tried to arrange and take care of me every meal and prescription. As the last person discharged from the hospital, I am happy for myself and also for the hospital as the pandemic has been controlled", the patient shared.
Doctor Le Thanh Phuc, Director of Da Nang Lung Hospital, said, since the outbreak, the hospital received and treated a total of 116 patients of Covid-19, mainly serious cases transferred from Da Nang Hospital. Currently, there are only 4 patients suffering from Covid-19 in the whole city of Da Nang, all are being treated at Hoa Vang Field Hospital, Vietnamnet cited.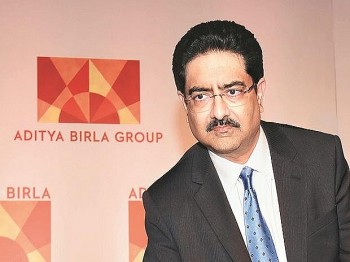 World
India is becoming more famous with many wealthy business billionaires, and the cumulative wealth of India's richest saw a rise of 50 percent in the year two of the pandemic, according to Forbes magazine. Take a look at these richest Indian billionaires in Asia and their huge net worth.