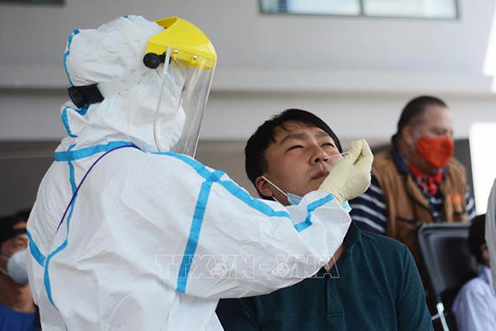 Vietnam did not record new cases of COVID-19 in the last 12 hours (Photo TTXVN)
No new cases in the last 12 hour
From 6 pm on 2 September to 6 am on September 3, Vietnam did not record new cases of COVID-19, according to Ministry of Health
Up to the present time, 746 patients have been cured, 27 patients tested negative for the first time, 53 patients were negative for the second time, and 37 patients are negative for the third time. There are 8 cases with a severe prognosis and criticality, accounting for 3.1% of the total number of patients being treated.
A patient died after 3 times tested negative with coronavirus
On the morning of September 2, the Standing Division of COVID-19 Prevention of the Ministry of Health in Da Nang informed about the death of the 764th patient, who has a history of COVID-19, chronic renal failure, hemodialysis cycle, hypertension, epidural hematoma.
The patient was tested negative with coronavirus three times on August 30, August 31, September 1. On the evening of September 1, the patient died at Hoa Vang Medical Center due to septic shock, irreversible multiorgan failure, pneumonia in patients with chronic renal failure, hemodialysis cycle, hypertension, epidural hematoma, coagulation disorder, and exhaustion.
According to Tuoi Tre, the Ministry of Health claims that this is not the 35th death caused by COVID-19 since the beginning of the pandemic as the patient died after 3-4 negative tests.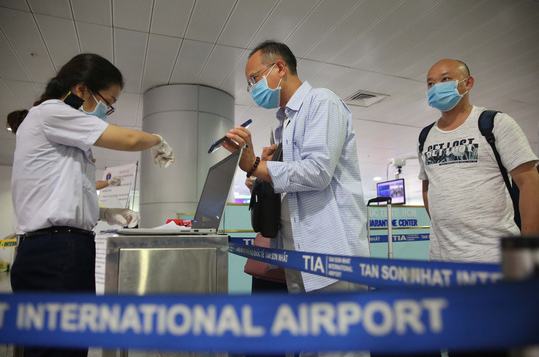 Experts entering Vietnam for a short period will not be quarantined for 14 days. (Photo: Ministry of Health)
Experts entering Vietnam for a short period will not be quarantined for 14 days
Prof. Dr. Nguyen Thanh Long, Acting Minister of Health has just signed to issue the Official Letter No. 4674 / BYT-MT guiding the COVID-19 Prevention for foreigners entering Vietnam to work in a short period (less than 14 days).
Accordingly, experts and visitors entering Vietnam for less than 14 days do not have to be medically isolated for 14 days, but must strictly comply with regulations on COVID-19 prevention.
Regulations are applicable to: Investors, experts, skilled workers, business managers, relatives, and other entities in agreement with each country; Guests enter for diplomatic and official purposes; People who have contact experts and visitors enter for diplomatic and official purposes during their entry and work in Vietnam.
Da Nang to test for coronavirus on representatives of households
Ms. Ngo Thi Kim Yen, Director of Da Nang Department of Health, said that from Septem 3, Da Nang will conduct coronavirus tests on a representative of each household to trace the COVID-19 virus source has not been discovered.
Each household will send a representative to collect samples. If the test result turns out to be positive, the household will be immediately quarantined and every member of the household will be tested.
With the capacity of the current medical team directly taking samples of about 14,000 samples per day, it is expected that the community-wide testing will be completed in 5 days.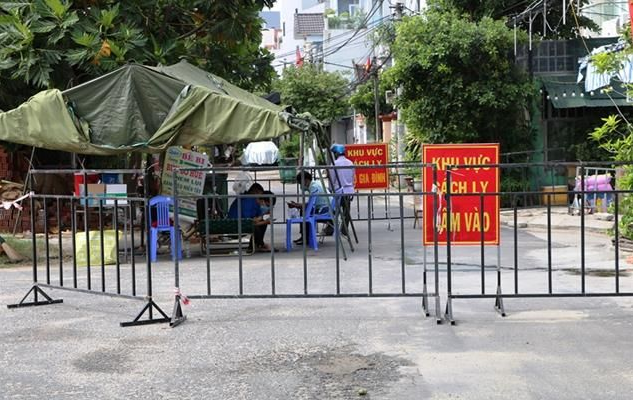 The source of transmission to the patient in Hai Duong has not yet been determined. (Photo: Suc Khoe & Doi Song)
Hai Duong established a medical isolation zone
On September 2, the People's Committee of Hai Duong province decided to establish a medical isolation area to prevent and combat the COVID-19 epidemic in Khay village, Thong Nhat commune, Gia Loc district. Application starting time: 28 days from 0:00 on September 3, according to Ministry of Health.
The Chairman of Hai Duong People's Committee assigned the People's Committee of Gia Loc district to immediately set up an isolation zone and conduct 24/24 hour control of the entire residential mentioned area in accordance with current regulations.
The decision to establish the quarantine was made after patient number 1045 was recorded in Hai Duong. The patient was then transferred to isolation, treatment, and sampling at Dong Anh Central Hospital for Tropical Diseases.
Valerie Mai