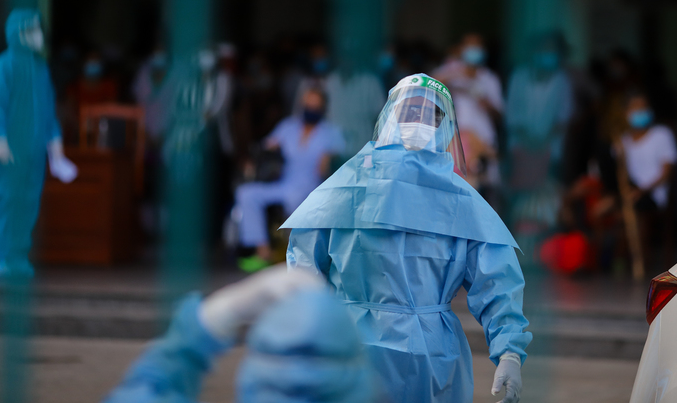 A medical worker prepares to bring patients and their relatives from three hospitals in Da Nang City to quarantine zones, July 27, 2020. (Photo: VnExpress)
Patient died before receive COVID-19 positive test result
On the evening of August 29, the Steering Committee for COVID-19 Control in Da Nang City informed the patient 1040 (male, born in 1965, residing in Da Nang city). He was treated at Da Nang Hospital for Guillain barre syndrome, type 2 diabetes, weakness, limb weakness, ventilator-dependent.
On August 27, the patient was sampled to test COVID-19. On the same day, the patient died, and the funeral was held on August 28. On the night of August 28, the patient tested positive for COVID-19.
Accordingly, his funeral activities were stopped, the area of Thach Bo village, Hoa Phong commune, Hoa Vang district was isolated. Authorities also conduct chemical handling of environmental disinfectants at patients' homes, the surrounding area and related locations.
Investigation, traceability and quarantine transport activities immediately focused on people who have contact with the patient and people involved in the funeral on the night of August 28.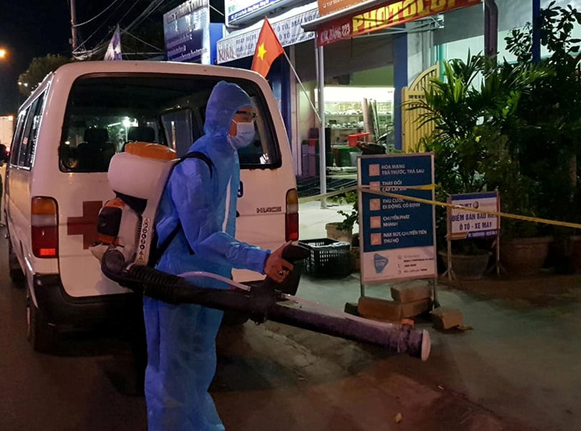 Medical staff sprayed disinfectant for the entire area around Bao Chau Company before removing the blockade. (Photo: Tuoi Tre)
Vietnam Covid-19 fatalities rise to 32
A 67-year-old woman in central Da Nang City succumbed to Covid-19 on Saturday, becoming Vietnam's 32th coronavirus fatality, according to VN Express.
The woman died at the Hoa Vang medical center due to severe pneumonia and respiratory failure caused by Covid-19, septic shock and multiple organ failure. She had suffered several underlying conditions, including kidney failure, diabetes, and hemiplegia brought on by strokes.
Earlier this morning, a 28-year-old man in Quang Nam Province, which neighbors Da Nang, also died of pneumonia caused by Covid-19, septic shock, multi-organ failure brought on by acute lymphocytic leukemia, and aplastic anemia.
He was the youngest patient to die from Covid-19 in Vietnam. Previous fatalities were those in the ages of 33-93. All had suffered chronic diseases before contracting the virus, with a majority experiencing renal failure.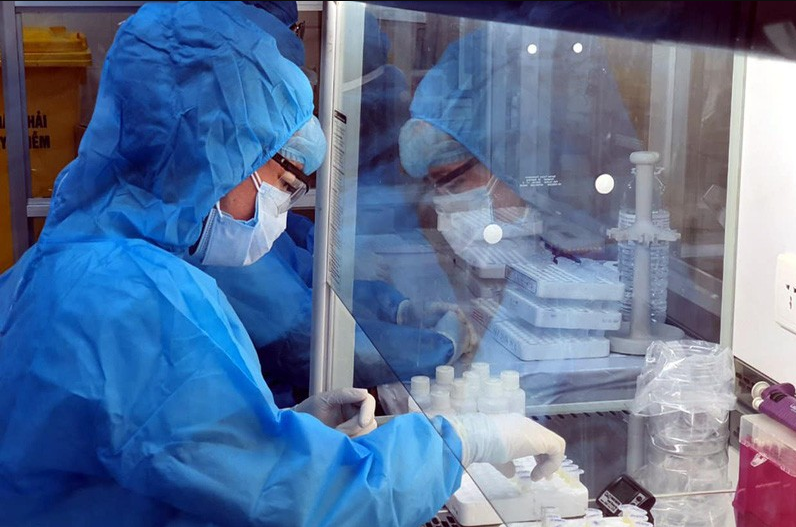 Quang Tri lifted the blockade on all 7 areas relating to COVID-19 (Photo: YTV)
Quang Tri lifted blockade on all 7 areas relating to COVID-19
On the evening of August 29, Mr. Vo Van Hung - Chairman of Quang Tri Provincial People's Committee - signed a decision to remove the blockade of the area around Bao Chau Company, located in Dong Giang ward, Dong Ha city. This is the last of the seven blockade sites in Quang Tri due to involvement with COVID-19 patients.
Accordingly, the order to lift the blockade came into power from 7:00 p.m. on the same day.
Before that, 6 other areas of Quang Tri province that were blocked were also lifted, including Don Due village, Vinh Hoa commune (Vinh Linh); Bau hamlet, 3rd team, Ha Thanh village (Gio Linh); the building G of Quang Tri Provincial General Hospital; Medical Center of Vinh Linh district; residential area of ​​Quarter 1 in Dong Le ward and residential area in Quarter 2, Dong Giang ward (with Dong Ha city).
Currently, Quang Tri province has not detected any additional cases of COVID-19 since the 904th case was announced on the afternoon of August 13.
Valerie Mai