Cuba Ready to Share Successes in Vaccine Production with Vietnam
Cuban Prime Minister Manuel Marrero hosted an event to open international borders and restart tourism on November 15. In an interview with the Vietnam Times, Cuban Ambassador to Vietnam Orlando Nicolás Hernández Guillén said that this important transformation of Cuba is largely due to its achievements in research and production of Covid-19 vaccines.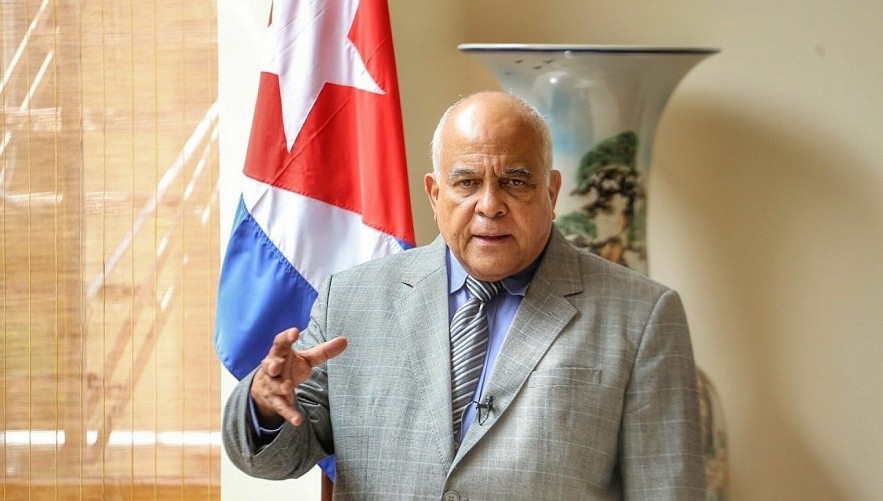 Cuban Ambassador to Vietnam Orlando Nicolás Hernández Guillén
Cuban Ambassador to Vietnam Orlando Nicolás Hernández Guillén said:
Cuba is one of the countries heavily affected by the Covid-19 pandemic. According to official statistics, since the first case detected on March 10, 2020, Cuba has recorded 8,279 deaths from Covid-19, while the number of cured cases is 948,253 people, reaching the rate of 98.9%.
The big factors contributing to Cuba's success are making the control of the Covid-19 pandemic a top task. Cuba's top leaders closely monitor the pandemic situation daily and weekly, thereby taking the most practical measures to promptly prevent the Covid-19 pandemic.
In particular, Cuban scientists have made great efforts and commitments to produce not only vaccines but other products to protect people against SARS-CoV-2 virus. With the efforts of the entire Cuban biotech industry, 4 months later, we have successfully produced the Covid-19 vaccine. Specifically, five vaccines have been developed, of which three, including Abdala, Soberana 2 and Soberana Plus, have been licensed for use.
It took 5-6 years to produce a highly effective vaccine in the world before. However, Cuba has accelerated the research and production process of vaccines while still ensuring the best quality possible, making sure all the necessary processes.
In September 2021, Cuba became the first country in the world to launch a mass vaccination campaign for children aged 2-11, using the Soberana 02 vaccine. Delta variant also had a serious impact on Cuba, causing a very high positive rate
However, since the introduction of vaccination for adults and children (ages 2-18), Cuba's positive cases have dropped to a very low level. By the end of November 13, the completion rate of Cuba's 3-shot vaccination course had reached 83.2% of the country's total population. It is expected that by the end of this November, this rate will reach over 90% of the population, equivalent to the total number of people eligible for Covid-19 vaccination. In particular, studies in Cuba showed that the Abdala vaccine is effective at preventing Covid-19 at 92.28%, which is a very high level of effectiveness that only 4 other vaccines in the world can achieve.
Referring to Cuba's achievements in the fight against Covid-19, it is impossible not to mention the historic Cuban leader, Fidel Castro. Fidel was the one who built the first scientific facilities for the country, laying the foundation for the Cuban scientific and medical foundation to be able to compete with other countries in the world. Fidel also conveyed his spirit to the leaders of the Party, State and Government of the next generations of Cuba who always care about the people, putting the interests of the people first.
From this result, what activities will Cuba deploy and restart in the near future?
Even during this time, Cuba is in the new normal. On November 15, Cuba also reopened schools, about 700,000 students returned to school. This was a great day for families as well as students in Cuba.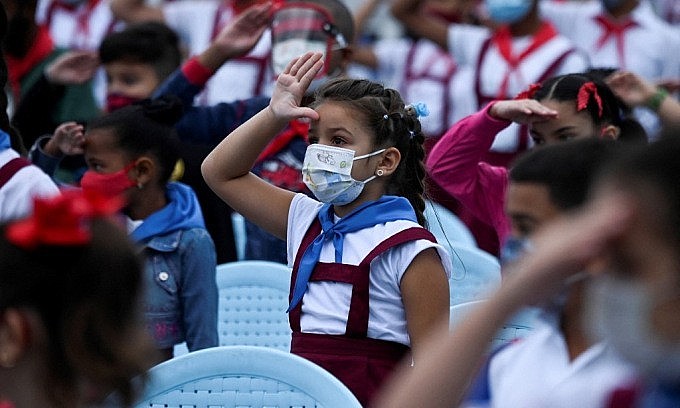 Students salute the flag at a school in Havana on November 15. Photo: AFP
On November 15, Cuban Prime Minister Manuel Marrero hosted an event to open international borders and restart tourism. Tourists can freely come to Cuba without having to be quarantined. According to statistics, on November 15, there were more than 20 flights to José Martí airport in the capital La Havana and more than 60 flights landed at other airports allowing international arrivals of Cuba.
Cuba will also reorganize large-scale tourism, cultural and artistic activities such as the IV Ibero-American Summit on Accessible Tourism in Cuba in December 2021, the Bienal de La Habana art festival and International Book Fair in February 2022.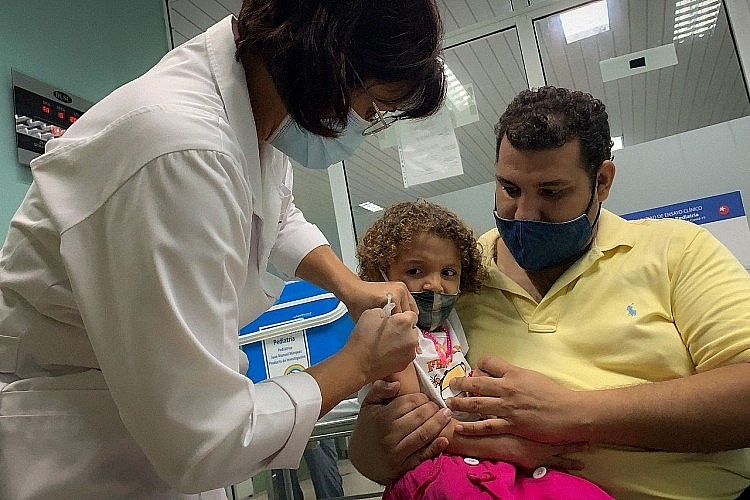 Cuba is the first country to give the Covid-19 vaccine to children 2 years of age and older. Photo: AFP
How can Vietnam replicate the success of Cuba?
Cuba is always ready to share successes with Vietnam. Vietnam is one of the first countries in the world to negotiate cooperation with Cuba to import Abdala vaccine. Currently, this Cuban vaccine is being injected in a number of provinces and cities in Vietnam.
The two sides are also preparing for the transfer of Cuban vaccine production technology in Vietnam, including vaccines for adults and vaccines for children aged 2-18.
Cuba also received help from Vietnam with needles and masks to prevent the Covid-19 pandemic.
Especially during the recent visit to Cuba by President Nguyen Xuan Phuc, many gifts from the Vietnamese people were sent to the Cuban people. When President Nguyen Xuan Phuc left Cuba for the US to attend the COP26 Summit, 1.05 million doses of Cuban-made Abdala vaccine were prioritized to send to Vietnam.
This is a vivid demonstration of Cuba's timely support for Vietnam. Meanwhile, it is also a testament to the fact that although Vietnam and Cuba are far apart, with cultural and language differences, the peaceful relationship between the two countries stands as a model for the world.