Cuba's Friendship Associations Celebrates 46th Anniversary with Southeast Asia
The Cuban Institute of Friendship with the Peoples (ICAP) on July 15 held a ceremony to celebrate the 46th founding anniversary of Cuba's friendship associations with Vietnam, Laos and Cambodia.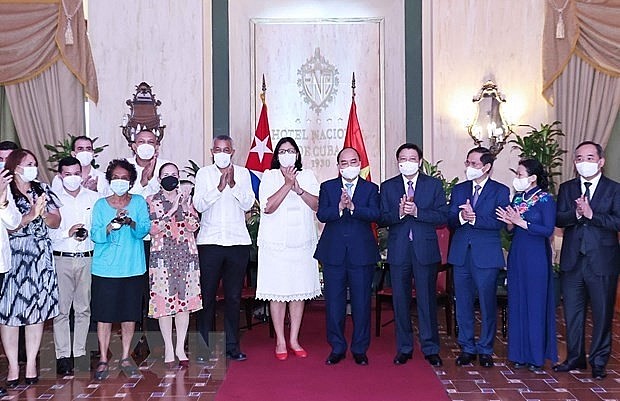 President Nguyen Xuan Phuc and First Vice President of the Cuban Institute of Friendship with Peoples (ICAP) Noemi Rabaza Fernandez in 2021. Photo: VNA
This is an event to honor the history of the solidarity movements of the Cuban people for the revolutionary causes of the peoples in Southeast Asia, contributing to a longlasting friendship between Cuba, Vietnam, Laos, and Cambodia.
Speaking at the event, Vietnamese Ambassador to Cuba Le Thanh Tung mentioned "For every Vietnamese, solidarity with Cuba is an order of the heart," as the late Prime Minister Vo Van Kiet once said during his visit to Cuba in 1993.
Vietnamese Ambassador to Cuba Le Thanh Tung affirmed the country always stands with the Cuban people, expressing his belief that the two nations will develop together and write new pages for their solidarity, comprehensive cooperation and absolute trust.
Ambassadors of Laos and Cambodia to Cuba also highlighted the friendship and bilateral relations in the social, cultural and economic fields.
Vice President of ICAP Victor Gaute expressed his hope that future generations of each country will be responsible for preserving, consolidating and developing the good relationship between countries.
Cuba was the first country in the world establishing solidarity with Vietnam, and the flagship of the solidarity movement with Vietnam in Latin America.
That movement then spread to many countries around the world, especially among the member countries of the Organization of Solidarity with the People of Asia, Africa and Latin America.
With the heroic struggle of the Vietnamese people for national liberation and reunification, late Cuban leader Fidel Castro took the initiative to establish a solidarity organization to unconditionally support the political cause of the Vietnamese people particularly, and the peoples of the three Southeast Asian countries.
On September 25, 1963, at the instruction of Commander-in-Chief Fidel Castro, the Cuban Committee of Solidarity with South Vietnam was established in Havana (from 1965 it was renamed the Cuban Committee of Solidarity with Vietnam).
The head of the Committee is the heroine of Moncada, Prof. Melba Hernandez de Rey, who has brought together a large number of intellectuals, engineers, doctors, lawyers, artists to participate in the work of the Committee.
The Committee initiated encouraged, assembled forces and appealed the classes of Cuban people to attend different activities to share their support with Vietnam.
It has conducted many movements, campaigns, informed about the struggle of the people of the three Indochinese countries among people throughout Cuba as well as in the Latin American region.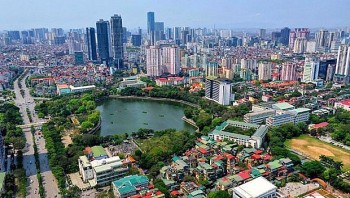 National
Vietnam News Today (Jan. 29): Quang Ninh: Cross-border trading with China resumed after Tet; Hanoi in the world's top three culinary destinations: Tripadvisor; Intertwined opportunities, challenges for Vietnam's economy in 2023; Supermarkets, traditonal markets gradually resume normal operations amid abundant supply.