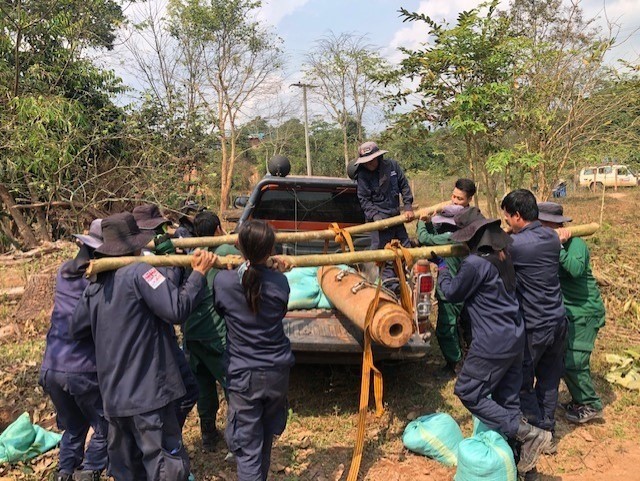 MAG in Laos found a 500lb bomb, just 100 metres from a local village. Photo: MAG
Representatives from FWD, Confex, Sugro, Time Wholesale Services, Unitas and A.F. Blakemore hopped on their bikes to complete the six-day challenge to £160,000 for the MAG.
Plenty of other familiar faces from the wholesale and convenience sector also took part in the ride, which was organised by outgoing Sugro Managing Director, Neil Turton, who is a former trustee of MAG.
They have raised over £108,000 but want to raise £160,000 in total. Money raised will help MAG to achieve its vision of a world free from the threat of landmines and unexploded bombs.
"It was a tough challenge in extreme heat and difficult terrain, but the team pulled together to get each other over the line," said FWD Director of Communications, David Visick, who took part in the challenge.
"Wholesalers, suppliers, retailers and service providers had a lot of time in the saddle to understand each others' perspectives and share their knowledge. We started off as colleagues and ended up as friends."
Every day, 19 people are reported killed or injured by a landmine or unexploded bomb. Many more deaths go unreported. Right now, 60 million of women, girls, boys and men are living in fear of death and injury from these indiscriminate killers.
MAG finds, removes and destroys these deadly items from places affected by conflict. It also provides mine risk education programmes so that people can live, work, travel and play as safely as possible until the land is cleared.
By sponsoring the team, you are helping MAG to save lives and build futures in countries from Angola to Vietnam, and Bosnia to Zimbabwe.
Donations can still be made in the group's Just Giving Page.
VNF