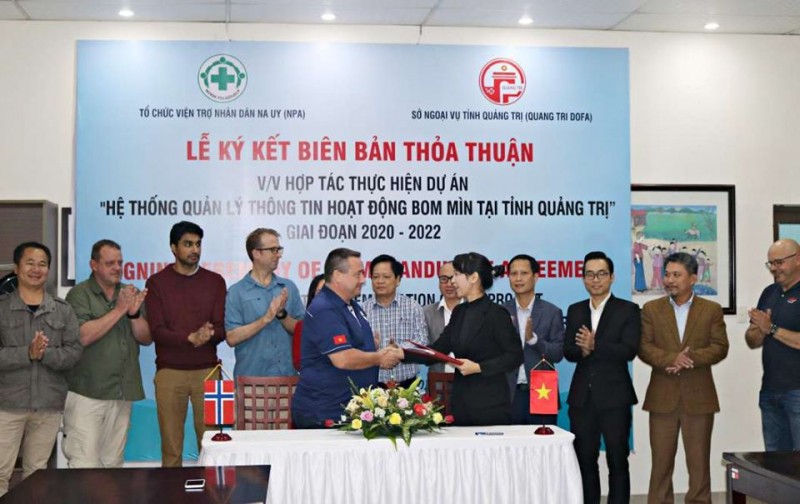 At the signing ceremony on Feb 17. Source: qtmac.vn
This project is a continuation of the project "Support to the Provincial Database Unit in Quang Tri Province" between Quang Tri DOFA and NPA for period from 2016 to 2019.
The Project will immediately help the local authorities of all levels and people of Quang Tri province to be updated on contaminated and released areas for the province's socio-economic development planning and implementation; and to support for safe production, business and daily life activitities of local people and communities.
For the long term, the Project aims to map and release all cluster munitions and other Explosive Remnant of war (UXO) contaminated areas in Quang Tri and to build the local authorities' capacity to manage the mine action database unit with no external intervention.
Vietnam is among the countries most heavily contaminated by bombs and mines in the world. Between 1945 and 1975, during its two wars with French and American invaders, more than 15 million tons of explosives were dropped on the country; four times higher than the amount unleashed during World War II.
Around 800,000 tons of unexploded ordnance remain scattered across the country, contaminating 6.1 million ha, or 18.7 per cent of its land area, and causing explosions that kill or injure over 1,500 people every year, according to the Ministry of Labor, Invalids and Social Affairs. The risk of explosions is present in about 80 per cent of provinces in the central region.
Quang Tri was the place hardest hit by bombings during the American War. It was a center for US military bases and a principle battleground during the 1968 Tet Offensive. An estimated 400,000 pieces of unexploded ordinance remain buried in about 83 per cent of the province's total area, injuring some 8,500 people, including 3,400 fatalities (31 per cent of which were children) since 1975, according to a RENEW survey.
Founded in 1939, NPA is one of Norway's largest non-government organizations and started its support in bomb and mine clearance in Vietnam in 2008. It has helped remove nearly 70,000 pieces of dangerous ordnance, helping to eliminate the risks of death and injury among local residents./.
VNF