Daily Horoscope for December 7: Astrological Prediction for Zodiac Signs
Daily Horoscope for December 7: The moon in Virgo squares off with Mercury in Sagittarius this morning while also forming a helpful trine to Uranus. We may see solutions to problems right now, but we could have issues figuring out how to make things click.
Daily Planetary Overview
Good ideas could clash with confusion, creating internal frustration and irritation. Try not to be too critical of others or yourself right now, and avoid giving any unsolicited advice.
In the afternoon, your inner perfectionist could come out—and not in the best way—so remember to take things slowly and focus on your breath if you begin to feel overwhelmed by details.
As the evening begins to wind down, the moon forms a grand cross with the north node, sun, and Neptune, causing emotional tension to rise. There are many aspects that need to be faced in order to successfully navigate the cosmic climate of this evening. Themes around your goals and fantasies, self-awareness, critical thinking, and organization all commingle.
The universe is asking you to marry your dreams with reality in a way that is well thought out and pragmatic. The energy here gives you a rare opportunity to see where change needs to be implemented, but you must overcome your ego in order to perceive the path ahead. Don't let stubborn thinking or arrogance stop you from seeing your way forward.
Aries
The first sign of the Zodiac, Aries are the trailblazers. Passionate and independent, Aries will never do something just because everyone else is doing it—a Ram needs to be 100 percent committed to the task at hand.
Dec 7, 2020 - If you're involved with the arts, the day ahead will be a bright one for you, Aries. You feel a strong desire to bring people together in pursuit of some artistic endeavor. Listen to your longings. You're likely to be a sharp talent scout, or at the very least, a person who is able to enhance other people's talents.
Taurus
Smart, ambitious, and trustworthy, Taurus is the anchor of the Zodiac. Amazing friends, colleagues, and partners, Taureans value honesty above all else and are proud that their personal relationships tend to be drama free.
Dec 7, 2020 - Today you can expect to have some disagreements with your partner or friend, Taurus. You may overreact. If you do, it's only because the climate of the last few days has made you feel more vulnerable than usual. It's your tendency when faced with tension to be the first to back down. Try not to do it this time. Sometimes self-sacrifice comes at too high a cost.
Gemini
Smart, passionate, and dynamic, Gemini is characterized by the Twins, Castor and Pollux, and is known for having two different sides they can display to the world. Expert communicators, Gemini is the chameleon of the Zodiac, adept at blending into different groups based on the vibe and energy they perceive.
Dec 7, 2020 - Today you will be confrontational, Gemini. This comes after several weeks of holding yourself back from openly criticizing other people. You have especially strong feelings concerning anything that touches activities outside of the family. An explosion is imminent and likely unavoidable. Go ahead and express yourself. You will all be best friends again tomorrow!
Cancer
Emotional, intuitive, and practically psychic; ruled by the moon and characterized by the crab, Cancer has so much going on in its watery depths. Cancers may seem prickly and standoffish at the first meeting, once they make the decision to become friends with someone, that person has a friend for life.
Dec 7, 2020 - You must be wondering what in the world is going on? On the one hand, you have humanistic and harmonious thoughts about your family and work environment. On the other hand, you also have a deep desire to destroy everything in order to start fresh! You will have to choose. In any case, given the current climate and the fire inside you, any sort of compromise will prove difficult. Don't go overboard!
Leo
Bold, intelligent, warm, and courageous, fire sign Leo is a natural leader of the Zodiac, ready to blaze a trail, vanquish injustice, and make a name for themselves along the way. Blessed with high self-esteem, Lions know that they possess enviable traits—and they're proud of them.
Dec 7, 2020 - You may be planning for the future, Leo, yet find yourself needing to make choices that will resonate far beyond the next few months. It's possible that you will have to consider sending your children to a new school, for example, or decide to move across the country. These are big decisions, to be sure, but trust that you won't be making them alone. Your loved ones have a say in these matters!
Virgo
Smart, sophisticated, and kind, Virgo gets the job done without complaining. Virgos are amazing friends, always there to lend a hand and also lend advice. Practical Virgos are incredibly adept at big picture thinking, and planning out their life, their vacations, and what they're going to do today isn't a drag it makes them feel in control and secure.
Dec 7, 2020 - You can expect to be volatile today, Virgo! No one will dare contradict you or insinuate that you've taken your ideas from others. You have the potential to get really angry. Rather than say things you might later regret, write down your thoughts. And if you do feel the need to make a speech, do it publicly.
Libra
Intelligent, kind, and always willing to put others before themselves, Libras value harmony in all forms. Ruled by Venus, the planet of beauty, Libra adores a life that looks good. As the master of compromise and diplomacy, Libra is adept at seeing all points of view and excels at crafting compromises and effecting mediation between others.
Dec 7, 2020 - Don't hesitate to speak up for what is right, Libra, even if it means confronting someone with power. So be it. The slightest injustice can't be tolerated. When you voice your opinion, as you feel compelled to do, it makes others respect you. This has been a long time coming, and it does you a tremendous amount of good!
Scorpio
Passionate, independent, and unafraid to blaze their own trail no matter what others think, Scorpios make a statement wherever they go. They love debates, aren't afraid of controversy, and won't back down from a debate.
Dec 7, 2020 - Scorpio, no one has ever accused you of being overly diplomatic. In fact, since you have no compunction about saying what you think, your mouth regularly gets you into trouble. It's true that your verbal outbursts often relieve tension in tight situations, but there are times when kind words are a more effective way to get a point across. Why not try it?
Sagittarius
Independent and strong-willed, Sagittarius personalities are all about going off the beaten path. Sagittarius isn't afraid to step away from the pack and is a natural-born leader who goes after what he or she wants, regardless of what other people think.
Dec 7, 2020 - There's some likelihood you'll become irritated with someone close to you today, Sagittarius. Just who do they think they are, anyway? How insulting to put on such an act, especially considering how long you've known each other. Whatever you fight about, at the heart of it is your frustration and concern that your friendship may end. Try not to overreact. Express yourself mildly.
Capricorn
Smart, hardworking, and fully in control of their destiny, a Capricorn will always get what they set their mind to, in both personal and professional life—no excuses. Capricorns may get a reputation as stubborn, but they simply know what they want, and also know how they wish other people would behave.
Dec 7, 2020 - Something's gotten into you today, Capricorn. An iconoclastic imp inside you is determined to tear down every convention, especially in the art world. Why are you so furious with orthodoxy? Did you dream that an imitator stole one of your ideas and made a fortune with it? If you were an art critic, we would expect you to sing the praises of the vanguard.
Aquarius
Independent and enigmatical, Aquarians are unique. There is no one quite like an Aquarius, and because each is so incredibly individual, it can be tough to describe them as a group. Aquarians don't like labels, and may shy away from any adjective—even the good ones you might bestow upon them.
Dec 7, 2020 - If you're involved in an occupation similar to that of your mother or father, Aquarius, today you may question if the choice was yours or preordained. Did you take this career path of your own volition? If not, what is it that you should really be doing with your professional life? You feel rebellious and yearn for more independence. You might want to find more freedom within the confines of your existing career.
Pisces
Smart, creative, and deeply intuitive, Pisces can be close to psychic. Pisces feel things deeply and have incredibly strong gut reactions. A Pisces "knows" things from deep within, and can often judge whether a person or situation is good or bad.
Dec 7, 2020 - Most people form their opinions on the basis of what they're told by a few people who supposedly know what they're talking about. Certain ideas become fashionable. Today, Pisces, you have no patience for these tendencies. In fact, you're tempted to use vulgar language just to shock the pseudo-intellectuals out of their complacency. Alas, you can't do it. They will simply raise an eyebrow and turn away.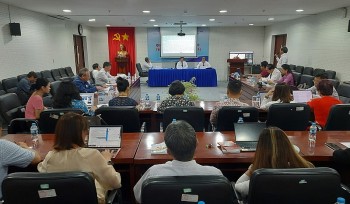 Friendship
The Vietnam - India Friendship Association's Ho Chi Minh City branch, the Ho Chi Minh City Union of Friendship Organizations (HUFO) and the Southern Institute of Social Sciences on March 21 held a scientific seminar themed "Vietnam - India relationship: tradition and present".